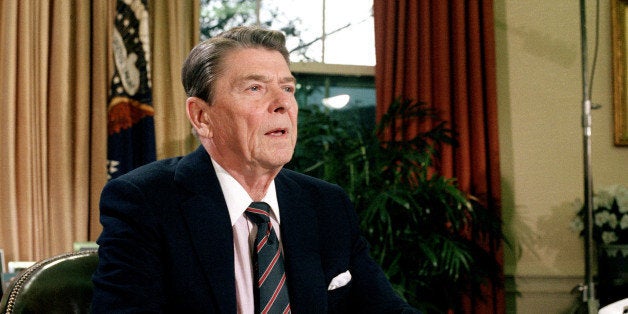 A few days ago, a hit piece on Donald Trump appeared in The Daily 202 (The Washington Post's online newsletter) with the headline "Reagan White House viewed Trump and his 'large ego' warily." The reporter made a case on thin evidence (one quote from a White House aide) and questionable suppositionsthat Donald Trump was repeatedly snubbed by President Reagan and his wife Nancy. The article also purported to show that Donald Trump has made exaggerated claims about his closeness to President Reagan. The reporter offered no evidence to support the latter point.
What Donald Trump, in fact, has said, as reported in the Wall Street Journal, September 15, 2015, concerning Reagan ties is: "I have great respect for him. I helped him. I knew him. He liked me and I liked him." He also added in an interview, "I didn't know him well" - in case anyone should misunderstand - butthat he had been told by friends close to the President that President Reagan admired him. "He felt very good about me. Frankly, he liked my attitude." That is the sum-total of Donald Trump's claims to having personal ties to President Reagan. In my opinion the only thing missing from the story is actually President Reagan's attitude toward Donald Trump, which is not demonstrated anywhere in the Post article.
But let's revisit the Reagan White House. I was a Member of the Senior Staff of the White House for more than two years as Director of the White House Office of Public Liaison.
The truth is Ronald Reagan liked almost everybody. There were a very few only - as everyone in the White House, including I, was aware -- he did not like, and these were those whoincessantly disparaged his policies whatever the merits. Other than those few, President Reagan did genuinely "like" most people he met. Ronald Reagan was the model of a courteous gentleman, with an Irishman's love of people, and Donald Trump at the time was a young man basking in his occasionally meeting the President socially.
Everyone who met President Reagan came away smiling, thinking that the President liked him or her. But that was because it was true. He did. That there are no White House "records" to confirm Donald Trump's statement is not at all surprising. It would be more surprising if there were. How could President Reagan's casual interactions with thousands of individuals have been recorded?
Regarding an assertion that a White House aide wrote in a memo to the effect that Donald Trump had a "large ego," to my mind it says more about the aide's lack of judgment in putting such an ungracious remark in writing than it says about Trump. President Reagan himself in my opinion would never have made such a disapproving remark. The aide's description of Donald Trump certainly cannot be seen as anything but a careless statement in an official White House record from someone who should have been more circumspect for the sake of his boss, the President.
The reporter's mocking description of Donald Trump's invitation to Mrs. Reagan to come to his beautiful home in Palm Beach, Mar-a-Lago, and regard it as the "southern White House" is apparently supposed to serve as a "connect-a-dot" to Trump's "large ego." Trump's reference to Mar-a-Lago in his invitation at the time, however, wasn't a matter of inflated egotism but was based on the actual documented history of the property, a fact which the Post reporter failed to note (or perhaps failed in his research to find out). In 1973, when Mar-a-Lago's builder and owner, cereal heiress Marjorie Merriweather Post, died, she left the estate in her will to the U.S. government to be used as a "winter White House." The government declined to take it on this condition, so a decade later the property was sold to Trump.
Both President and Mrs. Reagan received countless requests and invitations from many people just as a matter of course. That Mrs. Reagan declined this invitation (or other invitations)politely is what she did with hundreds of such invitations. Trump's invitation was flattering and generous, nothing more. I know President Reagan himself would have answered such an invitation with the same humility and gratitude in a way that would not have wounded the letter-writer's pride. That was the high standard every one of us in the White House strove to uphold in dealing with Ronald Reagan's millions of admirers who wrote, invited, praised, and poured their hearts out to President Reagan, whom they revered as a great and compassionate man.
The real story the Post reporter missed is simple and innocent and does not reflect ill on candidate Trump: Donald Trump, a registered Republican in 1987 who contributed to both parties --as any young businessman on the move did (and still do) in liberal, Democrat-dominated New York City -- was one of President Reagan's many admirers.
And for other Reagan admirers, Donald Trump is the best hope we have today of returning to the sound conservative principles and policies Ronald Reagan espoused.
Ambassador Faith Whittlesey served as White House Director of the Office of Public Liaison from 1983 to 1985 and twice, from 1981 to 1983 and again from 1985 to 1988, as U.S. Ambassador to Switzerland. She also was active in President Reagan's unsuccessful 1976 campaign and was Co-chairman of President Reagan's Pennsylvania campaign in 1980.