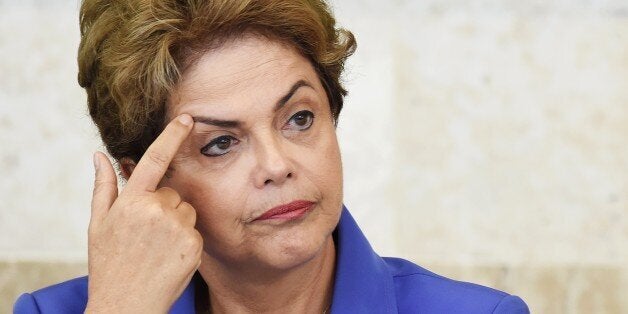 Polls show that seven out of ten Brazilian citizens now support Brazilian President Dilma Rousseff's impeachment, as her critics claim she has destroyed the country's economy and failed to prevent a corruption scandal at the state-run oil company, Petrobras.
The fact that Rousseff's approval ratings are lower than the inflation rate -- which hit a high of 9.25 percent in July -- has delighted her opposition, particularly the Brazilian Democratic Movement Party. The PMDB stands to gain the most from the president's downward spiral as it positions itself to replace her with one of its own: Vice President Michel Temer.
Making the opposition laugh has been one of Rousseff's very few recent achievements. Even her staunchest rivals, the Brazilian Social Democracy Party, are not in a joking mood, and everyone is anxious about the country's future.
The mood on the streets could very well determine whether Brazilians will keep the current government in place or drive the president out of office. Without the public's buy-in, nothing the politicians do will matter.
Members of the PSDB have openly supported civil society groups' calls for a nationwide protest against Rousseff on August 16. They are also calling for new elections.
Yet on the same day that the PSDB announced its endorsement of the protest, Alberto Goldman, the party's vice president and former governor of São Paulo, said that the decision to do so was not unanimous. He also said that some PSDB leaders' recent calls in Congress for new elections were not consistent with the party's view.
Temer's PMDB is also fragmented. Some in the party predict that Rousseff's government will not last though the end of the month, while others believe the president will take a backseat as Temer takes over and rules on her behalf.
The atmosphere is even gloomier among the members of Rousseff's Workers' Party. Members of the PT are reluctant to predict a positive outcome, and many say the president has stressed that resignation is not an option.
Under these circumstances, the "voice of the streets" will likely help determine politicians' positions. Uncertainty remains, however. After all, if Rousseff resigns, who will be in charge of governing the country?
There are two possible ways that Rousseff could be impeached:
2. The Supreme Court will make its judgment in September. If evidence links the president to the Petrobas scandal, both Rousseff and Temer may be forced to step down.
Members of the PSDB, who are now calling for new elections, would prefer the latter scenario.
Meanwhile, the embattled president has been trying to show strength, emphasizing that she is capable of getting the country out of the crisis. The problem is, not even her closest collaborators believe it.