Meeting with children is a classic activity for politicians, and one that probably seems like it couldn't go wrong. But when Alex Azar, secretary of the Department of Health and Human Services, shared a picture of President Trump coloring with children from Ohio, plenty of people were quick to criticize the president over the photo.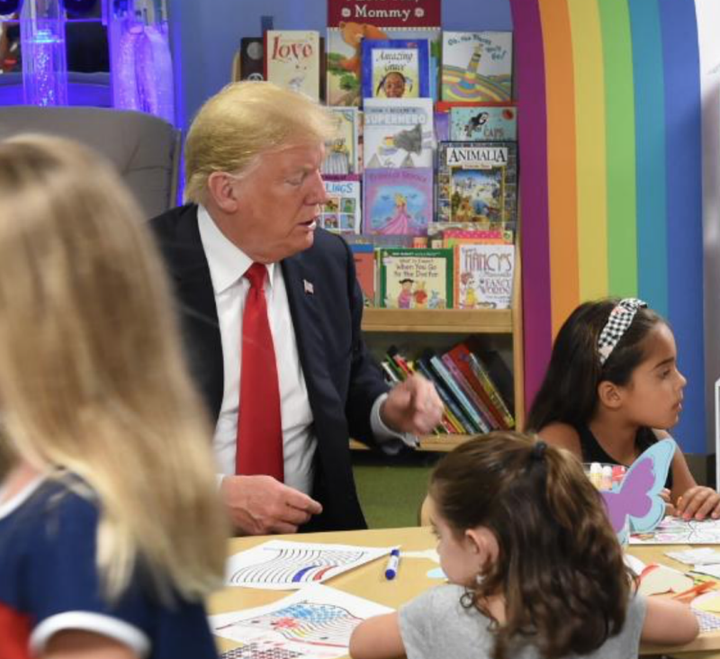 Azar may not have realized it at the time, but the image shows that Trump had colored a blue stripe onto the American flag. (To be clear, the stripes on the U.S. flag are red and white; the blue is the background to flag's stars.)
The photo started gaining more attention when another Twitter user shared it with a zoom-in on the misplaced blue stripe. "The President has colored his flag wrong. That is all," the Twitter user, Talia, wrote.
As Azar wrote in his tweet, Trump and first lady Melania Trump were in Ohio to talk about opioid addiction with affected communities. The president's visit with children took place at the Nationwide Children's Hospital in Columbus, CNN reported. But the conversation around opioid addiction doesn't seem to be what most people took away from Trump's Ohio visit.
After the photo began making the rounds, Twitter users started joking about why Trump might have drawn a blue stripe onto the flag. A number of people suggested that Trump was thinking of the Russian flag, which does feature a blue stripe.
Others suggested President Trump meant to honor the police with his coloring choice.
Ok so I obviously strongly dislike Trump, maybe even hate, but stop reaching saying he doesn't know the colors of the flag. He was obviously coloring a blue police stripe thing…I hope. There are better things to spend your energy on. 🤷🏻‍♀️
But not everyone believed that theory. As one person pointed out, Trump also colored in a red stripe, which isn't featured on the police flag.
For his part, Trump hasn't addressed his coloring controversy on Twitter, though he did post several tweets about former Secretary of State Hillary Clinton's emails on Saturday. Maybe the president is taking a cue from his wife's playbook and deciding he really doesn't care.
More from Yahoo Lifestyle:
Popular in the Community