WASHINGTON -- When or if President Donald J. Trump takes the oath of office on Jan. 20, 2017, he might not settle for just being the guy in the Oval Office. The eccentric billionaire could add the new title to his already existing preamble as chairman, CEO and president of The Trump Organization.
It would be his choice whether President Trump still presided over his business empire.
There are ethics rules that cover conflicts of interest faced by executive branch employees -- from the Treasury secretary down to a lowly clerk -- and they can require people to recuse from certain issues or divest stock and other property. But those rules do not apply to any elected official.
"There's very little you can do with respect to the president's financial conflicts of interest," said Richard Painter, a professor at the University of Minnesota Law School and former ethics czar in the George W. Bush White House.
Why this Trump-sized loophole? Applying conflict-of-interest restrictions to elected officials would interfere with their ability to carry out their diverse responsibilities under the Constitution. Every issue crosses the desks of presidents and members of Congress.
"Constitutionally it's going to be very hard to prohibit anyone from becoming president by making them divest of their holdings," Painter said. "And if he wants to continue to run a business while being president, it would be like Berlusconi in Italy, which is probably the closest comparison."
Silvio Berlusconi served three stints as prime minister of Italy while maintaining his vast media holdings, which controlled nearly 90 percent of televised news in that country. During his time in office, Berlusconi was repeatedly accused of twisting policy to lower his own tax liabilities, prevent his businesses from entering bankruptcy, and evade investigations and legal proceedings. (The Italian billionaire was also known for his crude and defamatory language and his anti-immigrant views.)
Trump would not be the first U.S. president, or vice president, to face major conflicts of interest, nor is he the first candidate running with substantial financial holdings.
Concerns were raised about the $34 million in stock options that Dick Cheney received from Halliburton prior to joining the Bush 2000 ticket. Cheney promised to donate the profits from those options to charity.
In 1974, Nelson Rockefeller faced questions over his board memberships with companies receiving government contracts when he was selected to fill the empty vice president's seat under Gerald Ford.
Wendell Willkie, the 1940 Republican presidential nominee, was head of the electric utility Commonwealth & Southern, and Henry Wallace, the 1948 Progressive Party nominee (and former vice president), ran the genetically modified seed maker Pioneer Hi-Bred. H. Ross Perot, an independent presidential candidate in 1992, was the billionaire chief of an information technology services provider.
Like Nelson Rockefeller, Teddy and Franklin Roosevelt hailed from a family with extensive financial holdings, as did John F. Kennedy and presidential candidates Robert and Ted Kennedy. The same is true of all the Bushes.
Many other presidential candidates, including Mitt Romney and Hillary Clinton, have held large fortunes in stocks, trusts, mutual funds and real estate.
Trump's situation differs from that of previous candidates in that his business empire is largely built on his personal brand. His campaign for the White House is essentially an effort to bring that brand to the presidency, but would he also maneuver the presidency to serve his brand?
"People's concerns about private industry being too influential over government would be taken to a new, dangerous extreme if huge companies were privately controlled directly by the president," said John Wonderlich, policy director for the pro-transparency nonprofit Sunlight Foundation.
Trump has already declared, quite honestly, that his policy positions are affected by his business interests. When asked whether he would support statehood for the District of Columbia, Trump pointed to his recent purchase of the Old Post Office Pavilion on Pennsylvania Avenue, which he is turning into a Trump hotel.
"I would like to do whatever's good for the District of Columbia," Trump told "Meet the Press" host Chuck Todd in August. "I would say whatever's best for [the people of D.C.], I'm for. I have a total conflict of interest."
Trump openly opposed the creation of offshore wind farms near his Scottish golf course as he thought they would be an eyesore. Would he use his regulatory authority as president to get his way with wind power companies in the U.S.?
As president, Trump would have appointment power over many federal agencies and boards whose actions could prove beneficial to his business empire. For instance, he employs thousands of people at his hotels and casinos, some of whom have attempted to unionize in the face of his opposition. A Trump administration would be able to set anti-union policies through the National Labor Relations Board and the Department of Labor.
One of the billionaire's many failed money-making ventures, Trump University, was sued by the state of New York. Last year, a judge found Trump liable for the university's alleged violations of state education laws, and now the case is going to trial. The same education business has faced a range of complaints filed by former students with the Federal Trade Commission, which oversees antitrust and consumer regulation. If elected president, Trump would appoint commissioners to run the FTC.
The man also rents his name to many properties around the world owned by other companies. A Trump administration could choose to protect those companies from potential regulatory or legal problems.
The Old Post Office Pavilion was a federal building that Trump acquired through a government bidding process. On the campaign trail, he has boasted about his ability to navigate and manipulate that system. "Nobody played the game better than me," he said. "I was the king."
As president, Trump would be in charge of the game.
Because he couldn't be forced to divest, whether a future President Trump held onto his business empire would come down to whether he cared about Americans' expectations that elected officials will avoid even the appearance of conflicts of interest.
As Painter asked, "Are we going to elect someone who has the good judgment to care about the appearance and not just what the law allows them to do?"
The Trump campaign did not respond to a request for comment.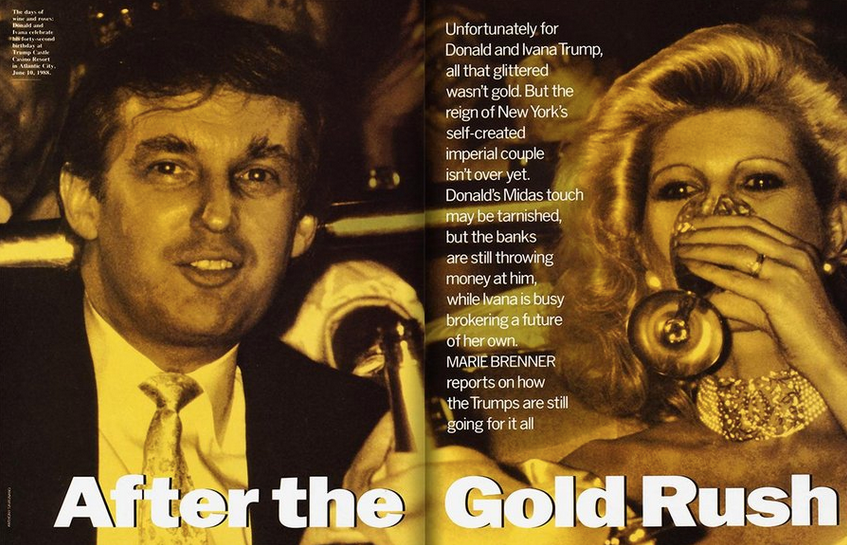 18 Real Things Donald Trump Has Said About Women
Popular in the Community