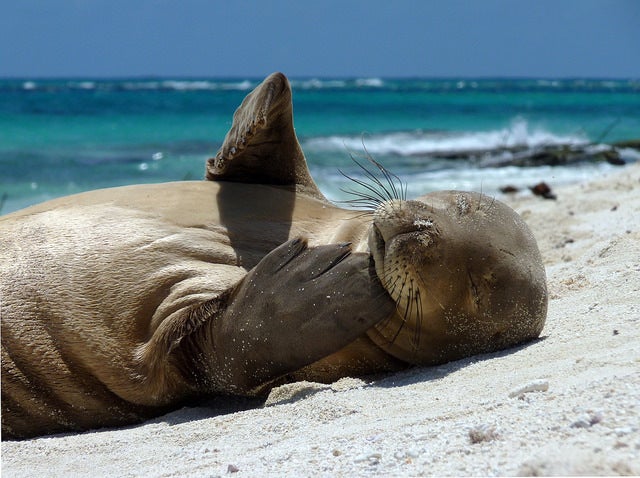 When President George W. Bush created the Northwestern Hawaiian Islands Marine National Monument on June 15, 2006, he declared, "We are here to fulfill a legacy of conservation that was first begun by Theodore Roosevelt." Now President Trump is threatening to end that legacy for the largest marine protected area on the planet.
Trump's April 26 executive order to review and shrink the country's largest national monuments has galvanized defenders of public lands, particularly supporters of the Bears Ears National Monument in Utah, which Trump put on the fast-track for revocation. That move was driven by oil and mining interests and the state's Republican political leadership.
But the story of the Papahānaumokuākea Marine National Monument — as Bush later renamed it (after Hawaiian archetypal figures representing the Earth Mother and Sky Father) — demonstrates that environmental stewardship and the creation of national monuments for ecological and cultural reasons weren't always such partisan issues.
Indeed, even an unpopular and embattled Republican president — 60 percent of Americans disapproved of Bush at the time, according to the Gallup poll, the same percentage that opposes Trump today — could be moved to action by the compelling story of this vast marine region's unique biological and cultural resources and the threats they face.
"The waters of this new national monument will be a living laboratory that offers new opportunities to discover new life, that helps us better manage our ocean ecosystems, and allows us to pursue advances in science," Bush said during the signing ceremony. "You know, in America, there's a great consensus that we have an obligation to be good stewards of the environment. Success of a generation is not defined by wealth alone. We also will be measured by the respect we give to the precious creatures of our natural world."
Bush acknowledged the support of his action by people in attendance, including Hawaii's then-Gov. Linda Lingle, a fellow Republican who'd created a marine refuge in state waters at the site a year earlier; famed marine biologist Sylvia Earle; and explorer/filmmaker Jean-Michael Cousteau, whose film "Voyage to Kure" — about the beautiful area — Bush credited with his decision to create the monument.
The Papahānaumokuākea Marine National Monument and its vast coral reefs are home to more than 7,000 species, including the endangered Hawaiian monk seal, threatened Hawaiian green sea turtle and other imperiled species unique to this region, as well as the 14 million seabirds of 22 species that breed and nest here.
It was the slaughter of those birds for feathers and eggs that led President Roosevelt to first protect the area with U.S. Navy ships in 1903, and then to establish the Hawaiian Islands Bird Reserve in 1909. Protections of the region were gradually increased by Presidents Roosevelt, Reagan and Clinton — and later, President Obama expanded the Papahānaumokuākea Marine National Monument from the 140,000 square miles Bush designated to 583,000 square miles.
As the film Voyage to Kure conveys, the Northwestern Hawaiian Islands are as culturally important to Hawaiians as they are biologically important to the planet, and the region was deemed a World Heritage Site by the United Nations. Nihoa and Mokumanamana islands here were considered by ancient Hawaiians to be spiritual centers where all life began, and they contain dozens of archaeologically significant ceremonial sites with evidence on human habitation going back to the year 1000. The monument also includes more recent cultural artifacts from 19th century whaling and the epic Battle of Midway during World War II.
Like national monuments on land, the Papahānaumokuākea and other marine monuments preserve vital links to the natural world and our own history as a species. Managing them in the public interest is about ensuring that the lessons they offer — including the discovery of new life forms in this biologically rich and remote region, as scientists are still doing — aren't lost forever. It's about conservation, science and respect for natural and cultural history.
More words from Bush at the signing ceremony : "The vibrant beauty of the oceans is a blessing to our country. And it's a blessing to the world. The oceans contain countless natural treasures. They carry much of our trade; they provide food and recreation for billions of people. We have a responsibility, a solemn responsibility, to be good stewards of the oceans and the creatures who inhabit them."
Mr. President, I urge you to accept that solemn responsibility, protect our oceans, and continue the bipartisan legacy of preserving our national monuments.
Calling all HuffPost superfans!
Sign up for membership to become a founding member and help shape HuffPost's next chapter
This post was published on the now-closed HuffPost Contributor platform. Contributors control their own work and posted freely to our site. If you need to flag this entry as abusive,
send us an email
.