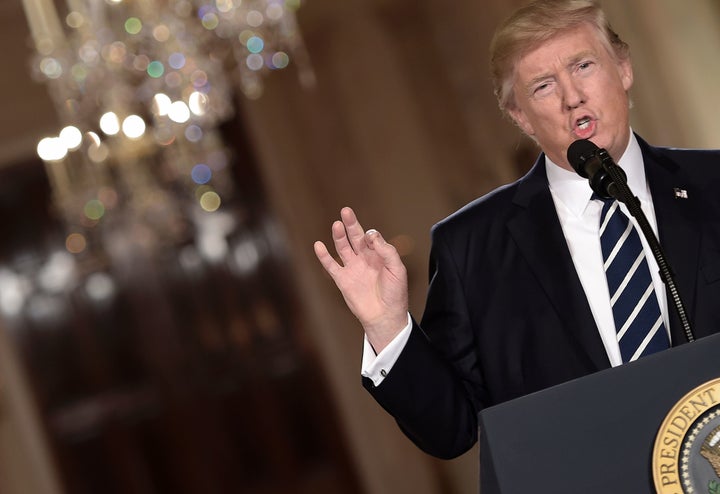 I served in Iraq, as USAID's man in Fallujah.  Lived alongside Marines and interpreters as they fought terrorists. 
Over 100,000 of these Iraqis risked their lives for us during the war.  They bled for our country.  President Trump, you said, before signing: "We only want to admit those into our country who will support our country, and love deeply our people." 
I'd like you know about some of these people.
"Homeboy" lost his leg dragging a wounded U.S. SSgt from MN out of the field of fire.  He spent four years being vetted before coming here.  Hossam helped us build schools.  When insurgents found out, in Oct '06, they left a severed dog head on his front step that said "run." Faisal, an interpreter for the troops you command, died of a suicide bomb on 3/14/2008. 
Mohammed was assassinated when terrorists, who wanted to kill the "traitor," booby-trapped his house in Jan 2008.  Ali had both his legs amputated by an IED blast while working as an interpreter, in Nov 2007.  Hameed died of a gunshot wound to the head while helping our troops in July 2007.  Omar was shot in the thigh two times and in the scrotum while serving the United States of America in February 2007.  Abdul bled out after the right side of his body was blown off in an attack by terrorists in September 2006.
I could do this all day, sadly.
Hamada was tortured for helping us.  Power drills to the legs and thrown out of a moving vehicle.  Jassim's lung collapsed when an IED blew up nearby while out on patrol with our troops.  That happened in January 2007.  That same month, Riad lost both of his legs while interpreting for our troops.  Ali a former colleague of mine, accidentally dropped his U.S. government badge when paying for a haircut.  He was assassinated on Valentine's day, 2007. 
Kate and Zina were such effective interpreters that a militia leader in Baghdad put out a $50,000 bounty on their heads.  They survived IEDs, sniper fire and chlorine bombs before they finally fled. 
They waited years while being vetted.
10 years ago, I started speaking out on their behalf. 
I brought lists of names to the State Department.  The list kept growing.  Those that helped us were Christians, Muslims, Yazidis, atheists, you name it.  They were our allies.  When they ran to save our troops lives, they didn't think about such labels.  These Iraqis believed in America.  They loved our country.  They lost their country as a result of the choice they made to help us.  Eventually, Congress acted, through bipartisan legislation that opened up tens of thousands of visa slots for those who helped us.
A rigorous system was put in place to vet them.  I'm not doubting your intelligence, President Trump, but the Executive Order you signed suggests you weren't aware of it: Even though many of them have USG ID badges, they must submit to lengthy background checks.
Their names are checked against a dozen-plus intelligence databases of known terrorists.  They submit copies of the various awards that they received from our military while serving.  Their eyeballs and fingerprints are scanned and checked too.  They undergo medical examinations. They have U.S. Marines, soldiers, diplomats and aid workers that vouch for their service, often on official letterhead. They wait, in many cases for well over a year, for their first interview with an agent from the Department of Homeland Security.  DHS interviews them about their beliefs, loyalties, friends, background and verifies their service.  In many cases, they must wait another year, for the same interview.  If any answer changes, they are rejected.
Your signature just banned them. Many were on their way.  Others were planning on traveling, with valid visas, in the coming days.  Those in airports had tickets ripped up in front of their faces.  They were told that President Trump doesn't want them in America. 
I was speaking with people in the State Department shortly before you signed the EO.  I know that your administration did not consult with them. They were refreshing whitehouse.gov looking for the final draft to find out what they were supposed to do. (These were senior people).  Had they, they might have realized that there is already an extreme vetting system in place, one that has kept Americans safe.  And you wouldn't have airports jammed by Americans who believe that a promise made to Iraqis and refugees must be kept. 
There are national security consequences as well. The U.S. military must now try to explain to their interpreters why they're banned.  (And most of our troops, by the way, don't speak Arabic, so they kinda need these people). I have heard from many, many soldiers and Marines (some of extremely high rank) who believe this is a huge mistake.  One senior military officer with extensive experience in Iraq and Afghanistan told me it was "heinous and counterproductive." 
They won't be able to recruit anyone to help them in the fight against ISIS.  And if America becomes the country that abandons its allies, nobody will help us in future wars.
The discretionary authority Reince Priebus talked about the other day won't solve it. 
We asked DHS about a case and they said "check with us Monday."  So here's my question: Do you think these people "support our country, and love deeply our people"?
If so, why are you banning them?  
REAL LIFE. REAL NEWS. REAL VOICES.
Help us tell more of the stories that matter from voices that too often remain unheard.
BEFORE YOU GO