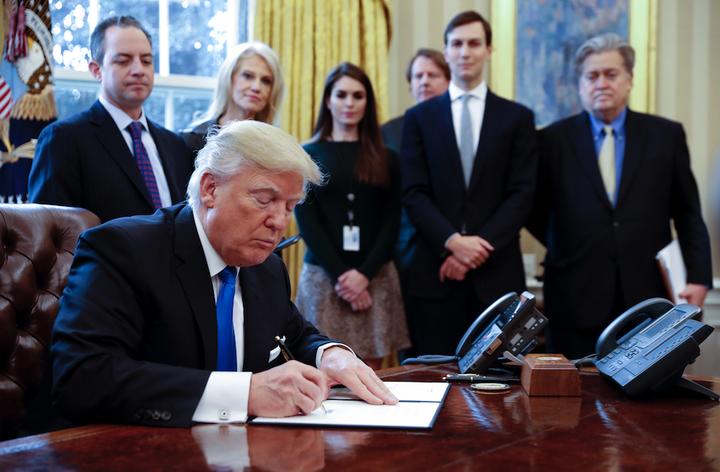 Most key figures are from above the Mason-Dixon, and not of pure GOP stock
Curiously enough, the new president and the bulk of his top-level political entourage in the White House are of Northeast origin. Many actually come from Democratic families.
All of the major players in his high-octane cast of power brokers originally hail from one swath of the country, don't have uniformly conservative-leaning political beginnings, yet are now intensely competing with each other for the ear of the man in charge of the West Wing.
While not all of the main leadership figures surrounding Trump were ever Democrats themselves, the ideological diversity in their collective past seems to contradict what one might expect from the rigidity of a staunchly conservative presidential cabinet.
And most of all, for a president claiming to represent the common man of rural Middle America, it's surprising how many top Trump advisers hail from urban or suburban areas clustered along the Eastern Seaboard — especially close to New York City.
Trump himself was a Democrat for the better part of the first decade this century, even though there was a Republican in the Oval Office for most of that period. From August 2001 to September 2009, Trump was registered in New York State as a Democrat.
To be fair, Trump has changed his party affiliation at least six times since first signing up in Queens, NY. But regardless, he certainly wasn't identifying with the GOP for a significant part of his life. On abortion, taxes, and drugs, he was generally a liberal. Despite his hardline anti-immigration views, he has married multiple immigrants, and all his grandparents, in addition to his mother, were born overseas (in Scotland and Germany).
Vice President Mike Pence comes from a working-class Irish Catholic Indiana family that tended Democratic. In fact, into early adulthood, Pence himself volunteered for the Democratic party and voted for Jimmy Carter in 1980.
But conversion to evangelical Christianity in college began his rightward shift towards the philosophy of Ronald Reagan.
Reince Priebus, the former RNC chairman, is a lawyer and politician born in Dover, New Jersey. His family moved to Green Bay, Wisconsin, when he was 7. Priebus identifies as a Greek Orthodox Christian, a faith inherited from his mother, Dimitra.
Steven Bannon, a businessman, media executive, and former chairman of right-wing outlet Breitbart, was born to a working-class family in Norfolk, Virginia.
"I come from a blue-collar, Irish Catholic, pro-Kennedy, pro-union family of Democrats," Bannon said. For the man now famous as having stoked the flames of the Alt-Right movement, this is perhaps a surprising political lineage. After the perceived failures of Jimmy Carter's presidency, Bannon become disaffected with the Democratic party and also switched allegiance to Reagan.
As the president's most-trusted advisor, Jared Kushner supposedly has unwavering loyalty to his father-in-law. The heir to the family real estate business, Kushner was born to Orthodox Jewish parents in Livingston, New Jersey.
Like many property developers, Kushner's father, Charles, gave large campaign contributions to Democrats. Jared followed suit with significant gifts to Hillary Clinton, among others.
Kellyanne Conway, Trump's victorious campaign manager, is now serving as the president's counselor. The longtime GOP pollster was born Kellyanne Fitzpatrick and raised in Atco, New Jersey. Half-Irish and half-Italian, she was raised in an apolitical household of women.
But when Conway was turned onto politics in 1984, her initial instinct was to support Democrats Geraldine Ferraro and Mario Cuomo, who both gave speeches at the DNC that year. "I should've been a Democrat," she said. But after seeing Ronald Reagan's speech, she was convinced that Republican was the only way to go.
Sean Spicer, the main conduit between Donald Trump's administration and the press, grew up in Barrington, Rhode Island. Although it's unclear whether or not his parents were registered Democrats, the Ocean State is deeply blue.
Hope Hicks, the White House Director of Strategic Communications, is from Greenwich, Connecticut, also a heavily Democratic state.
Overall, Trump's closest political aides represent a stunningly small geographic cross-section of the U.S., and have political roots broader than traditional Republican dogma.
Related
Popular in the Community