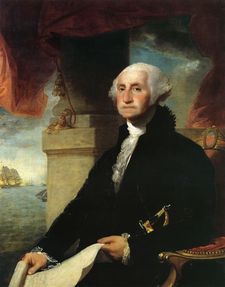 Presidential chocolate was part of each breakfast at the Mt. Vernon home of George and Martha Washington, where Martha sat at the head of the table for the punctual 7 a.m. meal, dispensing the beverages, coffee and tea as well as the chocolate.
President Washington regularly ordered chocolate during his lifetime to supply his appetite, placing his first order for 20 pounds of chocolate from British merchant, Thomas Knox in 1757.
When Washington was elected to the House of Burgesses in 1774, the celebration boasted chocolate. "In the evening the returned Member [George Washington] gave a Ball to the Freeholders and Gentlemen of the town. This was conducted with great harmony. Coffee and Chocolate, but no Tea. This Herb is in disgrace amongst them at present." from The Journal of Nicholas Cresswell, 1774-1777. Port Washington, NY: Kennikat, 1968, p. 27-28.
Also, chocolate spread its enjoyment to extended family members of the president. A chocolate pot was crafted by London silversmith John Carter II for Martha Washington's son, John Parke Curtis and his bride, Eleanor Calvert, at the time of their wedding in 1774.
Thought to be a healthy start for the day by Washington's niece, the president was asked to supply her with cocoa bean shells for infusions. Burgess Ball, her husband requested two or three bushels of chocolate shells, having "frequently drank Chocolate...at Mt Vernon, as my Wife thinks it agreed with her better than any other Breakfast."
In 1792, Martha Washington, while living in Philadelphia with the president, wrote to her niece Fanny, about filling her needs for chocolate : "I wish you would let me know which you will reather [sic] have chocolate in cakes or the shells ... I will send that you like best." In 1794 Mrs. Washington inventoried two barrels of chocolate shells in a storeroom at Mt Vernon.
With all of this chocolate around, there must have been chocolate at Washington's birthday as well. Along with his drinking chocolate at his birthday breakfast, President Washington's birthday dessert may have included this historic Chocolate Puff (meringue):
Chocolate Puffs (or meringues)
makes 2 1/2 to 3 dozen puffs
3 large egg whites at room temp
3/4 cup superfine sugar
4 TBS sifted Dutch process cocoa
1. Preheat the oven to 200º F. Line baking sheets with parchment paper.
2. In the bowl of an electric mixer, beat the egg whites at medium speed until frothy.
3. Increase the speed to high and gradually add the sugar, about 1 TBS at a time, mixing until the sugar is dissolved and the egg whites hold stiff peaks.
4. Reduce the mixing speed to medium low and gradually add the cocoa, beating in each addition until well combined.
5. Drop the meringue in rounded tablespoons about 1 1/2 inches apart on the prepared baking sheets and bake for two hours or until puffed and firm. Turn off the heat and let the puffs dry further in the oven for at least two more hours or until they are cooled and crisp.
6. Store in a covered tin for up to 3 days.
Thank you to Dining with the Washingtons: Historic Recipes, Entertainment and Hospitality from Mount Vernon by Stephen A. McLeod, editor, and to the library staff at The Fred W. Smith National Library for the Study of George Washington at Mt Vernon.
Popular in the Community