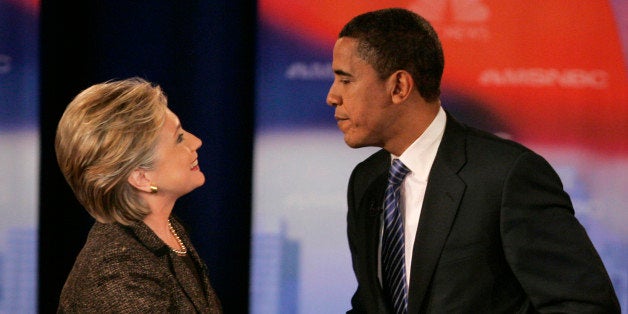 WASHINGTON -- The latest crop of presidential hopefuls apparently don't believe the early bird gets the worm.
Sen. Ted Cruz (R-Texas) officially announced his presidential run on Monday, the first major candidate to do so. In 2008, the last time there was no White House incumbent seeking re-election, every major candidate had already declared by mid-March of the year before the vote. That includes current likely candidates Hillary Clinton and Mike Huckabee, who had both filed in January 2007.
The earliest person to jump into the 2008 contest was then-Iowa Gov. Tom Vilsack (D), who declared his candidacy in November 2006. Vilsack now serves as President Barack Obama's secretary of agriculture.
It's not clear that being first out of the gate helps a White House hopeful. As Politico noted, no first-in candidate for his party's nomination has won the presidency this century, and only Al Gore in 2000 secured his party's nomination. The other initial entrants (excluding incumbents) -- Newt Gingrich in 2012, Vilsack and Sam Brownback in 2008, Howard Dean in 2004 and Bob Smith in 2000 -- all had unsuccessful campaigns.
The reasons why candidates may be waiting longer range from fundraising considerations to congressional and other legislative schedules.
Wayne Lesperance, director of the Center for Civic Engagement at New England College, suggests that a later timetable may be the new normal in the post-Citizens United world.
"Waiting to declare allows a prospective candidate more time to fundraise through the super PAC. Once formally declared, restrictions kick in that limit those efforts," said Lesperance. "So, for some of the would-be candidates, waiting makes good sense in terms of the bottom line on how much money they will bring to the race."
Perhaps the most anticipated candidate this electoral cycle is Clinton, widely seen as the Democratic Party's frontrunner even though she has not yet announced. Unlike many lesser-known candidates, Clinton doesn't need to officially enter the race to get attention; the media already follows her wherever she goes, and attracting crowds of supporters is no problem.
But by formally entering the race, Clinton would set off increased scrutiny. As The Wall Street Journal noted last year, "The day she announces, she will be an even bigger target for Republican operatives who see her as the Democrats' best chance to hold the White House in 2016. She'll also be a vehicle for Republicans to raise campaign funds and rally their electoral base."
Many of the other possible Democratic candidates, who generally have lower public profiles than the former secretary of state, are still figuring out their place in the field and may be waiting until Clinton jumps in to position themselves.
Lesperance said some candidates may want to present themselves as the alternative for voters unhappy with the status quo.
"Arguably if someone like [Senator] Elizabeth Warren were to get in late and craft a narrative of having been drafted into service by party members who are unhappy with their choices, well, that might be a very smart strategy," said Lesperance.
On the Republican side, Sen. Rand Paul (Ky.) plans to announce in early April, and perhaps Sen. Marco Rubio (Fla.) as well. As Politico noted, they can take advantage of the fact that the Senate will be in recess and they'll have time to devote to the campaign trail.
Wisconsin Gov. Scott Walker (R) has said he would wait until after his state's spring legislative session was over, New Jersey Gov. Chris Christie (R) is likely delaying until after the fallout from federal investigation into his administration has subsided, and former Florida Gov. Jeb Bush (R) is taking advantage of the quirk in campaign finance law that allows him to help raise unlimited amounts for his super PAC until he officially declares.
The unusually large number of potential Republican candidates has also increased the competition for GOP resources, as top campaign staffers may be slower to commit to a team.
"There's an inside-the-primary contest that takes place for campaign staff and donors. On the Republican side, we have a very large crowd of potential candidates. That means lots of folks competing for the top tier staffers in the early states. There are stories about shortages of good campaign help in Iowa," said Lesperance. "Similarly, I hear that some candidates are having trouble nailing down individuals in New Hampshire to shepherd them around the Granite State. So some of the slowness out of the gate has to do with lining up the right key people to facilitate the campaign in those early states."
Calling all HuffPost superfans!
Sign up for membership to become a founding member and help shape HuffPost's next chapter
BEFORE YOU GO
PHOTO GALLERY
Which Women Might Run In 2016?