Unless you're in the cool indoor climate of a museum, Washington D.C. isn't exactly the ideal summer destination. Especially if you also happen to have the most stressful leadership job in America. So, for as long as there have been presidents, there have also been presidential summer getaways.
Though Obama's Martha's Vineyard retreat comes foremost to mind, journalist and writer Lawrence L. Knutson, author of the soon-to-be-released "Away From The White House: Presidential Escapes, Retreats, and Vacations", reminds us that stately vacation homes of administrations past come in various shapes, sizes and locations.
What they often have in common is an ocean view. Take, for example, the summer residences of Presidents Garfield and Grant, who both vacationed in Long Branch, New Jersey. While it might not be on your radar as much as, say, Kennebunkport or Hyannis Port, the town became a sort of mini-D.C. come summer, hosting no less than seven Presidents at varying points from the late 1800's to the early 1900's. Those interested in checking off another item on their Presidential Historical Tourism checklist can visit Seven Presidents Oceanfront Park, a stretch of beach in Long Branch, named in honor of the vacationing habits of Presidents Grant, Hayes, Garfield, Arthur, Harrison, McKinley and Wilson. (Note: You'll have to pay an admission fee if visiting between Memorial Day and Labor Day.)
If you're looking to go beyond New Jersey to say New England or Florida, these 6 former presidential spots confirm the idea that the quintessential all-American vacation home is one that sits by the water.
President Ulysses S. Grant's Cottage

Located in Long Branch, New Jersey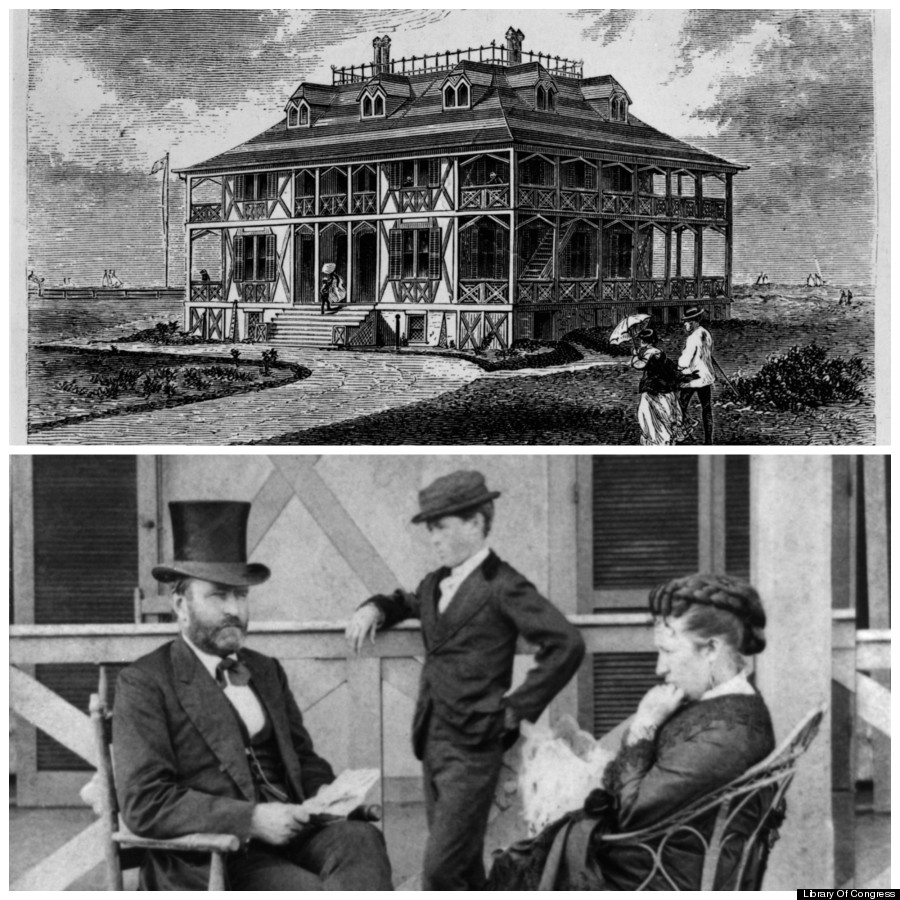 Top: The Grant "cottage" was a mansion in all but name. A reporter from the New York Herald once described walking through the front door to discover the president's office, a sitting room and a large parlor complete with fireplace mantels and a piano all on the first floor. Dumbwaiters in a butler's pantry led to the basement kitchen, where, among other rooms, there was a passage to an underground icehouse capable of holding several hundred pounds of ice.
Bottom: President and Mrs. Grant sit outdoors with their son Jesse, circa 1872. After his presidency, Grant and his family continued to vacation at Long Branch, and it was here in 1884, that he agreed to write a series of articles on his Civil War campaigns.
President James A. Garfield's Cottage

Located in Long Branch, New Jersey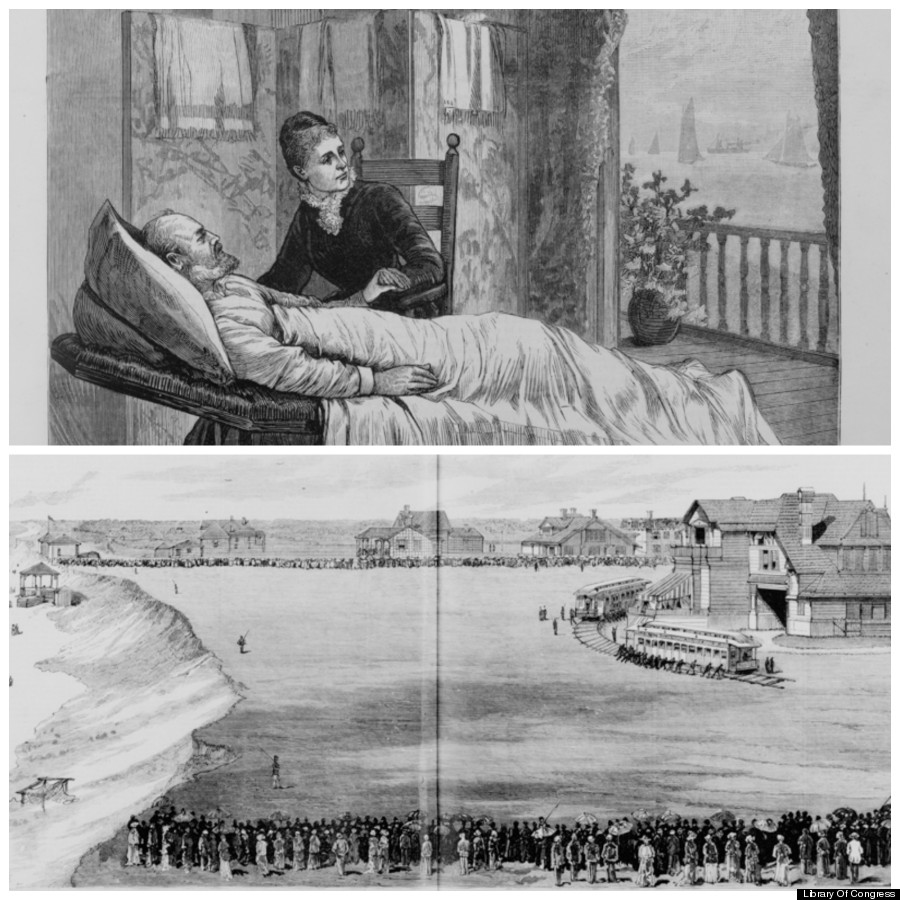 Top: After Garfield's attempted assassination, he was surrounded by his family and positioned to see the ocean. He told his doctors, "It is refreshing to get where I can look at the sea." He observed the fisherman, the boats and the bathers and whispered, "I am myself again."
Bottom: Crowds gathered one afternoon to watch the president's train inch toward the cottage. The original engine was too heavy for the track, so workers switched Garfield's car to a smaller engine. When that stalled, 200 railroad workers pushed it the last few hundred yards to the cottage door. The tea house, which was built from the railroad tiles from the aforementioned endeavor, is currently undergoing preservation efforts on the Long Branch Historical Museum grounds on which it now rests.
President Grover Cleveland's Summer House

Known as "Gray Gables" and located in Buzzards Bay, Massachusetts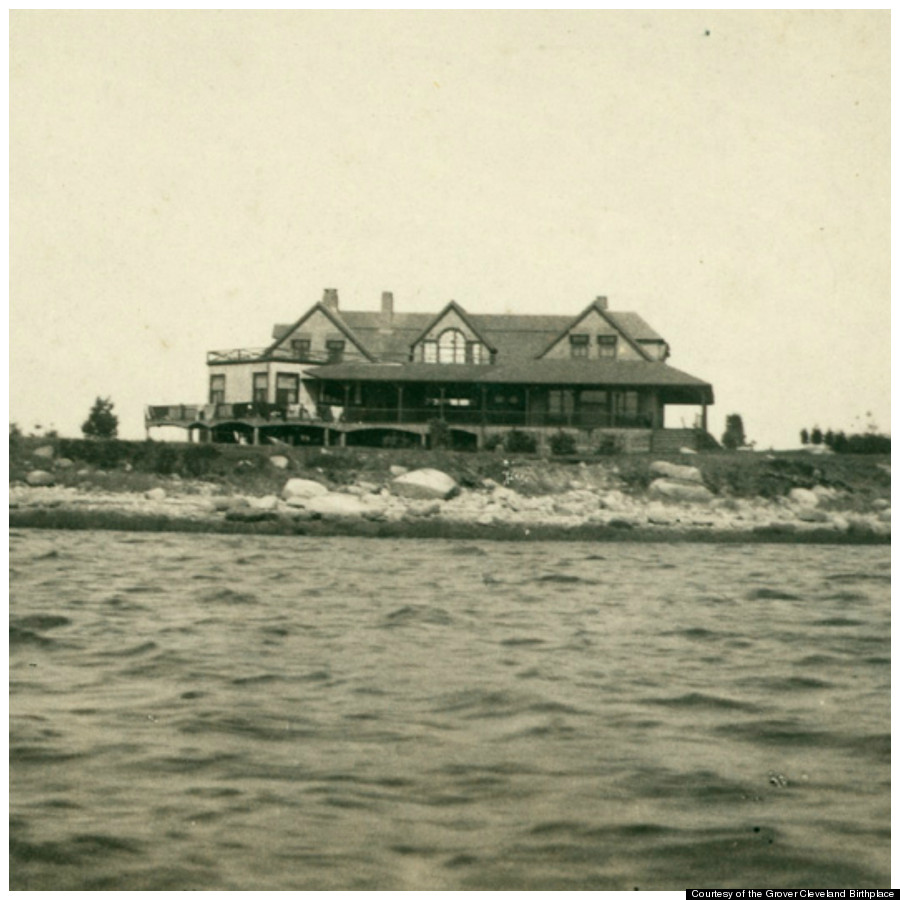 In 1891, Cleveland purchased the property and expanded it for his family's use. The summer house sits south of Boston on Buzzards Bay on the neck of land where Cape Cod begins. Called Gray Gables, the house offered privacy and comfort -- and direct access to bathing and fishing.
President William Howard Taft's Shore Home

Known as "Stetson Hall" and located in Beverly, Massachusetts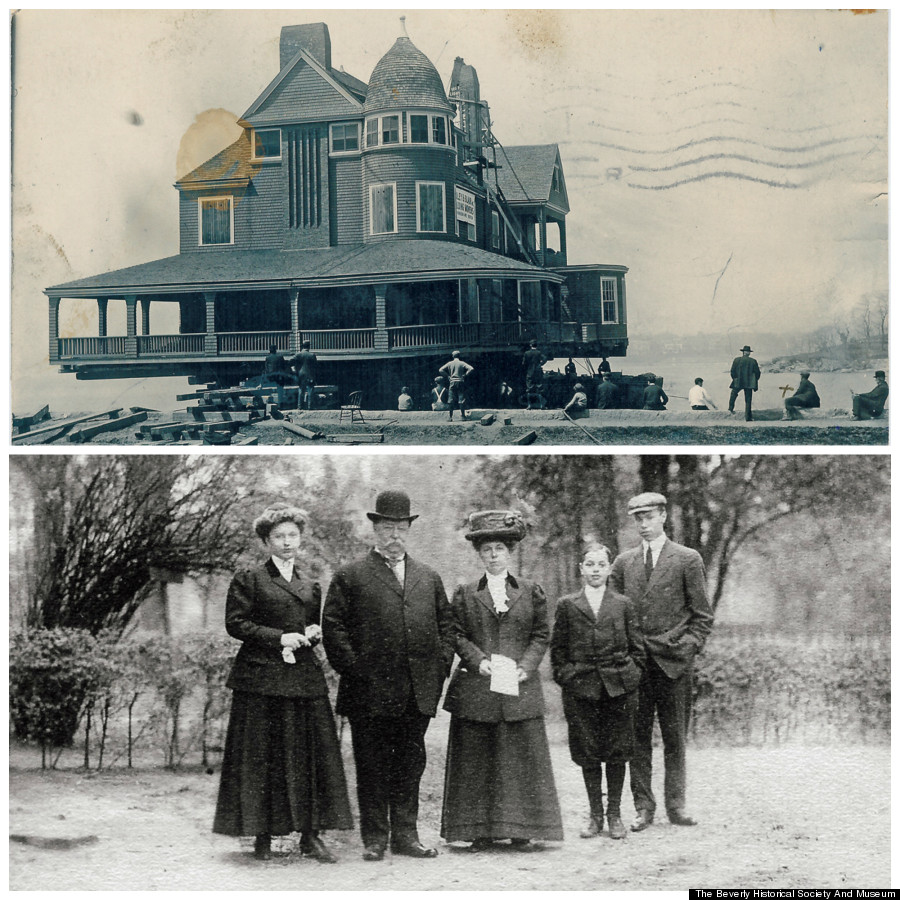 Top: Maria Antoinette Evans, owner of Stetson home, not only refused to rent her mansion to the Tafts for a third summer but uprooted it, ordering it split in half and towed across Salem harbor to Marblehead.
Bottom: The Taft family outside of Stetson Hall, 1909 or 1910. All three Taft children enjoyed their Beverly summers. Robert, then finishing at Yale, played golf and tennis. Helen, a student at Bryn Mawr, drove around town in an electric runabout. Young Charlie headed for the water in the sailing dory Bandit.
President Harry S. Truman's Beachside Escape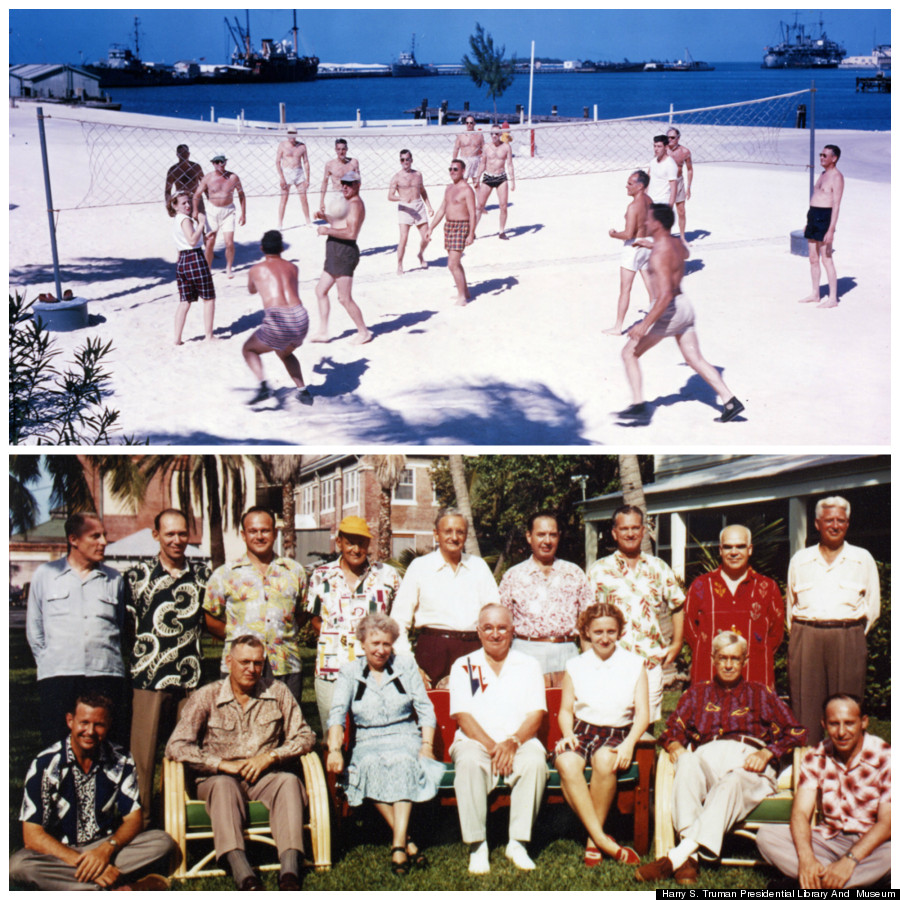 Top: After breakfast President Truman read and answered mail before walking to Truman Beach, where he swam and aides played volleyball.
Bottom: On March 26, 1952, the last day of what turned out to be his last Key West vacation, President Truman posed with the staff on the lawn of the Little White House. Today the Little White house is open to the public as a historic site and museum.
President John F. Kennedy's Summer Home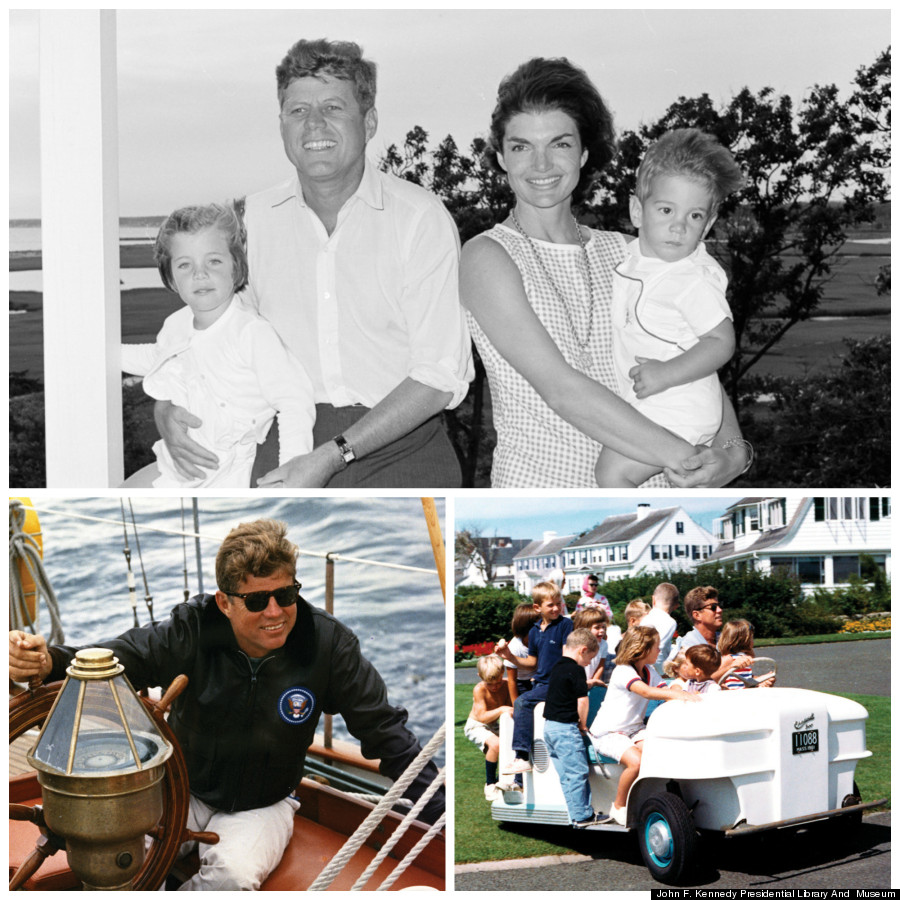 Top: The Kennedy family home was only one of the venues for President Kennedy's escapes. His father, Joseph P. Kennedy, bought the sprawling house on Cape Cod in 1929, and the family has used it and other houses in and near the compound for generations. This 1962 photo of the photogenic first family famously captured the public's imagination.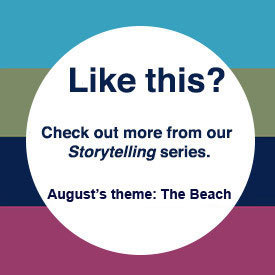 Bottom Left: President Kennedy at the helm of the Manitou, sailing off the coast on August 12, 1962.
Bottom Right: President Kennedy gives the children a ride around the Hyannis Port compound in 1962.
Are you an architect, designer or blogger and would like to get your work seen on HuffPost Home? Reach out to us at homesubmissions@huffingtonpost.com with the subject line "Project submission." (All PR pitches sent to this address will be ignored.)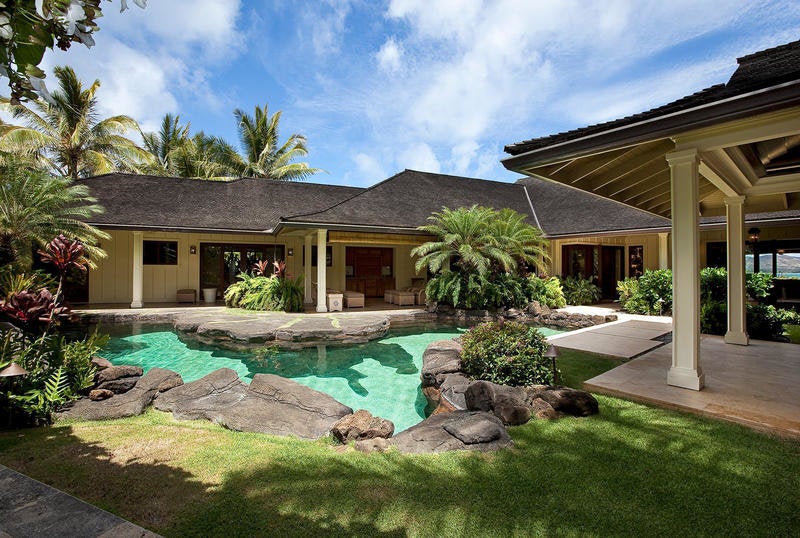 President Obama Vacation Home