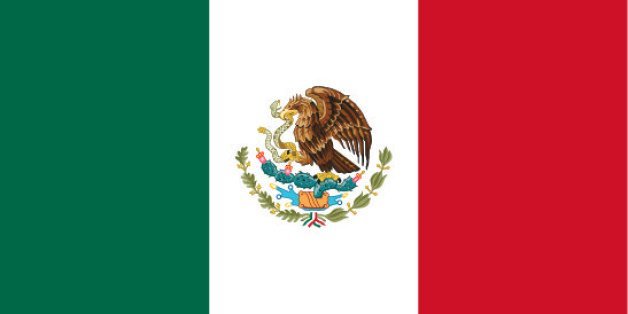 Much has been said during the 2016 presidential race about the need for a wall on the U.S./Mexico border, the asserted perils of the North American Trade Agreement (NAFTA), and the crimes attributed to undocumented immigrants. These opinions are formed primarily by candidates with little personal connection to the U.S./Mexico border. John Kasich, Donald Trump, Hillary Clinton, and Bernie Sanders are all northeasterners (Ohio, New York, and Vermont). Only Ted Cruz from Texas comes from a state on the border.
These distant perspectives make the benefits of the U.S./Mexico relationship essentially invisible to the public because the dialogue has been skewed by politics and limited or erroneous facts, creating a public reaction detrimental to the growing and mutually-beneficial economic ties between the two countries.

"U.S. exports of goods and services to Mexico supported an estimated 1.1 million jobs in 2014."
For starters, U.S./Mexico trade was valued at $583.6 billion in 2014 and Mexico provides the U.S. with its second largest export market. Mexico purchased more than 15 percent of U.S. exports, valued at $267.2 billion, according to the Office of the U.S. Trade Representative. In return, the U.S. purchased $316.4 billion in goods and services from Mexico. U.S. exports of goods and services to Mexico supported an estimated 1.1 million U.S. jobs in 2014.
The Wilson Institute reports that every product dollar the U.S. imports from Mexico contains forty cents of U.S. products. Canadian imports contain 25 cents, China four cents, and the European Union two cents.
Exports to Mexico are important to state economies, too. According to the Foreign Trade Division of the U.S. Census Bureau, Texas benefits most with more than $94 billion in merchandise sales to Mexico, almost 40 percent of the U.S. total. California was second with nearly $27 billion in sales.
Significant economic benefit goes to Midwestern states where anti-trade sentiment is centered. Michigan had the third most U.S. exports to Mexico with $11 billion in sales in 2014. Ford, a Michigan company, has been criticized by some candidates for moving a manufacturing plant to Mexico. However, a significant percentage of U.S. parts needed for production in the new plant, some made in Michigan, will likely be exported to Mexico before the final vehicle is imported back into the U.S.
"The Wilson Institute reports that every dollar of products that the U.S. imports from Mexico contains forty cents of U.S. products. Canadian imports contain 25 cents, China four cents, and the European Union two cents."
Other Midwestern or non-border states in the top ten of U.S. exports to Mexico include Illinois ($9 billion), Ohio ($6 billion), Indiana ($4.8 billion), Tennessee ($4.7 billion), and Pennsylvania ($4.2 billion).
The value of the relationships between the two countries can be better understood by looking at the ties between San Diego, California, and Tijuana, Baja California. Known as the CaliBaja Megaregion, these adjoining metropolitan areas have a combined population of six million residents, three million each. The political, business, cultural, and policy communities on both sides of the border clearly understand how the bi-national economies benefit each other.
On April 15, 2016, more than 50 community leaders attended a planning meeting of Tijuana Innovadora (Innovative Tijuana). Innovadora is a week-long event held every two years in Tijuana and planned by leaders from both sides of the border. The event brings Nobel Prize winners, international newsmakers and regional innovation leaders to Tijuana. Guests have included Al Gore, Carlos Slim and many other luminaries. Innovadora is organized through ten spheres of influence that include business development, sports, volunteerism, the digital community, environment, art, and youth.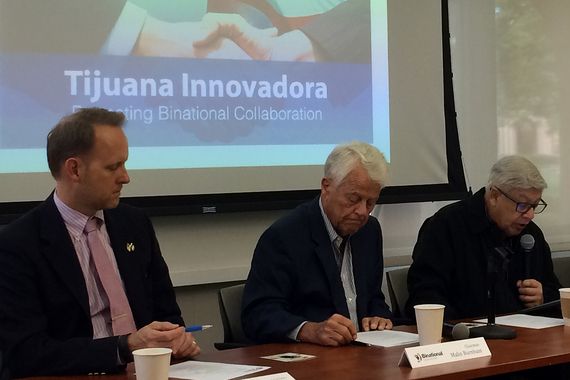 Among the attendees at a planning meeting for Tijuana Innovadora on April 15, 2016, were (from left to right) U.S. Consul General William Ostick and Co-Chairs San Diego philanthropist Malin Burnham and Innovadora founder Jose Galicot Behar. Photo credit: the author.

Visitors to Tijuana enter the city at San Ysidro via a modern port of entry and travel down Paseo de los Héroes, a large boulevard with a tree-lined and landscaped median. They pass fine restaurants, U.S. big box stores like Costco and Home Depot, a Pizza Hut, an Applebees, and the CECUT, Tijuana's cultural center. This modern city is home to more than 600 maquiladoras (Mexican factories run by a foreign company) that produce high quality electronics, medical devices, aerospace and automobile parts, and other products.
Former San Diego Mayor Jerry Sanders, now the CEO of the San Diego Regional Chamber of Commerce, likes to say that all of the Toyota Tacoma pickups sold in the U.S. are made in Tijuana, and that more medical devices are made in that city than anywhere else. One maquiladora, SMK Electronics, makes two million remote controls each week for a variety of name-brand companies.
Sanders' Chamber of Commerce has made cross-border trade and relationships one of the pillars of its programs. The organization annually sponsors trips to Washington D.C. and Mexico City attended by approximately 100 leaders from both sides of the border to push for mutually beneficial initiatives. Local, state and federal agencies and other organizations together support projects that reduce border wait times. $1.3 billion in U.S. border improvements have been completed or are underway on the U.S. side. Complimentary Mexican projects have also been built or are near completion.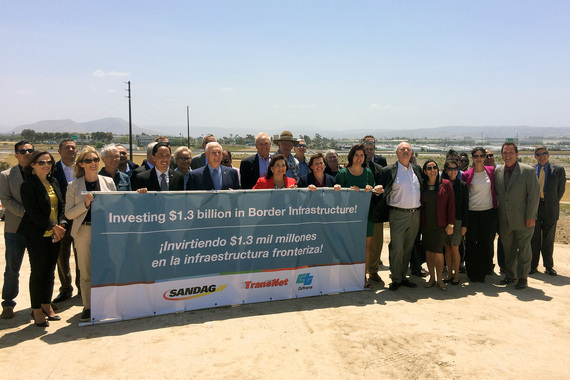 Elected officials, community and business leaders from both sides of the border met on April 15, 2016, to celebrate $1.3 billion in border infrastructure improvements. Photo credit: the author.
Those improvements are needed because the San Ysidro, Otay Mesa, and Tecate ports of entry in San Diego County together represent one of the world's largest border crossings. In 2014, on average, 130,000 people legally crossed the border into the U.S. through one of these ports of entry each day. At San Ysidro alone, 29.5 million people crossed the border into the U.S. in 2014, and an equal amount crossed in the other direction. The two-way traffic count included 39.5 million private vehicles and buses at the three ports of entry and 1.7 million trucks.
This bi-national economy brings $6 billion in direct economic impact to San Diego annually, and the infrastructure improvements are designed to capture some of the additional $7 billion in local economic benefits lost because of long border wait times.
A new fourth crossing will be paid for by tolls, charging for the opportunity to save time. To determine what the market will bear, the San Diego Association of Governments (SANDAG) commissioned a study that showed 36 percent cross the border to work and 37 percent to shop. Of those crossing for work, 45 percent work in Mexico and 44 percent work in the U.S. These statistics and others indicate the two-way benefits to both San Diego and Tijuana and, by extension, the U.S. and Mexico.
"We share families, culture and jobs," says Chamber CEO Sanders, "and the brainpower and universities on both sides of the border make us an economic powerhouse." Sanders backs his claims by pointing out that Mexico is producing more engineers each year than the U.S., and that they are equally capable. That capability is contributing to Mexico's growth from an economy with a GDP ranked fifteenth in the world to one some economists say will move into the top ten in coming decades.
That brainpower is leading to cross-border academic relations, too. University of California, San Diego, Chancellor Pradeep Khosla signed an MOU on March 3, 2016, with Dr. Fernando León García, the President of CETYS University, one of Mexico's top technical universities, adding to MOU's previously established with the Colegio de la Frontera Norte (COCEF) and the Universidad Autonoma de Baja California. Another long-term relationship exists between San Diego State University and COCEF, and Southwestern College hosts the San Diego Center for International Trade Development. These and other academic relationships throughout California and the nation support the bi-national 100,000 Strong initiative that hopes 100,000 college students from each country will eventually be studying in a university across the border.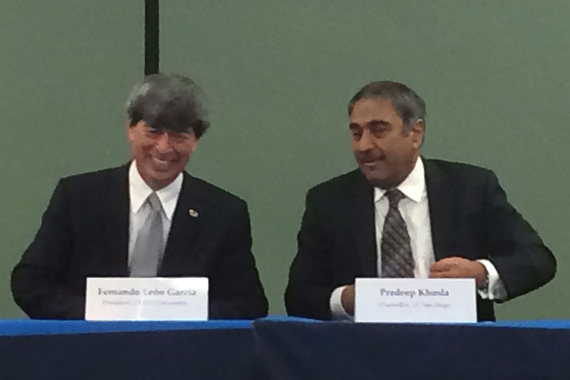 CETYS University President Dr. Fernando León García (l) and UCSD Chancellor Pradeep Khosla (r) enjoy a light moment after signing an MOU between the two schools on March 3, 2016. Photo credit: the author.
San Diego and Tijuana share the environment, too, including a coastline on the Pacific Ocean and the Tijuana River. Flooding and pollution coming across the border into the Tijuana River Valley has long been a contentious issue between the two countries but is now being addressed by the Tijuana River Valley Recovery Team, a collaborative group of agencies, organizations and stakeholders from both sides of the border.
So what has become highly visible to the nation during the presidential race (border walls, undocumented immigrants, lost U.S. jobs) has made invisible the value of the economic, cultural and personal relationships that are thriving not only between San Diego and Tijuana but between the two nations. The CaliBaja Megaregion is betting there will be even more mutual benefits in the future, both locally and nationally, if the national dialogue will allow those benefits to become visible.
Popular in the Community