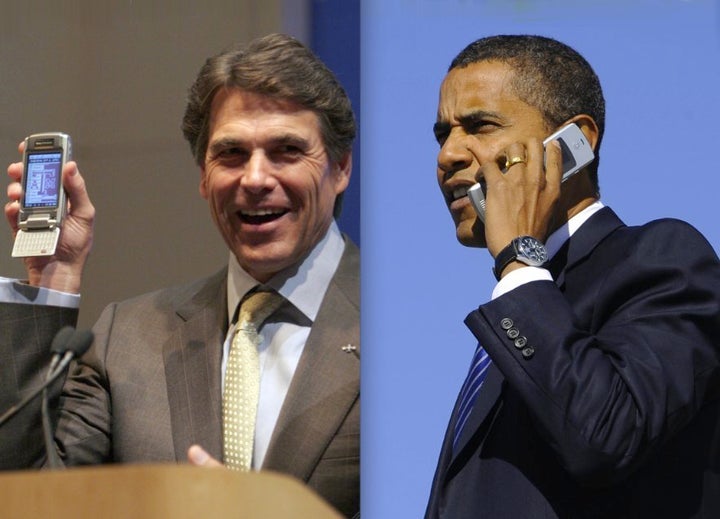 WASHINGTON -- The thirst for money is an endemic feature of modern presidential campaigns, and one that is only worsening. In 1988, those who ran for the White House raised a combined $324.4 million. Twenty years later, that total was $1.748 billion. By 2012, it's expected that America will witness its first billion-dollar campaign (for President Barack Obama), while a rapidly growing network of shadowy groups and political action committees will pour tens of millions more into electioneering.
In this mad dash for cash, a small universe of political operatives are seeking the key to what is widely expected to be a potential gold mine: donations via mobile device.
"This is the big question heading into 2012, really," said Tim Tagaris, new-media director for the Service Employees International Union, who ran online operations for former Sen. Chris Dodd (D-Ct.) and Connecticut senatorial candidate Ned Lamont. "No one has figured it out. But with email being the main driver of political giving and an exponential increase in mobile to check [email], someone has to."
Developing easy ways for people to donate to political campaigns using their cellphones has been the holy grail of campaign finance teams for several cycles now. According to a July 11, 2011, Pew Research study, 30 percent of all adults use their phones to check email or browse the Internet. Of those who actually own cellphones, that number goes up to 36 percent. Of those who own smartphones, that number jumps to 87 percent.
The prospect of tapping this activity is deeply enticing.
"Ninety-five percent of online contributions for a normal federal campaign will be driven by email," explained Nate Thames, political director for ActBlue, a PAC that serves as a virtual candidate-shopping center for prospective donors. "However, the tool that potential donors are using for consuming those emails is shifting. And as smartphones continue to gain market share, we are seeing a steady increase in the mobile percentage of our traffic."
So far, however, mobile giving has been to political fundraising what Dippin' Dots has been to ice cream: the self-identified, unrealized future. No current presidential campaign would reveal what portion of its funds had come from mobile sources, arguing that doing so would put it at a tactical disadvantage. But Thames said that the percentage of campaign donations coming through that platform remained below 10 percent (7.5 percent in September). The Democratic Senatorial Campaign Committee did say that donations through mobile devices had doubled since the end of the last electoral cycle. But from what number to what number was not revealed.
"Mobile giving is not going to take over online fundraising this cycle," said Stephen Geer, who led Obama's email and online fundraising operations in 2008. "I ran the largest online fundraising operation in the history of politics, and I know what you can and can't do. And I know everyone wants to dream about what the next big thing will be because there is so much money involved, but we are still a few steps away from that."
But that doesn't mean those steps shouldn't be taken, Geer added.
Right now, the most rudimentary way of giving to politicians through mobile devices is outlawed. Roughly a year ago, the Federal Election Commission ruled that campaigns could not receive donations via text messages -- similar to the way in which the Red Cross facilitated charitable contributions after the earthquake in Haiti. Allowing individuals to give to a candidate through text messages (the amount donated would appear on one's monthly bill) would make it simple to fire off a contribution on a whim. But the FEC determined that it also circumvented disclosure laws, which require the occupation and the name of the employer for those who give more than $200.
Unable to take advantage of that method, campaigns have sought the next best alternative. A frantic tech-infused arms race has been waged to create the optimal mobile-giving platform.
Spencer Whelan, director of marketing of Kimbia, who has worked with several campaigns, said that Texas Gov. Rick Perry has leaned on texting mobile users with a "pledge to give" link, which instructs and reminds recipients to donate. The method depends on people following through on their promises. But it also, as Whelan noted, "allows people to give in a way that is comfortable."
Relying on email follow-through is the most basic mobile-giving method. Jed Alpert, the CEO of Mobile Commons, a company focused on mobile-based advocacy, has run Obama's mobile program alongside the group Blue State Digital. He said that the strongest response rates came when the campaign would go a step further than Perry's by sending a text message that linked to a website that triggered an "auto-populated" credit card form.
The use of device-appropriate websites is growing more common at other campaigns, as candidates inevitably try to imitate successful models. But the real energy is being funneled into making those donation pages more user-friendly.
The task here is fairly straightforward: allay people's concerns, frustrations or fears about giving money over their cellphones. Mobile users don't enjoy typing out multiple fields of information (name, address, occupation, etc.). They are skeptical of online giving, especially when done from a hand-held device. And their attention spans are short. Who pulls out a credit card to give money to a politician while waiting for a bus?
So the technicians are working to make the entire process simpler. Patrick Ruffini, a digital strategist for many Republican candidates -- most recently, Gov. Tim Pawlenty's presidential campaign -- said that he and others are eyeing mobile applications (for cellphones or tablets) that would streamline the payment process.
"It could be as easy as storing the information on your phone," Ruffini said. "But you have to fix the process of mobile payments before you fix mobile donations."
ActBlue has an ActBlue Express template that allows users to create an account with all the relevant information disclosed. From there, they can donate to any candidate just by entering an email address and a password. Already, 28,000 donors have signed up.
"Just like you don't have to enter your address and payment information every time you buy something from Amazon, we don't think you should have to be inconvenienced when making a political donation," said Thames.
Digital strategists see obvious benefits to the model, which Geer affectionately called a "Fandango for political giving." There are rumors that several presidential campaigns are working on a variation of it. Candidates and political parties are already allowed to receive recurring donations for which they store the donor's information or have a "token" that queues up that information when needed.
And yet no presidential campaign currently has a Fandango- or Amazon-like account system that would streamline mobile donations. Thames suggested the problem is one of software. Online donation accounts work for ActBlue -- where an individual can give to multiple campaigns -- but they're cumbersome when a new account has to be created for each donor for each candidate. But others suggested that, as with the mobile-giving industry at large, mobile political giving is just a matter of ingenuity and time.
"It's the kind of thing that you do kind of wonder whether this is the thing that will take off," said Ruffini. "I feel like there has to be some other innovation that takes place and an aha moment that moves the ball forward."