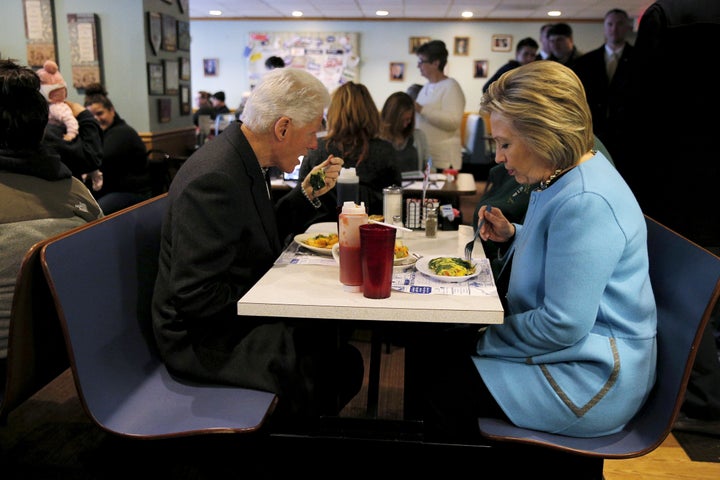 Though various media outlets have reported on how much the presidential candidates' campaigns have spent on pizza and other fast food, we know little about where the candidates stand on the food and agricultural policy matters that contribute to how the ingredients in all that takeout are actually grown and processed. Or how much its delivery person was paid. Or how many families rely overwhelmingly on junk food for survival because they don't have access to affordable, healthy food.
So, we reached out to all the Republican and Democratic campaigns -- there were a few more of them at the time -- to see what the candidates had to say on issues including the funding of nutrition assistance programs like SNAP and WIC, healthy school lunches, biodiversity in agriculture and subsidies for farmers.
The result? Nothing. None of the presidential campaigns responded to our eight-question survey, though two of them have previously published position statements that address some, but not all, of these issues.
Food-focused nonprofit Food Tank raised 10 of their own questions on food to the campaigns last month. They haven't heard anything back, either, which Food Tank president Danielle Nierenberg called "a shame, because food is the one thing all of us have in common with the candidates and one another."
"I think the candidates are missing a real opportunity," Nierenberg told The Huffington Post. "I feel bad for them and for us as eaters."
Claire Benjamin DiMattina, executive director of Food Policy Action, a nonprofit group that has pressed the campaigns to address food issues through an initiative called Plate of the Union, also expressed disappointment in the candidates' silence.
"For an issue that is central to the well being of every American, you don't hear nearly enough about food policy on the campaign trail," DiMattina said in a statement to HuffPost. "Voters want political leadership on food issues, and we will be working to make sure their voices are heard this fall."
To be fair, the presidential candidates haven't been totally silent on food and agriculture in recent weeks. In his senatorial role, Bernie Sanders issued two statements in opposition to legislation that would have blocked his home state of Vermont and others from requiring the labeling of foods containing GMOs. That bill stalled in the Senate last week.
On the Republican side, we learned that Donald Trump likes his steak well-done — a culinary sin in the eyes of many. Ted Cruz told Us magazine that, when he's away from his family and in D.C., he mostly relies on canned soups for sustenance. And a strange video of John Kasich ordering a Western omelette and commenting on a waitress's manicure in what appears to be 1998 was uploaded to YouTube by BuzzFeed's Andrew Kaczynski.
The candidates' inattention to food issues comes at a time when Americans appear to be more interested that perhaps ever before in where their meals come from.
A new poll released last week by the Johns Hopkins Bloomberg School of Public Health cited the emergence of a new "food voter," finding that 92 percent of respondents rated sustainable food production practices as a high personal priority. Fifty-two percent of respondents said they would be less likely to vote for a representative in Congress if they did not back sustainability efforts.
""I think everyone -- Trump voters, Sanders voters -- agrees that if food that is healthier for you and better for the environment can taste better and be more affordable, we should do that.""
That level of support may be a sign of things to come -- if not in this election cycle, than perhaps for the next one.
For his part, Josh Tetrick, CEO of Hampton Creek, a food technology company specializing in alternative products like the popular Just Mayo, believes change is coming. After Tetrick took out a series of full-page ads in the New York Times urging the candidates to make the nation's food system a campaign issue, staffers from multiple campaigns reached out.
None of those campaigns, which were from both major parties and include one campaign that's still in operation, responded publicly. But Tetrick believes the message was clear: They're listening.
He is hopeful at least one candidate could still step up to the plate on food policy before November's election.
"To be blunt, I think everyone -- Trump voters, Sanders voters -- agrees that if food that is healthier for you and better for the environment can taste better and be more affordable, we should do that," Tetrick told HuffPost. "No one disagrees with that, but someone has to figure out a way to articulate it."
Below are the questions we sent the candidates.

1. How would your administration approach funding of the SNAP program and other nutrition assistance programs (like WIC)?

2. Do you support increasing wages and benefits (like paid sick leave) for food workers, who often are overly dependent on tips (in the case of restaurant workers) or are exempt from minimum wage laws (in the case of farm workers)?

3. Many Americans have expressed concerns about GMOs and would like to see a federal law mandating the labeling of products containing them. Would you support that or do you prefer voluntary labeling?

3. What would your administration do to address the lack of access to healthy, affordable food, a problem many communities in the U.S. share?

4. Some experts have questioned how effective the U.S. government's dietary guidelines have been at encouraging Americans to eat more healthily — would you push for a change to how they are crafted?

5. Many experts have suggested that more U.S. farmers need to be growing more biodiverse crops beyond corn, soybeans and wheat. Do you agree? If so, what would you do to encourage more farmers to take a different approach to growing?

6. How would you administration approach government support for organic farming, particularly at the small and medium scale? Is more funding needed?

7. Do you feel the U.S. government should increase its regulation of the use of antibiotics with animals on farms that are not sick?

8. President Obama's administration has made many efforts such as the Healthy, Hunger-Free Kids Act to increase healthy eating among youth, particularly with changes to the national school lunch program. Would you continue this approach or, if not, how would you change it?
Joseph Erbentraut covers promising innovations and challenges in the areas of food and water. In addition, Erbentraut explores the evolving ways Americans are identifying and defining themselves. Follow Erbentraut on Twitter at @robojojo. Tips? Email joseph.erbentraut@huffingtonpost.com.
Related
Before You Go
Moments From The 2016 Campaign