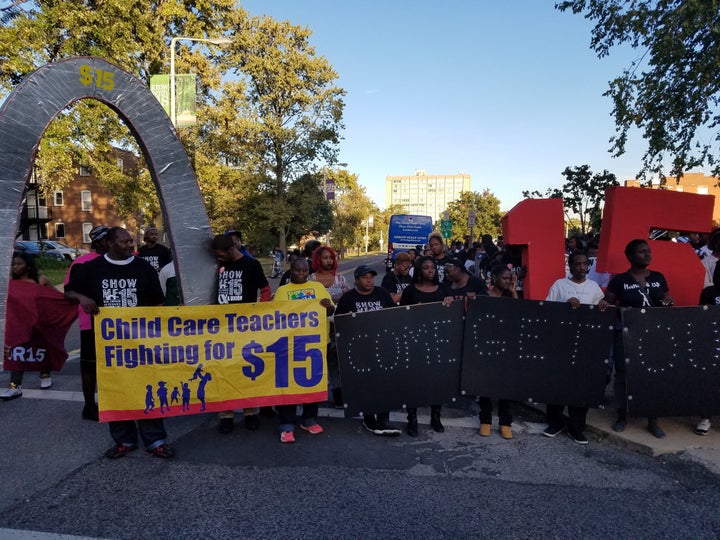 This November my choice is clear: I'm voting for our kids.
As a mom and a child care worker, I've dedicated my personal and professional life to children. For almost 17 years, I've been helping two- and three-year-olds learn their ABCs, colors and shapes, all while caring for three kids of my own. I love my job and I love being a parent, but I'm paid only $8.50/hour.
Children are the next generation, and they give me so much hope for the future and a better world. But, I can't help worrying about their future. Too many parents can barely afford to put their kids in early childhood care. And too many child care workers like me are struggling. That gives our kids the short end of the stick.
That's why I joined hundreds of other child care workers and underpaid workers to protest at the presidential debate this Sunday. We were there to stand up for our families and our communities. And we were there to make sure candidates know that the only way they'll get our vote is if they make $15 an hour and union rights a top priority.
See, on the hourly wage I'm paid, I can barely cover my bills. There's electricity. There's gas. There's rent. And there's bus fare. After everything's squared away, there's not a lot left to treat my kids or myself – no clothes, playdates, or fun outings as a family.
I always look forward to seeing my students' smiling faces, but at the end of the day, caring for others' children shouldn't come at the cost of caring for my own. It's an unfair situation that only bold action can address.
When I saw that workers across California had won a raise to $15/hour a few months ago, I could hardly believe it was true. So when I heard that there were workers joining together in the Fight for $15 in St. Louis, I knew I had to be a part of it.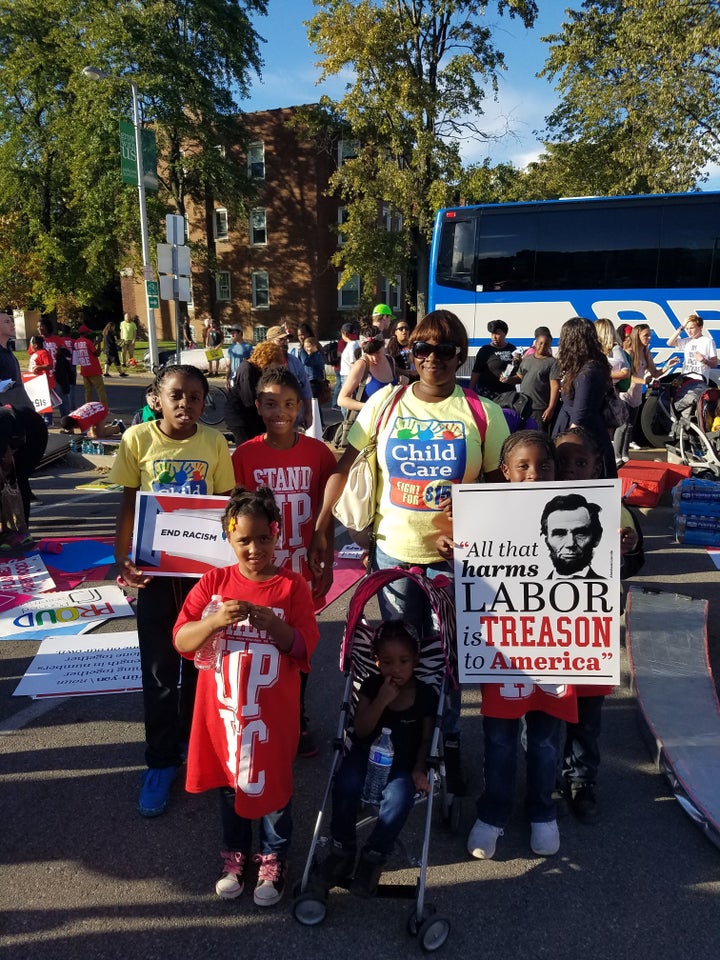 Since then, I've had countless conversations with parents, neighbors and family members about the impact $15/hour would have here in Missouri, and how much we need candidates to reflect that priority.
It would save millions of dollars that goes toward public assistance, and make life more livable for working families. It would mean better pay for child care workers like me, freeing us up to provide the best care possible at work and raise our children at home too. It would mean we could all spend more in the local economy.
Child care providers work so hard. It's a big responsibility to develop young learners because the care kids receive at an early age has a huge impact on the rest of their lives. We need to invest in them, and that means raising pay to at least $15/hour for child care workers. And, it means investing in our child care system so that working parents have more options and the freedom to stay in their jobs and know their kids are well-cared-for. Our elected leaders and our candidates can speak to these needs, and until we hear them do so, they won't get our vote.
All working parents deserve to live comfortably and to have some financial peace of mind. If I earned $15/hour, I could get a car. My bills would be paid on time. I could give my kids spending money for playdates with their friends. And once in a while, we could all take a small trip together as a family. Since joining with the Fight for $15, I don't feel like that's a distant dream anymore.
I'm proud to join together with other low-wage workers, make our voices heard and demand a change. We're standing up for our families and the kids we educate. And after being out in the streets on Sunday, raising our voices, and planning to vote, I know we can no longer be ignored. Together, I know we can win.
Katasha Gines is a St. Louis-based child care worker and a leader in the Fight for $15.
Popular in the Community