Republican presidential nominee Donald Trump no longer wants to ban all Muslims from the country, he said during Sunday's presidential debate. Now, he only wants to ban a large number of them, including ― or maybe especially ― refugees.
"The Muslim ban is something that in some form has morphed into [an] extreme vetting from certain areas of the world," he said.
It was the firmest answer yet from Trump over whether he is still committed to the promise he made last December to force a "total and complete shutdown of Muslims entering the United States." The comment ― not an offhand remark, but a statement released by his campaign ― led to criticism from a number of his fellow Republicans. Many of them, such as House Speaker Paul Ryan (R-Wis), went on to endorse Trump, and one, Indiana Gov. Mike Pence (R), became his vice presidential pick.
Trump had not yet taken back his plan, and the press release announcing it is still on his website. But he has since shifted to saying people from certain countries ― mostly majority-Muslim ones ― should be temporarily blocked, and that all would-be entrants should be asked about their ideology.
Trump did not answer a question at the debate about whether he believes his position was a mistake.
"What he said was extremely unwise and even dangerous."
Democratic presidential nominee Hillary Clinton questioned how Trump's policies would be implemented in "a country founded on religious freedom," and warned that his anti-Muslim statements could be used by terrorists for recruiting.
"How do we do what he has advocated without causing great distress within our own country? Are we going to have religious tests when people fly into our country? And how do we expect to be able implement those?" she asked. "So I thought that what he said was extremely unwise and even dangerous."
Rather than address the point, Trump shifted to talking about refugees, repeating past claims that President Barack Obama is admitting Syrians without having any idea who they are, and that Clinton wants to do the same.
Clinton does support accepting more Syrian refugees ― potentially as many as 65,000, she said last year. But she's also said that they should and already do undergo "tough vetting."
There is a long process for refugees to make it to the U.S. Most of them are first screened by the United Nations High Commissioner for Refugees, which then refers them to various countries, including the United States. The U.S. government then screens them through multiple intelligence databases, along with interviews and biometric identity checks. The entire process typically takes 18 to 24 months.
Intelligence and State Department officials have said there are no foolproof systems and that it's possible terrorists could attempt to get through the Syrian refugee screening process. But, officials say, the current system is strong and there is no evidence any terrorists have made such an attempt thus far.
Clinton said Sunday that the vetting would be as tough as intelligence experts say it needs to be.
"I will not let anyone into our country that I think poses a risk to us," Clinton said. "But there are a lot of refugees, women and children ... There are children suffering in this catastrophic war largely, I believe, because of Russian aggression, and we need to do our part."
HUFFPOST READERS: What's happening in your state or district? The Huffington Post wants to know about all the campaign ads, mailers, robocalls, candidate appearances and other interesting campaign news happening by you. Email any tips, videos, audio files or photos to scoops@huffingtonpost.com.
CORRECTION: An earlier version of this article stated that Clinton has called for admitting 65 million Syrian refugees. In fact, it was 65,000.
Before You Go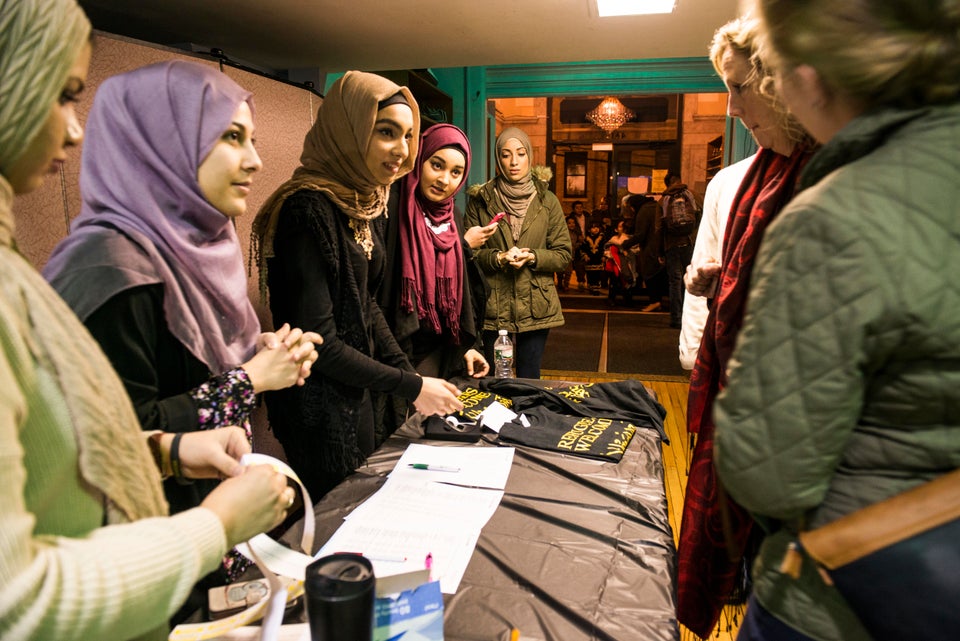 Syrian Refugees Welcomed To U.S.
Popular in the Community