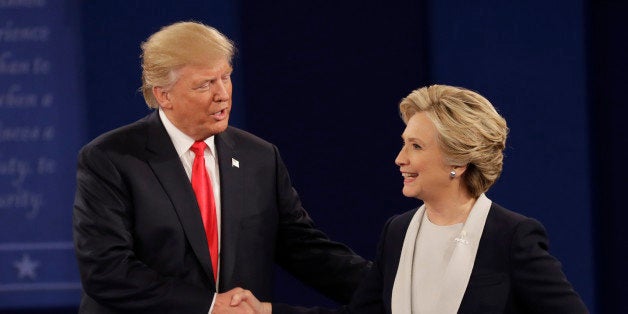 As I watched the second Presidential debate last night, I was mindful of the fact that several topics were simply ignored and not even brought up by either the moderators or the candidates themselves. Hillary Clinton and Donald Trump are running to be President of the United States -- a position that entails not only handling domestic situations, but also serving as one of the most pertinent figures on the world stage. And yesterday, in front of an international audience (thanks to technology), there was no mention of Haiti when the latest reports show that over 1,000 people have died from the devastation of hurricane Matthew. Back here at home, police and criminal justice reform are core issues that many communities are pushing for continuously. How could this debate, taking place 15 miles from Ferguson, in the shadows of where Michael Brown was killed, fail to even touch on this important subject? Ignoring our concerns is continuing to marginalize us and we refuse to be left out.
Reuters reported today that Haiti started burying some of its dead in mass graves as over 1,000 people died, and now some 1.4 million are in need of humanitarian assistance. Doctors are warning of a cholera crisis and sadly, more deaths can be expected as disease spreads. How can we have a Presidential debate at the same time that such a huge tragedy is taking place in the western hemisphere and it's not even mentioned? If over a 1,000 people died in another part of the world, the debate would have opened with a question about it. We would be lying to ourselves if we think otherwise. Even when it comes to the subject of immigration, why are the high number of Haitian deportations never discussed? These are glaring omissions that we cannot just gloss over -- nor should we.

Two years ago, we at National Action Network were organizing rallies and pushing to get justice for Eric Garner who died after being placed in a police chokehold in Staten Island. While calling for accountability and reform in this case, another tragedy took place a few weeks later in Ferguson, MO when 18-year-old Michael Brown was shot and killed by police. The issues that we raised with Garner's death, Brown's death and others through the years were not even uttered on the debate stage Sunday night. The rallying cry for criminal justice reform has now gained support from both the left and the right, but somehow there wasn't even one question about it.

As communities of color and the poor continue to suffer the most from harsh police tactics, disproportionate summonses, arrests, tougher sentences and more, we need to know precisely where the candidates stand on these issues. What will either Clinton or Trump do to stop unjustified police killings, or to reform policing in America? What kind of Attorney General would they nominate? What kinds of recommendations from President Obama's Task Force on 21st Century Policing would they implement? These are all extremely relevant and pertinent questions that were completely left out of this second Presidential debate.
As a civil rights leader, much of my work has focused on fighting on behalf of the voiceless, advocating for justice and ensuring that we have a seat at the table. When people already face societal inequities, ignoring their concerns is not alleviating those inequalities - it is simply disenfranchising them further. Social exclusion is a real thing and we saw it on full display during this debate. Whether done on purpose or subconsciously, the moderators and candidates simply left out certain topics and challenges that we need solutions and answers for.
When people sometimes ask why I continue to organize and march, this is why. We cannot afford to be left out. We must raise our voices ourselves. We refuse to be further silenced. And we can't have drive-by shooting candidates or moderators; the tasks before us are far too great, and we need to know who is and who isn't up to the challenge.
REAL LIFE. REAL NEWS. REAL VOICES.
Help us tell more of the stories that matter from voices that too often remain unheard.