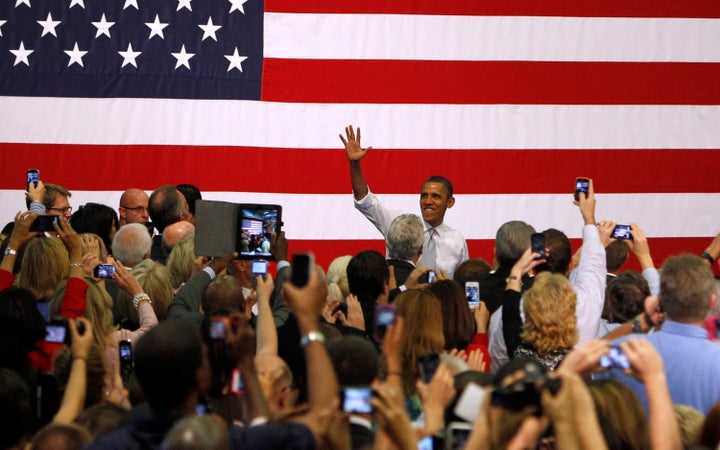 WASHINGTON -- As Rick Santorum exits the Republican presidential primary campaign stage right and Newt Gingrich wallows in a sea of debt, the general election match-up between President Barack Obama and presumptive GOP nominee Mitt Romney begins in earnest. Thanks to a sea change in campaign finance laws brought about by the Supreme Court and a shift in fundraising norms driven by Obama's decision to opt out of presidential matching funds in 2008, this campaign will be unlike any other in recent memory.
The 2012 contest will be the first since 1972 in which neither major-party candidate will accept presidential matching funds in the general election. Both Obama and Romney will be free to raise as much money as they can and spend as much money as possible. The campaign will also be the first since the McCain-Feingold ban on soft money was implemented in which unlimited contributions from corporations, unions and the wealthiest Americans will play a major, if not pivotal, role.
"We're in the Wild West," said Meredith McGehee, policy director for the campaign finance watchdog Campaign Legal Center. "For a generation, we've had either one or both candidates participating in a system of limited spending. The [current] candidates aren't in the system, so they have no limits. And the outside groups have no limits."
The public matching-funds system began in 1976 in response to the campaign finance abuses of the Nixon administration, uncovered during Congress' investigation of the Watergate scandal. Presidential candidates who can show broad support through fundraising across the various states become eligible to receive matching funds from the government so long as they abide by strict spending limits. These funds are available for both primary and general election campaigns.
The first candidate to swear off public matching funds in a presidential race was billionaire Steve Forbes. In 1996, Forbes forswore public funds to be able to deploy his vast personal fortune in his primary bid for the Republican nomination. He pounded the frontrunner, Sen. Bob Dole (R-Kan.), with negative ads, forcing Dole to hit the primary spending limit before the summer arrived.
A candidate does not receive general election matching funds until he or she is made the official party nominee at a national convention. This left an extended gap during which Dole had practically no money to spend on his campaign while being bombarded with attack ads from the Democratic National Committee, liberal groups and labor unions.
The Republican National Committee was forced to step up, running issue ads to counter the Democratic onslaught. Dole's resignation from the Senate, while helpful in undercutting the message of bruising Democratic issue ads that linked him to the wildly unpopular House Speaker Gingrich, also cost him the use of his Senate office funds in traveling the country. Instead, the RNC had to hold issue-based events featuring Dole. The public funding deal had become a disaster.
Since that 1996 election, few major-party nominees have accepted primary matching funds and the accompanying spending limits. In 2008, Obama became the first to also refuse general-election matching funds, all but nailing the coffin on the public financing system.
This year, the Republican frontrunner has declined all matching funds, which means Romney is not going to face any gap of time with few resources to fight back against the well-financed Obama campaign. The extended primary battle against Santorum and, to a lesser extent, Gingrich has, however, forced the Romney camp to cut back on important expenditures like building the state-level infrastructure needed to get out the vote and reach swing voters.
On Monday, the New York Times reported that Romney advisers stated the primary effort "has put his campaign nearly two months behind on its initial plan to build political and field operations in the dozen states where both sides agree that most of the general election will be fought." Those states are Colorado, Florida, Iowa, Michigan, Nevada, New Hampshire, New Mexico, North Carolina, Ohio, Pennsylvania, Virginia and Wisconsin.
Also helping Romney to avoid a Dole gap-like situation has been the rise of super PACS, supposedly independent political committees that can raise unlimited funds from corporations, unions and individuals. In the Republican primary, a super PAC supporting Romney's bid, Restore Our Future, has already spent more than $40 million attacking Santorum and Gingrich, mostly through negative TV ads. This has saved the Romney camp from dipping deeper into its own coffers and preserved the funds to counter Obama now.
With the primary all but decided, Romney will also have a whole host of independent groups shouldering much of the burden of negative advertising.
"Part of their job is to go negative on behalf of the candidate, and that will save the candidate from having to do that dirty work," said the Campaign Legal Center's McGehee.
In 2010, the Supreme Court ruled in Citizens United v. Federal Election Commission that corporations and unions could contribute unlimited amounts of money to be spent on independent political efforts. A subsequent lower court case freed individuals to do the same.
This has produced the biggest flood of independent group spending in recent memory, as super PACs and political nonprofits have already poured more than $100 million into the 2012 elections, much of that on negative ads. Independent group spending this time is expected to easily eclipse the record $304 million spent in the 2010 cycle.
Conservative groups, which are far better organized and funded than their progressive counterparts, are gearing up for an all-out onslaught against President Obama. On Tuesday, the Karl Rove-linked nonprofit Crossroads GPS announced a $1.7 million ad buy targeting the president across six swing states. The ad focuses on energy prices and, foreshadowing the tit-for-tat to come, responds to a spot the Obama campaign cut in response to another outside group.
"The president has a fairly unlimited ability to drive messages through his power of the bully pulpit, and there are not many groups with the capability to balance him out," said Crossroads spokesman Jonathan Collegio. "When the president talks about how he's responsible for record domestic oil production, there has to be a counterpoint that puts the president back on his heels. You'll see efforts like this -- increasingly see efforts to this effect."
Crossroads GPS and its sister super PAC, American Crossroads, aim to raise and spend $300 million to defeat Obama. Since the beginning of 2011, the two have spent $10.2 million on ads targeting the president.
Billionaire oil barons Charles and David Koch plan to pump at least $100 million through their network of independent groups, including Americans for Prosperity and the American Energy Alliance, to attack the president. The U.S. Chamber of Commerce, the American Action Network, Restore Our Future and other organizations are likely to spend millions more.
The Obama campaign has already shown how it will deal with these outside-group attacks. Swift, tough responses will seek to tie Romney to both the ads and the donors behind them.
"We're going to respond to attacks on the president no matter where they come from," said a Democratic National Committee spokesperson, pointing in particular to attacks "with big money behind them."
Popular in the Community