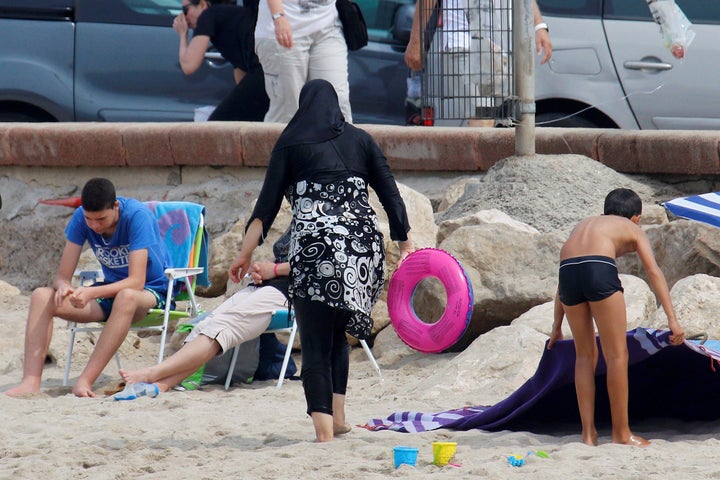 Former French President Nicolas Sarkozy declared that the burkini must be banned throughout the country at his first political rally since announcing his intention to run for president again in 2017.
"I refuse to let the burkini impose itself in French beaches and swimming pools," the conservative French politician said at a Thursday rally in the south of France. "There must be a law to ban it throughout the Republic's territory." Hundreds of potential voters in attendance applauded and waved French flags.
Sarkozy declared his plans to seek the nomination of the Republican Party in Tout pour la France (Everything for France), his book that came out Wednesday. The platform he outlines in the book indicates a shift toward right-wing identity politics, including a tougher stance on Islam and stricter immigration policy.
His remarks come at a time when France is submerged in a debate over the burkini, a full-body swimsuit that mayors in more than a dozen seaside towns have decided to ban this month. France's top administrative court, the Conseil d'Etat, overturned the burkini ban in Villeneuve-Loubet on Friday, stating that it "had seriously infringed, in a manner that was clearly illegal, fundamental liberties such as the freedom to come and go, religious freedom and individual freedom," but the decision is unlikely to put an end to the debate.
Sarkozy's platform, and his most recent suggestions regarding Islamic dress, cater to voters on the right who are calling for more security and policing of political Islam in the aftermath of almost two years of terrorist attacks.
In an interview with Le Figaro Magazine this week, Sarkozy described wearing burkinis as "a militant, provocative, and political act."
"To do nothing would make people think that France is weak, it would facilitate a further decline of the Republic," he said.
"If we do not put an end to this, the risk is that in 10 years, Muslim girls who don't wear a headscarf or a burkini will be stigmatized and put under daily peer pressure," he said, lumping the Islamic headscarf together with the disputed swimsuit.
This week, French police confronted women dressed in outfits resembling the burkini on the beach, leading to public outcry. Four police officers asked a woman reclining on a beach in Nice to remove some of her clothing, and gave her a ticket for not wearing "an outfit respecting good morals and secularism."
During an with interview on TF1, the former president said that "the best way to ease tensions is to proscribe any outward signs of religion" in the public space. In Everything for France, he outlines a law that would ban religious symbols not only in state schools, which haven't allowed headscarfs since 2004, but also in universities and administrative buildings.
Sarkozy has continued to harden his rhetoric against Islam and conspicuous religiosity in France over the past decade.
It's been quite the turnaround for someone who once championed "positive secularism." During Pope Benedict XVI's first visit to France in 2008, the then-president said it was "legitimate for democracy and respectful of secularism to have a dialogue with religions."
A year later, Sarkozy maintained that while "the Muslim religion must be respected as much as other religions," full veils were "not welcome" in France.
"In our country, we can't accept women prisoners behind a screen, cut off from all social life, deprived of all identity. That's not our idea of freedom," he said in 2009.
In the same year, however, he indicated that he had no major problem with the headscarf. "In France, any girl who wants to wear the headscarf can do so. It's their freedom," he said.
Throughout his presidency, he pushed for broader restrictions on Islamic dress. In 2011, Sarkozy banned the niqab and the burqa in all public spaces, as part of a law prohibiting people from covering their face in public. Back then, he was accused of instating the ban to win votes from the extreme right.
A version of this piece originally appeared on HuffPost France. It has been translated into English and edited for clarity.
Related
Popular in the Community