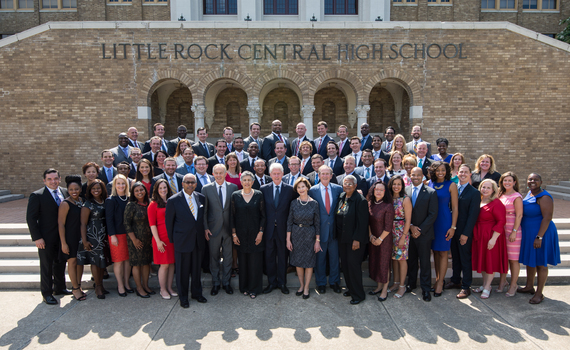 As someone from Dallas, the recent shooting of police officers and a protestor highlighted close to home for me that something is wrong in this country. In these dark moments, the Presidential Leadership Scholars (PLS) program gives me hope for America's future.
PLS is designed for leaders from diverse backgrounds who share a commitment to facing society's greatest challenges. The program exposes scholars from around the country to leadership lessons from President Lyndon Johnson, President George H.W. Bush, President Bill Clinton, President George W. Bush, and senior members of their administrations.
Beyond the incredible impact of learning from some of our nation's greatest leaders, I was deeply impacted by the unique perspectives of my fellow scholars. We're doctors, lawyers, teachers, pastors, fundraisers; we work at foundations, non-profits, Facebook, LinkedIn, Wal-Mart, Chick-Fil-A, Target, JP Morgan, BP, and Coca-Cola. We run small organizations, big organizations, and one-man shows. We're a pool of Americans who reflect the rich diversity found in our country -- Republicans, Democrats, independents, gay, straight, Latino, Middle Eastern, black, Indian, white, Chinese, European, and African. It's a rare and unique opportunity to be with such a diverse group of people studying leadership lessons from America's former presidents while we encounter leadership challenges of our own.
As a Republican who worked for President George W. Bush's administration for nearly seven years, I've been exposed to talented leaders and diverse opinions. As someone who runs a foundation that works in South Sudan, I'm deeply aware of the challenges that people around the world face to survive and thrive. While I pride myself on being open-minded, I was exposed to perspectives in this program that challenged my worldview and made me reconsider the meaning of real impact.
From PLS, I learned about the daily struggles of my Latino, black and Indian classmates from the deep racial and ethnic health and social welfare disparities in the communities they grew up in. I revisited my views on structural inequities and white privilege. My LBGT classmates shared how they grew up being different and ostracized because they never belonged to any in-group. I talked with a police chief who taught his force to use the philosophy "What if it were family" to evaluate tough situations. I learned that "a rising tide lifts all boats" didn't work for many of my fellow scholars. I saw disabilities up close and the courage it took to overcome them.
On day one of the program, I sat next to Kevin Causey, a gregarious Democrat who runs the Saint Francis Foundation in San Francisco. He cares deeply for the homeless in his community and we quickly connected over my foundation's work on homeless issues in Fort Worth and South Sudan. Then he realized I was a Republican: "What?!" Kevin has become one of my dearest friends in the program. There aren't many forums in America where Kevin and I can meet, let alone become friends, let alone find a way to collaborate on homelessness and education in our cities.
PLS challenged us to become better leaders in our organizations, but it also challenged us to tackle the tough issues facing our cities, our states and our country.
Together, we can do more. We can do better. Getting to know my classmates has reminded me about all that is good about civic engagement and politics. I've watched our political identity take a backseat to our desire to make this country better.
We must make the practice of America live up to the promise of America. Thanks to PLS, I'm reminded that there are deep inequities in our society. Together, we need to do our part to make sure every citizen feels safe and has the opportunity for a better life. America has come a long way since the days of school desegregation requiring military escorts, but the events and conversations in the past month around the country show we have more ground to cover.
If we engage in thoughtful dialogue, learn from each other, and find ways to work together across diverse aisles, our country will see a new day. America's hope and strength is found in the diversity of her people, in their resilience, and in their willingness to embrace great challenges.
BJ Goergen is the Executive Director of The Radler Foundation and a 2016 Presidential Leadership Scholar.
Related
Popular in the Community