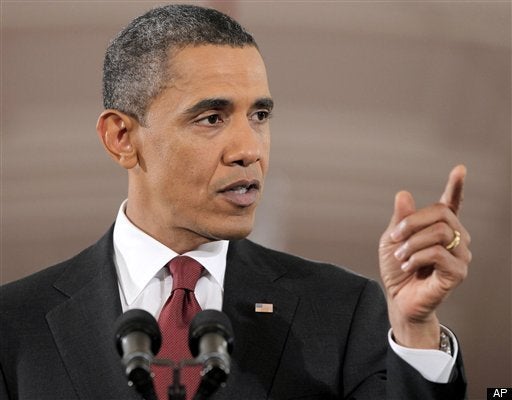 President Obama suggested Tuesday that a group of congressional leaders he has asked to work out a compromise on expiring tax cuts will also try to work out a compromise on expiring unemployment benefits.
"We discussed working together to keep the government running this year -- and running in a fiscally responsible way," Obama said. "And we discussed unemployment insurance, which expires today. I've asked that Congress act to extend this emergency relief without delay to folks who are facing tough times by no fault of their own."
Obama first asked lawmakers to reauthorize extended unemployment benefits at the beginning of October, but Congress has failed to prevent the benefits from lapsing at least temporarily. Now it looks as though a deal crafted by the four members of Congress tasked with compromising on tax cuts may be the only way to save the jobless aid.
Senate Democrats asked Tuesday afternoon for a yearlong reauthorization of Emergency Unemployment Compensation and Extended Benefits programs, which together provide up to 73 weeks of benefits beyond the 26 weeks provided by states. Republicans blocked the request, leaving no clear path forward for a reauthorization. (Democrats blocked a counter-request to reauthorize the benefits while offsetting their deficit impact with spending cuts.)
Many observers expect Democrats to attach the benefits to a reauthorization of the expiring tax cuts, and Sen. Dick Durbin (D-Ill.) has said that he wants the benefits on the table during tax negotiations.
At the meeting between Obama and congressional leaders, Obama raised the issue, according to a senior Senate Democratic aide, and Republicans didn't agree to renew the benefits but didn't rule it out, either. Another Democratic source said House Speaker Nancy Pelosi (D-Calif.) "made a strong appeal for unemployment insurance and the need for Congress to extend the benefits soon."
"We're going to discuss everything and see where we can come out," said Sen. Jon Kyl (R-Ariz.), Senate Republicans' point man in the negotiations.
If Congress doesn't reauthorize the benefits, the Labor Department estimates that two million long-term unemployed will stop receiving checks by Christmas. Over the summer, Congress let long-term jobless benefits lapse for nearly two months, interrupting aid to 2.5 million people. Sen. Robert Casey (D-Pa.) said Tuesday that a similar interruption is entirely possible.
HuffPost asked Sen. Max Baucus (D-Mont.), whom Senate Majority Leader Harry Reid (D-Nev.) tapped to handle the tax negotiations for Democrats, if the group would also handle unemployment benefits. "I hope so," he said.
Asked about when a deal could be reached, he said, "I'd like to be home by Christmas."
Sen. Bernie Sanders, a Vermont Independent who caucuses with Democrats, suggested to HuffPost that Democrats had not quite worked out a solution to the unemployment insurance issue during their weekly caucus lunch on Tuesday. "Well," he said, "it was discussed."
Popular in the Community