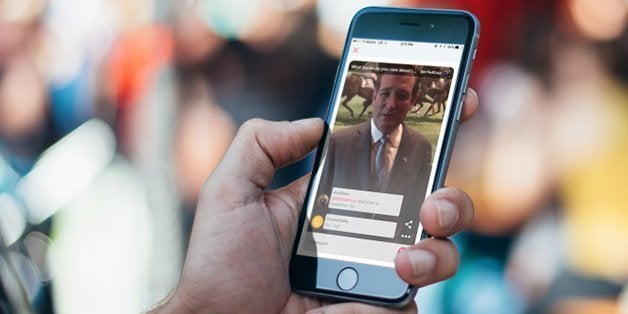 This presidential cycle has been one of the most dramatic in recent history, both because of the cinematic spectacle of a fiery outsider taking on the establishment on the Republican side, and a feisty ideologue taking on the once-inevitable candidate on the Democratic side. But both the Trump-Cruz and Hillary-Bernie races share something in common: they are more heavily being fought on social media than any race in prior history.
This, of course, makes sense: social media only began factoring into presidential politics in 2008. But the interim years between then and now have seen an explosion of activity by political campaigns, a phenomenon that can significantly impact the elusive millennial vote. As the candidates on both sides face the task that every campaign attempts to crack--chasing millennial voters--they must increasingly seek them on social media, both on the major established channels as well as smaller upstart platforms. As an example, in addition to active presences on Twitter, Snapchat, and Instagram, Sen. Ted Cruz just became the first candidate to join our platform, Headliner, where he is talking directly to young voters through short video posts.
In 2015, millennials became the largest generation alive in the US right now--83.1 million to the 76.4 million Baby Boomers, according to the US Census. This generation can be crucial to victory and was actually dispositive in the 2012 election, according to Tufts University's Center for Information and Research on Civic Learning and Engagement. According to some experts, in that race, had Mitt Romney secured 50 percent of the youth vote in the four battleground states of Florida, Virginia, Pennsylvania and Ohio--in other words, had those millennial voters stayed home rather than turning out for Barack Obama--Romney would have clinched the election.
And yet, like Romney, most candidates struggle with the gargantuan task of mobilizing millennial voters. An exception was in 2008 and 2012, when 50 percent of millennials showed up to vote, both times in large numbers for Barack Obama; in 2012, he won 67 percent of the youth vote relative to Romney's 30 percent. By contrast, the 2014 midterm election saw only 21.3 percent of millennial voters turn out, an abysmal showing although turnout is always lower in midterm cycles. Of the youth who did vote in 2014, 55 percent voted for Democrats, but as a bloc, millennials are less partisan than their parents: 50 percent identify as Independent, 27 percent as Democrats, and 17 percent Republicans, respectively. They are also pretty skeptical of Washington D.C.; two-thirds believe that government tends to be "inefficient" and "wasteful."
Enter social media. While employing a robust Facebook strategy has become a standard and necessary cornerstone of every candidate's overall digital strategy, this election cycle has seen candidates reaching far beyond Facebook to tap into millennial communities on numerous other smaller but arguably "hipper" platforms. Donald Trump has become legendary--and run into some political hailstorms--for his active tweeting. And in perhaps the 2016 election's most memorable line, Democratic hopeful Bernie Sanders tweeted about his debut on Snapchat, writing, "What is this Snapshot thing and why do I only get ten seconds?"
Even more surprising, in a nod to how powerful the direct relationship with millennial voters on social media can be, Ted Cruz recently joined our app, Headliner. Headliner enables video conversations between our large and active community of millennial users. Users post videos starting a conversation and others can reply through text or video comments. The result is an app full of short, interactive vlogs ("video blogs") of discussions on politics, news, sports, television shows, movies, and life in general.
Cruz capitalized on our hyperactive political community, posting a video laying out his take on the most significant issues--"this election is all about jobs and opportunity, it's about you coming out of school having a brighter future..." He then solicited direct questions, the social media equivalent to a Town Hall. Cruz joins a slew of other politicians who have used Headliner to have direct conversations with constituents, fans, and even skeptics. For example, Eric Swalwell, a young congressman from Silicon Valley, regularly uses Headliner to ask policy and priority questions and to reply to the answers he gets. Some members of the Congress who have posted on Headliner, such as Rep. Kathleen Rice, Rep. Tim Ryan, and Rep. Elise Stefanik--the youngest person in Congress--collaborate with us to engage with a younger audience through video.
As younger voters become increasingly important to political campaigns, we can expect this trend of candidates engaging across social media platforms to intensify. And as candidates become sitting officials, it remains to be seen how these new modes of direct engagement will transcend being methods of campaign outreach and actually impact governance. As with all public figures these days, elected officials currently have traditional social media accounts that provide a heavily curated lens into their lives. But can these more direct interactions on platforms like Headliner and others actually and meaningfully influence the way decisions are made? Can they impact the way government and citizens interact? Watching young voters engage face-to-face through interactive video with their Representatives and Senators, and now a leading presidential contender, we at Headliner are optimistic and hopeful.

Dana Gibber and Caroline Klatt are Co-Founders of Headliner, an app enabling responsive video conversations about trending topics.

Calling all HuffPost superfans!
Sign up for membership to become a founding member and help shape HuffPost's next chapter