WASHINGTON -- The latest tracking surveys continue to show a remarkably close race between President Barack Obama and Republican presidential nominee Mitt Romney, with Obama maintaining very narrow advantages in crucial battleground states like Ohio that will likely decide the election.
Eight new national tracking polls released since Saturday reinforce the conclusion that the race for president remains at a near deadlock nationwide. Three of the surveys give a slight edge to Romney, three give the edge to Obama and two show an exact tie, including the latest from NBC News and the Wall Street Journal.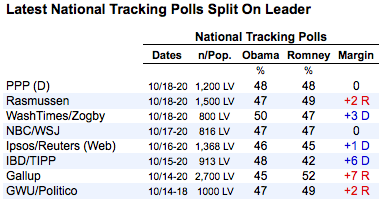 The differences among these surveys, whether the result of ordinary random sampling error or variations in the methods used by the pollsters, are less important for the moment than their collective finding of a near tie nationwide. The HuffPost Pollster poll tracking model, which takes into account all public polls both national and statewide, currently shows a virtual tie as of this writing. Any brief uptick for Obama since the second presidential debate has been washed out by the surveys released since Saturday.
But the near tie nationwide continues to translate into narrow but statistically meaningful advantages for Obama in a handful of states that will likely decide the outcome of the election.
Obama's Ohio margin was much closer, however, on several automated telephone surveys conducted in the past week, polls that are banned by federal law from dialing cell phones. According to a recent government survey, more than half of the adults in Ohio either have only a mobile phone (33 percent) or use their mobile phone to answer most of their calls (18 percent). A live interviewer poll conducted by Fox News last week that sampled both landline and mobile phones gave Obama a 3-percentage point edge in Ohio (46 to 43 percent).
The Pollster tracking model estimate for Ohio shows Obama leading by just over 2 percentage points (48.4 to 45.8 percent), although the model has not yet been updated as of this writing to include the new Quinnipiac poll.
In Iowa, two new automated polls from the Democratic party-affiliated firm Public Policy Polling (PPP) conducted late last week collectively indicate a much closer race there than most previous polls. PPP's poll for the group Health Care for America Now gave Obama a 1-point edge (49 to 48 percent), while its own survey found a 1-point edge for Romney. These surveys caught the eye of many observers because previous PPP polls showed Obama doing slightly better in Iowa than those from other organizations.
States like Ohio and Iowa remain critical for Obama, along with Nevada and Wisconsin -- where the president leads by 2 percentage points or better. If Obama can hold his narrow leads in these four, along with other states where he leads by wider margins, he will amass 277 electoral votes, 7 more than needed to win. Four other battleground states -- Colorado, New Hampshire, Virginia and Florida -- now show the two candidates within 2 percentage points of each other.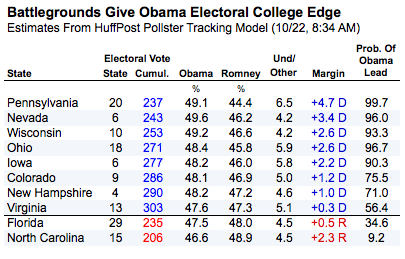 With two weeks remaining in the 2012 election season, there is no room for error by either campaign.
*************************
What's happening in your district? The Huffington Post wants to know about all the campaign ads, mailers, robocalls, candidate appearances and other interesting campaign news happening by you. Email any tips, videos, audio files or photos to openreporting@huffingtonpost.com.
Calling all HuffPost superfans!
Sign up for membership to become a founding member and help shape HuffPost's next chapter
BEFORE YOU GO
PHOTO GALLERY
14 Facts Obama Doesn't Want You To Know