WASHINGTON -- With less than a week remaining before results are counted, the presidential race remains remarkably close, with President Barack Obama maintaining a very narrow lead in most polls over Republican nominee Mitt Romney in Ohio, the state whose outcome could well decide the election.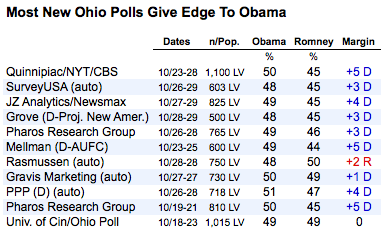 The Quinnipiac survey was among the more favorable for Obama in Ohio this week, with 9 of 11 new surveys giving the president nominal advantages of between 1 and 5 percentage points, one showing a tie and one giving Romney a slight edge.
The CBS/Times/Quinnipiac polls have typically been among the more positive for Obama in Ohio and other states, but the comparison to their previous Ohio polls shows the same flat-line trend as other surveys have shown in recent weeks. Romney narrowed the race significantly following the first presidential debate but has not gained ground since.
The HuffPost Pollster tracking model merges all of the statewide and national polls into combined estimates of the polling snapshot in Ohio and other states. The model's most recent run completed just before the new Quinnipiac survey was released shows Obama holding a lead in Ohio of just over 2 percentage points (48.4 to 46.1 percent).
The CBS/Times/Quinnipiac collaboration also released new surveys showing near ties in two more key states, with Obama getting nominal but statistically meaningless edges in Virginia (49 to 47 percent) and Florida (48 to 47 percent). These results were again on the high side of the range of recent polling in terms of Obama's standing, but were roughly in line with what the Pollster polling snapshot indicates in both Virginia and Florida.
In Florida, the new CBS/Times/Quinnipiac survey is roughly consistent with four more polls conducted earlier in the week all showing single digit margins in either direction.

The Pollster tracking model continues to give Romney a slight advantage in Florida (48.4 to 47.5 percent as of this writing), but Romney's margin there remains slightly closer than Obama's edge in Ohio, as has been the case since the first debate. If the polls are collectively accurate, Florida's 29 electoral votes remain very much in play.
All totaled, the more than 30 new national and statewide polls logged into the Pollster database over the last 24 hours make only a negligible impact on our model's estimates of the polling snapshots in the most critical battleground states. Polls in four states -- Ohio, Iowa, Nevada and Wisconsin -- continue to give Obama narrow advantages of 2 to 4 percentage points, enough to be considered statistically meaningful leads if all votes were cast today and if the polls are collectively accurate. These four states, combined with those in which Obama has bigger advantages, would give him a total of 277 electoral votes, 7 more than needed to win.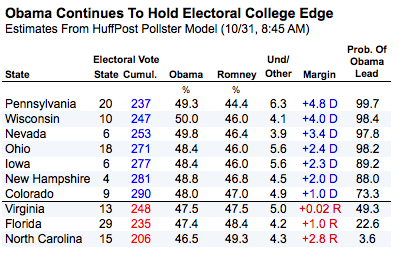 The contests in four more states -- New Hampshire, Colorado, Virginia and Florida -- remain closer and leave another 55 electoral votes up for grabs.
Because they assume collectively accurate polling, the probabilities of an Obama lead listed in the Pollster table above likely overstate the probability that Obama will win. Ohio and Iowa are currently labeled as "tossups" on the HuffPost Election Dashboard map, for example, because Obama's margins there have fallen below the admittedly arbitrary cut-off of 2.5 percentage points, a range within which the final polling averages have sometimes erred. (For more, see Simon Jackman's recent blog post that explains how measures of past polling accuracy can help forecast the probability of an Obama victory or defeat.)
National tracking polls released on Tuesday continue to show an extremely close race, with the Pollster model giving a slight advantage to Romney. The national tracking polls conducted by Gallup, Public Policy Polling and Investor's Business Daily suspended calling on Tuesday, partly out of concerns about obtaining a representative national sample while millions of likely voters on the East Coast are without power due to Hurricane Sandy.
Other pollsters are watching to determine if their response rates in the northeast are adversely affecting their results. In releasing results on Tuesday, for example, The Washington Post explained that all of its 1,271 interviews with likely voters were completed before the storm made landfall and that interviews completed on Monday were "similar to those from previous nights in the region."
The storm may slow the pace of the national tracking polls, but so far at least, surveys in the battleground states show no late breaking trends, as the campaign progresses through its final week.
This article was updated with additional polling information. It originally misstated the number of surveys that gave the president an advantage in Ohio this week. There were nine, not eight.
*************************
What's happening in your district? The Huffington Post wants to know about all the campaign ads, mailers, robocalls, candidate appearances and other interesting campaign news happening by you. Email any tips, videos, audio files or photos to openreporting@huffingtonpost.com.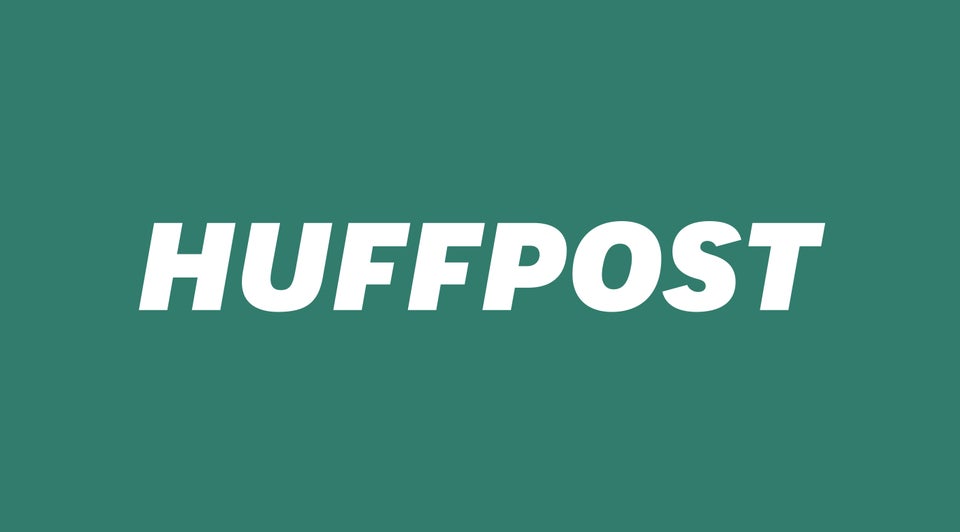 Polls: Obama vs. Romney
Popular in the Community