WASHINGTON -- The surprisingly strong debate performance by Republican nominee Mitt Romney against President Barack Obama last week has resulted in a dramatic tightening in the presidential race, according to tracking surveys conducted since Wednesday.
On Monday morning the Gallup organization reported that on three days of calling after the debate, their daily tracking survey finds Romney and Obama tied with 47 percent of the vote each among registered voters nationwide. Gallup showed Obama leading Romney by 5 percentage points (50 percent to 45 percent) in interviews conducted in the three days prior to the debate.
Gallup typically reports findings from their presidential preference question on a seven-day rolling average, and their latest such average gives Obama a 3-point advantage (49 percent to 46 percent).
Most of the polls conducted by other organizations since Wednesday's debate have shown a similar shift in Romney's direction. The HuffPost Pollster tracking model, which combines national and statewide survey data, currently gives Obama just a one and a half percentage point edge nationwide (47.6 percent to 46.0 percent as of this hour, although the estimate will update as new polls become available).
The HuffPost tracking model attempts to correct for pollster "house effects," the tendency of individual polls to produce results that are consistently better or worse for each candidate. Gallup's registered voter samples are typically about a half a percentage point higher for Romney (and a half a point lower for Obama) than other surveys on average, so the slight Obama lead on the model as of this writing is roughly consistent with the even race reported by Gallup on Monday.
Gallup is not alone in showing a shift to Romney. More than a dozen polls so far have measured voter preferences since the debate, both nationally and within key swing states. While they often differ on the levels of support for each candidate within individual states, they have shown a roughly similar shift toward Romney (4.5 percentage points on average) as the Gallup poll does nationwide.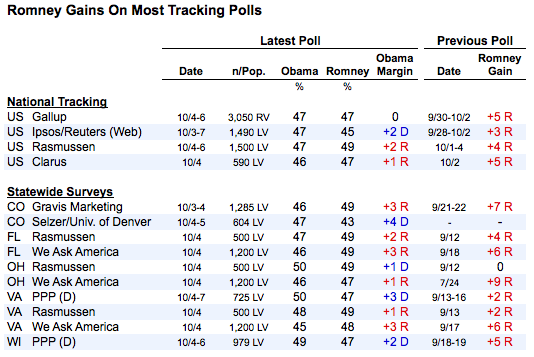 Where does the current whisker-thin margin projected by the HuffPost Pollster tracking model leave Obama in the critical battle for electoral college votes that will determine the election? The model still estimates Obama's lead at 2.5 percentage points or better (the threshold used to distinguish "tossup" states from the others on the Election Dashboard map) in Wisconsin, Iowa, Nevada and another 20 states accounting for 263 electoral votes, just seven shy of the 270 needed to win. The model now shows Romney leading by 2.5 points or better in North Carolina and 23 other states accounting for 206 electoral votes.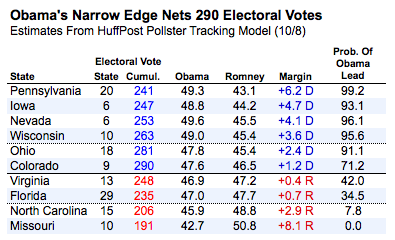 Of the four states that hang in the balance, Obama's 2.4 percentage point lead remains more statistically meaningful than the other three states currently classified as "tossups." The model rates the probability that Obama still leads in Ohio, if all votes were cast today, at 91 percent.
This statistical confidence on Obama's lead -- essentially another way of describing the "margin of error" for the model's estimates -- is smaller for Colorado, just 71 percent. But the model's best guess is that both states would tip to Obama if all votes were cast today, giving him a total of 290 electoral votes. The two remaining tossup states, Virginia and Florida, would tip to Romney, for a total of 248 electoral votes.
The Pollster polling model is an attempt to combine all of the various polls into a combined estimate of where voter preferences stand today, but keep in mind that it is just that: a snapshot of preferences "if the election were held today."
The polls have seen the race shift from 1 or 2 percentage points in favor of Obama to a better than 4-point Obama lead, and now back again. These are relatively small shifts, theoretically involving the changing preferences of just one voter in 50 (though shifting enthusiasm, affecting which voters qualify as "likely voters" or otherwise choose to participate in polls, likely plays a role as well).
Before You Go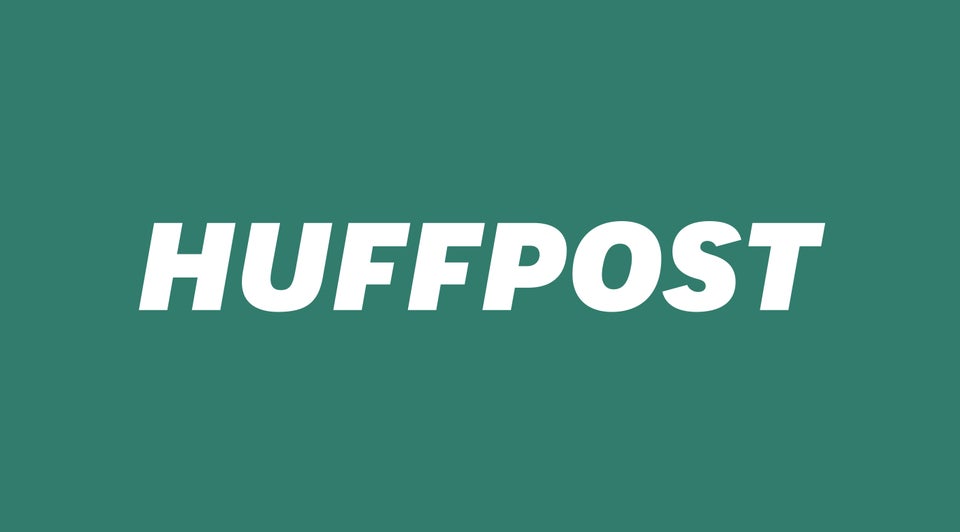 Polls: Obama vs. Romney
Popular in the Community