The U.S. presidential seal may be adorning a Trump golf course near you ― at least if the Trump Organization has its way, according to a new report.
The Trump Organization appears to have ordered replica presidential seals to mark its golf courses, an act that may be a federal crime, ProPublica reported on Monday.
President Donald Trump's longtime business, which his older sons currently run, reportedly ordered dozens of 12-inch plates bearing the official eagle-emblazoned U.S. presidential seal, to be used as tee markers.
Similar plates bearing a family coat of arms are already in use at Trump golf courses. (The New York Times reported last year that the Trump family's coat of arms actually belonged to another family ― though it has been modified, including by replacing the word "Integritas," Latin for "integrity," with the word "Trump.")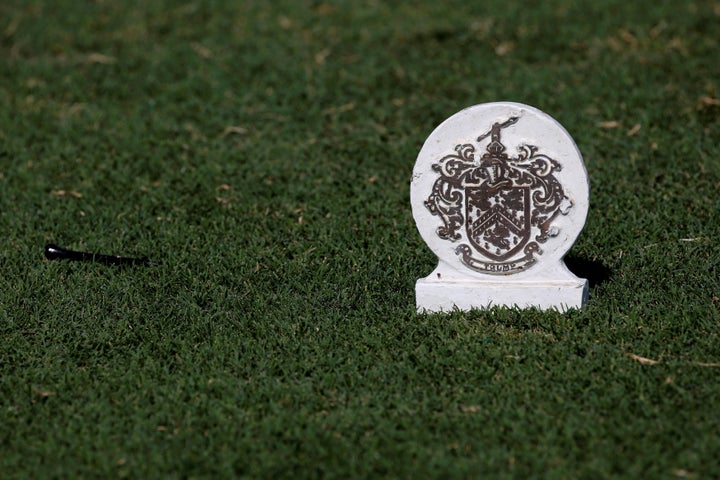 Eagle Sign and Design, a metalworking and sign company with offices in Indiana and Kentucky, confirmed to ProPublica that it had produced the plates with the U.S. presidential seal after sharing a photo of them on Facebook.
"We made the design, and the client confirmed the design," Joseph E. Bates, who owns Eagle Sign and Design, told ProPublica while declining to identify the customer.
ProPublica and WNYC reported that they had reviewed an order form that listed Trump International as the buyer.
Eagle Sign and Design and the Trump Organization did not respond to HuffPost's requests for comment on Monday.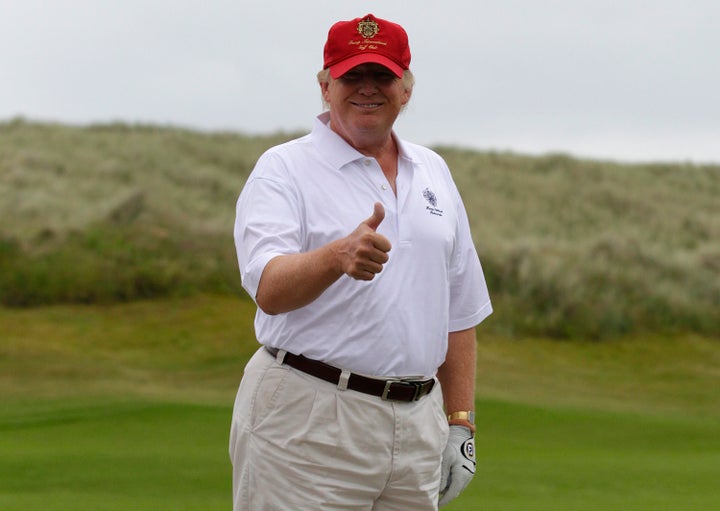 The penalty is a fine and/or imprisonment of not more than six months.
Past presidents have used the seal on custom-made items, like golf balls, dishes and even socks. But it would be illegal for a private company to use the presidential seal, Richard Painter, vice chairman of the government accountability group Citizens for Responsibility and Ethics in Washington, told ProPublica.
"If we had heard of a private company using it for commercial purposes, we would have sent them a nasty letter," said Painter, who served as an associate White House counsel during the George W. Bush administration.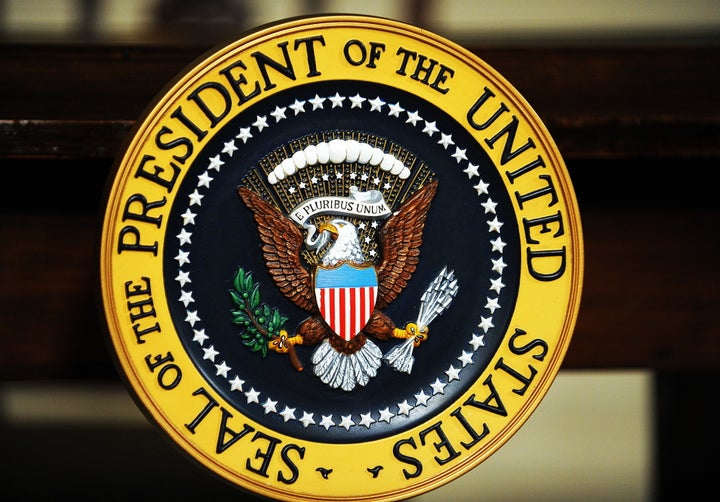 Trump's ties to his pre-White House businesses have raised a number of ethics concerns.
Last year, critics denounced a State Department blog post that promoted Trump's private Mar-a-Lago estate and club in Palm Beach, Florida. The Trump family frequents the estate, which Trump has deemed "the winter White House," and has held fundraising events there, drawing similar scrutiny from ethics watchdogs.
It's estimated that the president and his family's visits to Mar-a-Lago cost taxpayers millions of dollars, and critics see the trips as a way to drum up free advertising for Trump properties.
Since Trump took office, the Trump Organization has received more than $600,000 from political organizations, companies, foreign governments and officials that stay at Trump hotels and resorts, watchdog group Public Citizen reported.
Popular in the Community