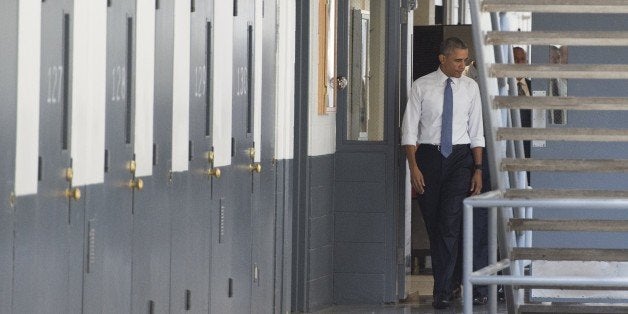 There has been a lot written as to why President Obama's visit to a Medium Security prison in Oklahoma should be hailed as a significant step for criminal justice reform. After all, his actions last week are more than any other president to date. Between commuting sentences, speaking at the NAACP convention, to becoming the first sitting president to visit a federal incarceration facility; there is a lot to unpack in his week-long criminal justice reform crusade. President Obama is to be commended for taking this step. However, while his actions have been championed for shedding light on a complex and often misunderstood topic, I would not call the week a "victory" or signal of change just yet.
His visit, the one hailed as history in the making; where our president goes "behind bars" to get a clear look at the hardships and missteps of our criminal justice system, was far from representative. As someone who has spent time in a prison, I was shocked to see President Obama walk through a quiet and empty cell block, one free of the very people he was there to better understand, the incarcerated individuals who call El Reno home.
The facility was put on lockdown for his visit. The cell block President Obama was seen walking through was cleared of anyone, until he was safely on his way back to Washington. The mere fact that certain people were moved elsewhere, swept under the rug, and out of the view of the camera's lenses, speaks to the problem of the dehumanization of U.S. prisoners.
Further, the six individuals the president met with during his visit were all non-violent drug offenders. Yes, almost half of the population at El Reno happens to be serving time for non-violent drug offenses, which is on par with national statistics. However, offering up drug court and rehabilitation in lieu of jail time does not fully explain away the problems in our criminal justice system.
The truth is that violent offenders are the least likely to recidivate. In fact, one study found that fewer than half of people convicted of homicide, sexual assault, and rape are convicted of another crime after their release from prison. Age too has proven to be a significant fact in recidivism, and generally it is the young offenders that are most likely to reoffend, which makes it all the more attention-grabbing that the president's words of empathy and second chances focused mostly on young people rather than adults. Especially since it is adults who have statistically outgrown the propensity to make bad decisions and who are most motivated to make positive long term life changes.
President Obama was brave to pick up the issue of reform and put it front and center for all to see, however if the purpose of his visit was to highlight what life is like on the "inside," I think the trip fell short. Instead of simply focusing on non-violent offenders, I think it would be braver to instead take on the system as a whole. After all, reforming or reducing drug sentences, is statistically only fixing half of the problem.
I agree that offering up Alternatives to Incarcerations (ATIs), and increasing programs such as Drug Courts, are great steps. However I think solely doing so essentially says all violent offenders cannot, or are not, worth saving.
Additionally, the choice of visiting a facility in Oklahoma has an additional significance for me. Oklahoma is the nation's largest incarcerator of women. "More than 200,000 women are in jails or prisons in the United States, representing nearly one-third of incarcerated females worldwide," according to the National Research Council. "The past three to four decades have seen rapid growth in women's incarceration rates -- a rise of 646 percent since 1980 compared with a 419 percent rise for men." Surely, before leaving office, the President must acknowledge the disparate impact of mass incarceration on women, particularly women of color and extend himself to hearing the often singular and trauma related stories of these daughters, mothers, nieces, sisters, aunts and grandmothers.
Conversely, in a week monopolized by our current president's thoughts on reform, I think it was actually a former president who is beginning to see the light of day.
In a speech, also at last week's NAACP convention, former President Bill Clinton apologized for his administration's mid-nineties 'tough on crime' policy that simultaneously filled our prisons while also taking away critical resources such as Pell grants to incarcerated students. He admitted the pressure to reduce crime rates was too large, and that his approach, which included longer prison sentences, was wrong.
President Clinton reminded the crowd that "there is almost a zero recidivism rate for people who get a college degree while in prison." The thing about education is that it is proven to lower recidivism no matter what the offense. Education offers the growth of critical thinking skills, self-confidence, and the ability to highlight the potential to transform one's life.
This is exactly what we need to reform criminal justice in our country. While President Obama's focus on reducing prison populations, and helping cut low level drug offenses are good, quite simply, it is not enough. We must offer education to all incarcerated individuals, and allow individuals to gain the necessary skills to transform their own lives post-release.
It is evident that former President Clinton finally sees this truth clearly, albeit twenty years after his oppressive legislation crippled in-prison college programs in our country from 111 programs to just 11. It is also why the passage of current legislation from Congress, The Restoring Education And Learning (REAL) Act, which would repeal President Clinton's 20 year ban on Pell eligibility for incarcerated students, and offer back up opportunity for betterment for our nation's qualified incarcerated students, is so vital.
I encourage you to contact your representatives in Congress to support these critical bills and sign this petition in support of reinstating Pell grants to incarcerated students. By joining our voices together, across the political spectrum, we can take the dream of reform and make it a reality.
Calling all HuffPost superfans!
Sign up for membership to become a founding member and help shape HuffPost's next chapter