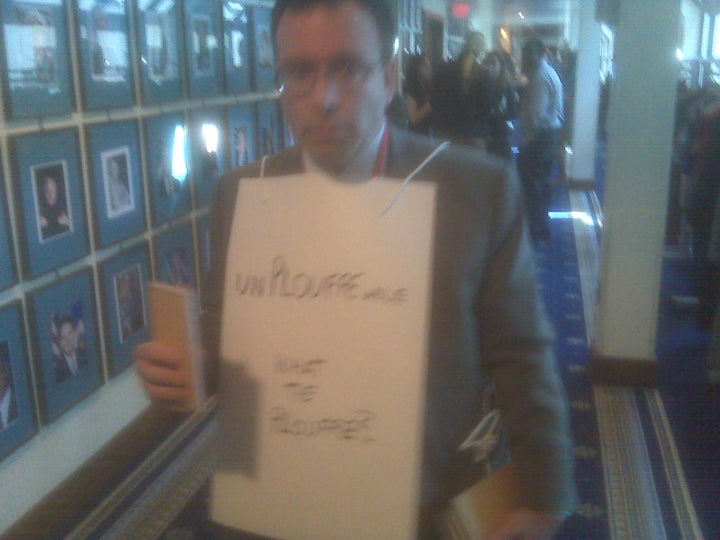 Barack Obama's campaign manager, David Plouffe, is slated to appear at the National Press Club to deliver the keynote speech for the Georgetown University and Politico sponsored event "Transition 2009." Except, before he even took the stage, things started to unravel.
Plouffe, it seems, asked that his address be kept off-record even though it was being held in the Press Club, according to an official with Georgetown University.
A rep for Politico said the publication did not sponsor the Plouffe portion of the event. "We don't sponsor off-the-record events," said one staffer with the publication.
Taking these factors into account, what ensued was a bit of mass confusion in the halls of the press club.
The Washington Post's Dana Milbank protested Plouffe's decision by wearing a make-shift sandwich board that read, "I'm non-Plouffe-d" on one side and "un-Plouff-able" on the other. Meanwhile, a spokesperson for the Press Club issued a letter (read the text below) emphasizing the group's "strong opposition" to the Obama campaign manager's decision.
One of the issues highlighted was Plouffe's decision to give a speech before the government of Azerbaijan, which was also kept private from the fourth estate.
UPDATE - 1PM ET: Here's the letter from the Press Club to Hilary Kline of the Washington Speakers Bureau, which represents Plouffe:
Dear Ms. Kline,


It has come to my attention that one of your clients, Mr. David Plouffe, would like to speak off the record at the Feb. 12-13 Transition 2009 conference at the National Press Club, an event that I understand is otherwise on the record.

As you know, the National Press Club is hosting but not sponsoring this event. Georgetown University's School of Continuing Studies is renting a room at the Club for the conference. As such, it is the prerogative of Georgetown, Mr. Plouffe and your bureau to impose whatever ground rules you prefer for his remarks.

Nonetheless, as president of the National Press Club, I wish to register my strong opposition to the prospect of a newsworthy event at the Club being off the record.

Blacking out news coverage of this speech would not only reduce the free flow of information that is at the core of the National Press Club's mission. It also would run contrary to the spirit of President Obama's recent executive order and statements in support of a more open government. While Mr. Plouffe does not work for the Obama administration, his identity is tied to the president's, and if his decision to speak off the record stands, it will undermine the president's message on this important issue.

Word of Mr. Plouffe's intentions is particularly alarming because it comes on the heels of reports that he barred reporters from covering his recent address in Azerbaijan. Establishing a pattern of this sort would not reflect well on him or your organization.

I sent a similar letter to Mr. Plouffe just now. I would appreciate it if you would do what you can to alter this decision. Please do not hesitate to call me to discuss this. I can be reached at --.

Thanks for your consideration.

Sincerely,

Donna Leinwand
National Press Club President
Popular in the Community