Before the words were even completely out of the mouth of his boss, Stu Loeser knew he had screwed up.
It was 2010, and as New York City recovered from a massive snowstorm, Mayor Michael Bloomberg had been giving regular televised updates to New Yorkers about storm cleanup efforts. Many people were canceling their Broadway theater tickets due to the snow, and Loeser, Bloomberg's press secretary, advised the mayor to say on live television that New Yorkers should buy tickets amid the disaster.
The plug was meant to be a simple boost for Broadway. But the problem was that the city was still struggling to get the streets plowed in many neighborhoods, and the comment fed the perception that Bloomberg was out of touch with regular New Yorkers.
The comment was carried live on nine local television stations and several cable networks. As Bloomberg spoke, Loeser noticed many of the reporters in the room writing down the timestamp.
"At the time, we had ambulances stuck and streets that weren't getting cleared as quickly as usual, so I wasn't really focused on the Broadway line even though I saw reporters almost physically responding to it," recalled Loeser. "When you have potential loss of life, focusing on the damage you may have inadvertently done to yourself seems secondary."
But the outrage about the comment was swift. Peter Vallone, a city councilman from Queens, fumed about the comment in the New York tabloids. Bloomberg eventually apologized for the city's snow response.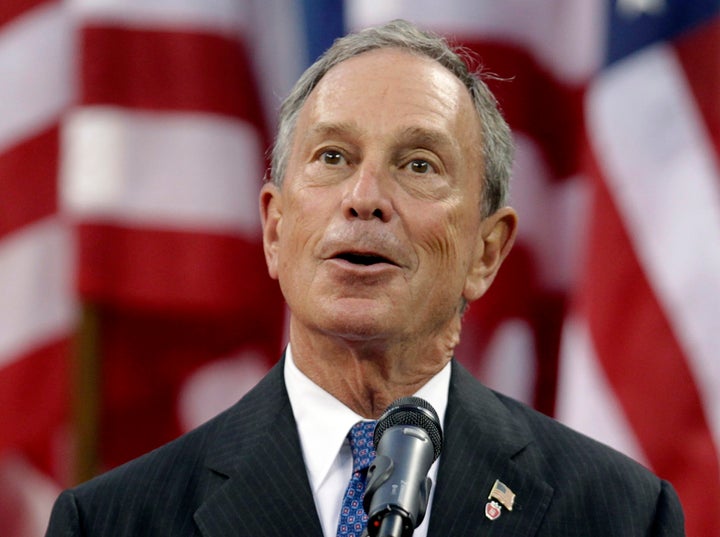 A press secretary's main job is message discipline. They are paid to spin political agendas and minimize distractions, and to act as a shield, ensuring their boss never looks bad in the news. But every so often, press secretaries screw up. They botch the messaging or say something that doesn't align with the perception they're trying to create ― and then it's the press secretary who's in the spotlight. When that happens, there aren't a lot of options for damage control other than to offer a full mea culpa.
White House press secretary Sean Spicer found himself on in this situation earlier this month when he told a room full of reporters that Hitler wasn't as bad as Syrian President Bashar Assad because he didn't use chemical weapons on his own people, and then referred to concentration camps as "Holocaust centers." It became immediately obvious he had majorly messed up ― an MSNBC chyron posted below Spicer's televised speech fact-checked him in real time, noting Hitler gassed millions and videos of reporters looking baffled quickly went viral.
He appeared on CNN several hours later to apologize. "I made a mistake; there's no other way to say it," he told Wolf Blitzer. "I got into a topic that I shouldn't have, and I screwed up."
Spicer talked about the scrutiny he faces as the chief spokesman for the president of the United States in a panel discussion at the Newseum the following day.
"No matter what you do, what you wear, it gets amplified to a degree that you couldn't imagine," he told moderator Greta Van Susteren.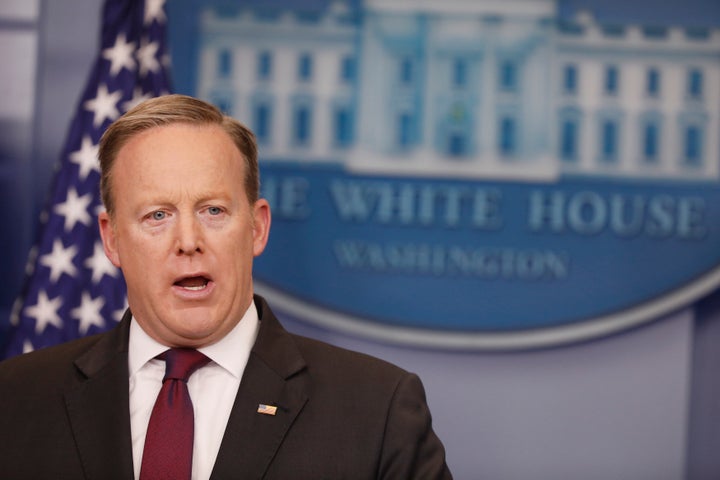 Sometimes, however, the only way for a press secretary control the damage is to leave. That's what happened to Kurt Bardella, the former spokesman for Rep. Darrell Issa (R-Calif.). In 2011, Politico broke the news Bardella had shared email exchanges he had with other reporters with The New York Times' Mark Leibovich for a book Leibovich was writing on Washington culture. Bardella was fired over the incident shortly after.
"I can't believe how stupid I was," Bardella said in a recent interview with HuffPost. "As it's going on and you're breaking news on every outlet, and every story at that point in time is being written about your downfall and how your ambition and ego got the best of you, while people go on background and talk shit about you, it's one of the most unpleasant professional situations you ever find yourself in."
Bardella said his conversation with Issa about his future employment following the incident was "pretty brief."
"At the end of the day, you still have a responsibility to serve your boss to the best of your ability. And it doesn't take a lot of time to realize that the best thing you can do for your boss is to be removed from that situation," Bardella said. "It was a pretty immediate conclusion given the situation. This wasn't a long, drawn out, strategic thoughtful process. It was 'well it's pretty obvious you're gonna have to fire me.'" (Bardella ended up being hired to work for the House committee Issa chaired later that year.)
Bardella said the episode showed him who his real friends were. The night he was fired, 14 friends showed up at his house with beer, pizza and Trivial Pursuit.
"I think most people are willing to give you the benefit of the doubt and an opportunity to redeem yourself," Bardella reflected. "If anything, I think what can compound a mistake is doubling down on it and not facing it directly."
Mike McCurry, who served as Bill Clinton's press secretary from 1995 to 1998, had his own run-in with infamy. In an October 1995 White House press briefing, McCurry accused Republicans of wanting to kill seniors because they wanted to cut Medicare.
"Eventually they'd like to see the program just die and go away. You know, that's probably what they'd like to see happen to seniors too. If you think about it. Oh, that's too far, that goes beyond the point," he said at the time.
McCurry later recalled that House Speaker Newt Gingrich was furious over the comment ― which seems almost benign by today's standards of political discourse ― and threatened to stop negotiating with the White House on the federal budget unless McCurry was fired. There were backchannel negotiations between Gingrich's chief of staff and the White House, and the dust up ended with McCurry apologizing from the White House briefing room and burying the hatchet with Gingrich.
"I sent the speaker a note saying that I quickly realized I had made a mistake and I apologize for that. And hope he understood that I did not intend to impugn his character," McCurry said at the time.
When McCurry left the White House a few years later, Gingrich sent him a crystal decanter and four glasses so he "could enjoy some Jack Daniels in retirement," McCurry recalls.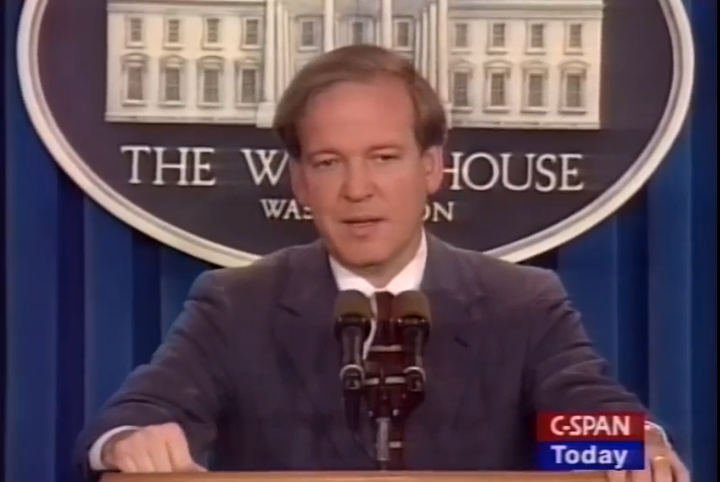 "Moral of the story: all press secretaries say stupid things," McCurry, who is now a professor at Wesley Theological Seminary, wrote in an email. "It works out better when you 'fess up quickly."
A fast apology is essential, said George Arzt, who served as former New York City Mayor Ed Koch's press secretary. As he was leaving City Hall one day in the late 1980s, Arzt heard from the police that a bear at the zoo had mauled two zookeepers and possibly killed one. He told reporters to check with the police about the incident, but one paper ran the story on its front page without verifying it. In fact, only one zookeeper had been injured, and only slightly. The paper ran a correction that blamed Arzt for the error.
"I still apologized for any miscommunication and decided never to give out half-assed information even if I was going off the record to help out reporters," Arzt said. "You just have to show that it does not bother you ― even when you are in pain ― and life goes on."
In a crisis, Arzt, said, a press secretary can never show frustration and must remain unflappable.
"Reporters have great pressures dealing with deadlines, competition and dumb editors asking dumb questions. They need someone to believe in," he said. "If the press secretary has no credibility, reporters will seek someone out who can give them credible information and that usually is not good for the administration."
The necessity of a quick and clear apology seems to be anathema to President Donald Trump, who has shown an extreme aversion to admitting he was wrong. Trump has made all kinds of untrue public claims and unfounded allegations ― that there was widespread voter fraud in last year's election and that he was wiretapped in Trump tower among them ― and refused to back down when confronted with evidence to the contrary.
In a 2015 interview, Trump suggested that he never apologizes because he's never wrong: "I fully think apologizing's a great thing, but you have to be wrong."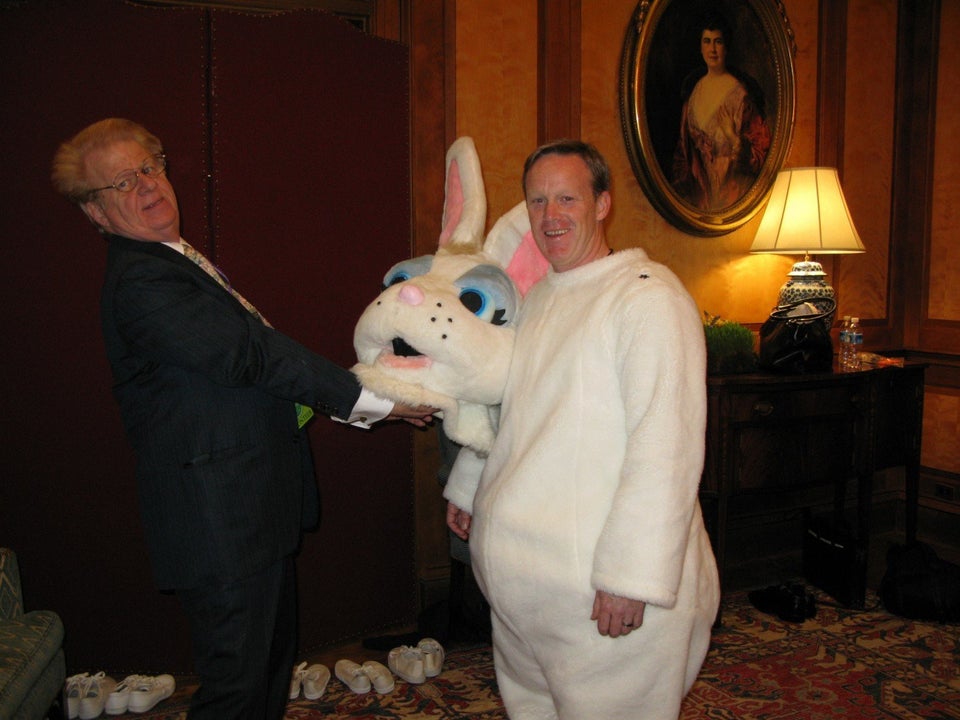 Sean Spicer Was The White House Easter Bunny
Popular in the Community