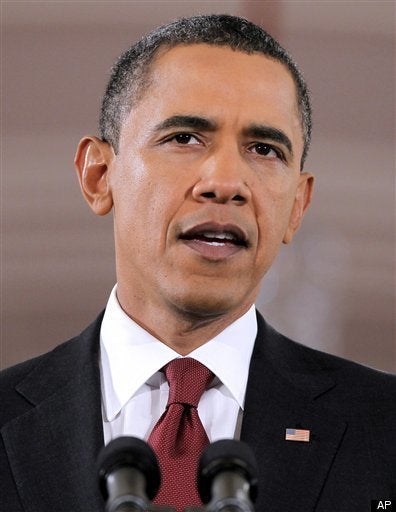 Douglas Schoen and Patrick Caddell are best known for going on the Fox News Channel, where they pretend to be "Democratic strategists." But unlike virtually every other Democratic strategist in the Western world, the two men show a studied disinterest in and a complete antipathy for any of the policies and philosophies for which the Democratic Party is best known. This is because the two men are disingenuous hacks. And another well-known forum of disingenuous hackery is the Washington Post editorial page, where today, the two men appear with advice for President Barack Obama. Naturally, it's terrible advice:
This is a critical moment for the country. From the faltering economy to the burdensome deficit to our foreign policy struggles, America is suffering a widespread sense of crisis and anxiety about the future. Under these circumstances, Obama has the opportunity to seize the high ground and the imagination of the nation once again, and to galvanize the public for the hard decisions that must be made. The only way he can do so, though, is by putting national interests ahead of personal or political ones.

To that end, we believe Obama should announce immediately that he will not be a candidate for reelection in 2012.
Yes. What a fine idea! Quitting on America, in the manner of a Sarah Palin, is sure to send a powerful message of leadership and responsibility. When the going gets hard, politically, go home. I'm stirred! Are you stirred?
Why is this a good idea, again?
If the president goes down the reelection road, we are guaranteed two years of political gridlock, at a time when we can ill afford it. But by explicitly saying he will be a one-term president, Obama can deliver on his central campaign promise of 2008, draining the poison from our culture of polarization and ending the resentment and division that have eroded our national identity and common purpose.
Oh, right. The gridlock, it shall be solved in this manner. Based upon what I've witnessed in Washington over the past two years, Obama should have immediately announced he wouldn't seek a second term as president during his Inauguration speech, right? Because then, the GOP would have surely not retreated to the position of pointlessly obstructing everything, reflexively. Seeing as all that pointless obstruction didn't cost the GOP anything at the polls, they are sure to start compromising if they win an agreement from Obama that he will pave the way for Mitt Romney to win the presidency in 2012.
Look, as I've said recently, we can all look back at that time Obama promised to "change Washington" and agree that it was a stupid promise to make. But it's an even stupider promise to hold him to, considering it takes, as they say, "two to tango," and there are few people across the aisle willing to show up to the dance.
Whether you want to believe it or not, the facts are these: Big, contentious pieces of legislation, like health-care reform, embraced a multitude of GOP concerns. Republican members may have voted against the stimulus package, but they've been reliable sluts for the money after the fact. And they've been invited to play a part in the process as well: For months, the White House courted Chuck Grassley's health-care-reform support just as hard as they could as a member of Max Baucus' "Gang of Six."
What Schoen and Caddell suggest will hardly "drain the poison from our culture of polarization." It will, in fact, surrender to it and entrench it forever.
Of course, the Democrats got drubbed at the polls in November, because U6 unemployment is so high that most Americans can't think about anything else. Of course, the people that Caddell and Schoen now suggest that Obama should capitulate to are the very same who opposed extending the lifeline of unemployment benefits to these desperate Americans. Obama would really be seen to be "focus[ing] exclusively on the problems we face as Americans, rather than the politics of the moment," if he joined forces with that crowd! (Obama could, if he so desired, seek out the counsel of the Democrats who did join with that crowd, but if he wants to do that, he'd better hurry: most of them won't be around in Washington, D.C., much longer!)
If you do a close reading of this terrible advice, it's pretty clear what Schoen and Caddell want. When they advise, "Obama can restore the promise of the election by forging a government of national unity, bringing business leaders, Republicans and independents into the fold," you'll note that "a government of national unity" is one that explicitly excludes Democrats. And when they maintain, "the president cannot be seen as an advocate of a particular party," you need to realize that this is not advice that they would ever give to a member of the Republican Party.
As the piece wends on, things just get more and more hilarious:
Forgoing another term would not render Obama a lame duck. Paradoxically, it would grant him much greater leverage with Republicans and would make it harder for opponents such as Senate Minority Leader Mitch McConnell (R-Ky.) -- who has flatly asserted that his highest priority is to make Obama a one-term president -- to be uncooperative.
How would this be accomplished? Magic? Why on earth would Mitch McConnell be more flexible with someone who surrenders to him? I am pretty sure that McConnell is not that stupid. But these authors insist that capitulation would somehow make it "harder" for the GOP "to be inflexible" and that it "would force the Republicans to meet him halfway." Halfway to where, exactly?
If they didn't, they would look intransigent, as the GOP did in 1995 and 1996, when Bill Clinton first advocated a balanced budget.
Oh, right! I totally remember that time in 1996 when the GOP learned a bitter lesson about their own intransigence, which is why they were just too ashamed of themselves in 1998 to impeach Clinton!
He would be able to deal with a Democratic constituency that wants to get out of Afghanistan immediately and a Republican constituency that is committed to winning the war, forging a middle way that responds not to the electoral calendar but to the facts on the ground.
Are these two not up on current events? The middle way has already been decided: We will stay in Afghanistan and not win the war until at least 2014!
While we believe that Obama can be reelected, to do so he will have to embark on a scorched-earth campaign of the type that President George W. Bush ran in the 2002 midterms and the 2004 presidential election, which divided Americans in ways that still plague us.
I don't know what 2002 and 2004 these two were watching, but, in fact, acrimonious divisions over policy and process were not a feature of either. Those two campaigns can be essentially summarized as George W. Bush shrieking "Booga-Booga! September 11th!" over and over and over again.
During that time, the Democrats were largely following the sort of advice Schoen and Caddell recommend today: They were basically capitulating to Bush's view of the world, lest they be painted as un-American pantywaists. Let's recall that in 2004, the best John Kerry could do as far as opposing the Iraq War was to say that it was something that he sometimes was for, sometimes against, but while it was a bad idea and a terrible strategy to counter global terrorism, the best thing America could do would be to allow him to manage that terrible strategy.
Here's where the hilarity peaks:
Should the president do that, he -- and the country -- would face virtually no bad outcomes. The worst-case scenario for Obama? In January 2013, he walks away from the White House having been transformative in two ways: as the first black president, yes, but also as a man who governed in a manner unmatched by any modern leader. He will have reconciled the nation, continued the economic recovery, gained a measure of control over the fiscal problems that threaten our future, and forged critical solutions to our international challenges. He will, at last, be the unifying figure globally he has sought to be, and will almost certainly leave a better regarded president than he is today. History will look upon him kindly -- and so will the public.
Wow. If the president quits, the country "would face virtually no bad outcomes?" This is obviously something all presidents should do, right? Because we'll have reconciliation, economic recovery, and critical solutions through this alchemical formula of just ceasing to advocate for his party's positions. Again, this is nonsense: If Obama were to make a no-confidence vote on his own leadership, history will not look on this kindly, at all. History would view Obama as one of the biggest bums in the history of western civilization.
There is one fundamental way of looking at Obama's 2012 prospects. If the economy improves, and people get back to work, he will be re-elected and his policies will bloom with new popularity. If the economy fails to improve and people remain unemployed, he won't and they won't.
This Schoen/Caddell piece, on the other hand, is some of the most demented and dishonest stuff I've ever seen in print, but it does contain at least one decent nugget of advice:
Obama can and should dispense with the pollsters, the advisers, the consultants and the strategists who dissect all decisions and judgments in terms of their impact on the president's political prospects.
Yeah, well, I can think of two "advisers" Obama can dispense with immediately.
Calling all HuffPost superfans!
Sign up for membership to become a founding member and help shape HuffPost's next chapter