"The dream is still there," says the Frenchman, pulling on his official LA Galaxy game jersey, emblazoned on the back with his name and his favorite number--in his case, #10, the number associated with soccer greats like Zinedine Zidane and Diego Maradona. We're sitting in the LA Galaxy locker room at the sprawling Home Depot Center--the same locker room in which David Beckham and Landon Donovan don their cleats--where along with close to 40 other amateur players ranging in age from their early 20s to early 60s, we're taking part in the LA Galaxy Adult Soccer Fantasy Camp.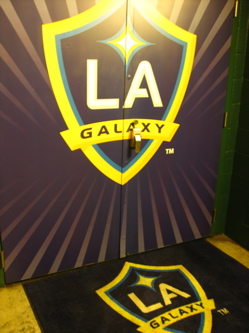 Sure, call it a prescription for a midlife crisis, if you like; a chance to rub shoulders with both pros and the milieu they inhabit; a vacation for grown-up dudes (and a few dudesses) for whom the game of soccer is a far better use of free time than golfing, fishing, hunting or skeet shooting. With five days of training by top coaching pros like Ralph Perez, state-of-the-art fitness instruction by Athlete's Performance, and guest appearances by past greats like Paul Caligiuri and Mauricio Cienfuegos, and upstarts like Omar Gonzalez, the camp is part fan geek-out and part soccer boot camp; part adolescent dream fulfillment and bucket list check-off, and certainly, several parts round-ball nirvana for the hardcore soccer enthusiast.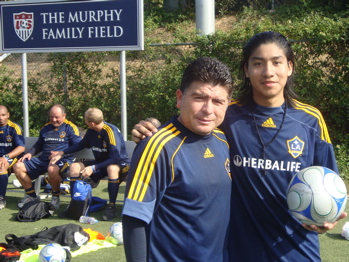 There are 18 million active soccer players in the United States, more than any other country in the world (so much for the argument that soccer "is not popular" in the US), though, to be fair, some 78% of those are under the age of 18. Still, the numbers of adult players are staggering, and recreational leagues have been a mainstay of both urban and suburban communities for decades. What's more, the advent of Fox Soccer Channel a decade ago, coupled with the increasing profile of Major League Soccer, the success of US Women's Soccer and the return of the professional women's league, as well as the huge appeal of the English Premiership and European leagues, has helped make soccer the kind of sports obsession for American men and women that it's always been for the rest of the world's bearer's of both X and Y chromosomes.
All of which suggests a need; an outlet for these players to reinforce their love, understanding, fitness level and skill set in the kind of environment most of them haven't enjoyed since college, or even high school. Other adult soccer camps exist: notably, the Soccer Academy's five-day summer program in Maryland, and sure, the United States Adult Soccer Association hosts excellent tournaments for several age groups. But, what the hell: Why not give the whole thing a splash of real fantasy fulfillment? Here at Galaxy headquarters, we're dressed head to toe in Galaxy uniforms, which are neatly draped over our chairs when we arrive in the morning, and we're out on the field running drills on the same practice quad with legends like Tony Meola and Claudio Reyna. When we troop into the locker room, we get a "what's up" from Galaxy players like Dema Kovalenko and Edson Buddle, and we eat lunch while grilling Rookies of the Year like Sean Franklin and Omar Gonzalez about subjects like mental conditioning and playing for the US National Team.
Moreover, the campers themselves have stories every bit as interesting as the pros they've come to break bread with. My French friend explains how he began his career as a promising schoolboy midfielder, but was jerked out of the game and stuffed in a tennis program when his family moved and his mother chose not to join the ranks of shuttling soccer moms. Like many here, it's that gnawing "I coulda been a contender!" impulse that makes the simulation so satisfying. Others played passionately in high school, bowed out in college, and returned to the game in their Thirties, becoming active members of their local recreational leagues. They still put in a few games a week, despite pulled hamstrings, Turf Toe, and the myriad niggling injuries that can hamper the middle-aged player and even make him wonder if perhaps it's completely, absurdly silly to be out there chasing a soccer ball past the age of 40 at all. (It's not.)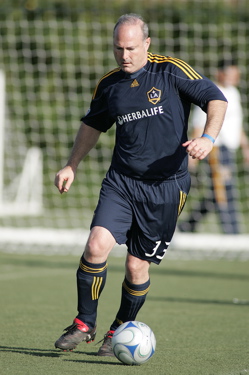 All of which makes it even more inspiring to see players nearing or over 50 displaying levels of technical acuity and raw fitness that utterly belie their middle-aged midsections and receding hairlines. Evidently, noone told these guys that, at their age, they'd be better off going fly fishing in British Columbia than scoring a header off a cross from Mauricio Cienfuegos in Carson, CA. Not that all the players at Camp Galaxy are aging baby boomers: in fact, there's a raft of younger guns, including a crew of Latino hotshots with extremely fine-tuned ball skills and noses for goal, and gutsy American players cut from the stocky, no-nonsense cloth of national figures like Jay Demerit and Taylor Twellman. Throw in a baby-faced Polish kid--we call him the "Polish Predator"--a tough German defender from Stuttgart who frequently yells "Turn! Turn!"; a smoky-voiced Southern Californian lady who suffers no fools on or off the pitch; and a lanky, verbose Italian American with expensive shoes and a cheap hair band (that would be me). Imagine if the Bad News Bears had all grown up and sprouted shin-guards. . .
To Be Continued.
Part 2 of "Pretend It Like Beckham" can be found here:
Calling all HuffPost superfans!
Sign up for membership to become a founding member and help shape HuffPost's next chapter