This is the second installment of a piece that begins here:
Making sure that this motley crew of small business owners, actors, financial types, musicians, students, graphic artists and blue-collar workers begin to gel into an actual soccer team is the job of Coach Ralph Perez. With his spiky salt-and-pepper hair and distinctive Bronx-born accent, Perez commands the locker room and the practice field with a relaxed gravitas that remains gruff while still being gracious. Head coach at University of Redlands for the last few years, Perez boasts an impressive pedigree that includes the U.S. National Team, the New York Metrostars, the Galaxy, and extensive collegiate coaching. When he brings over genuine pros like Galaxy keeper Kevin Hartman to say hello to the fantasy campers, they're quick to credit his guidance, mentorship and influence on their game, and the plaudits are clearly genuine.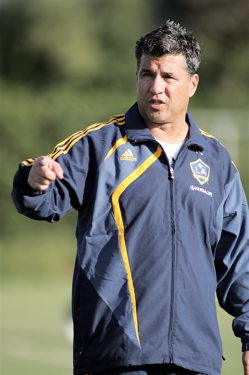 In scrimmages and games, it's easy to see why: Screw-ups are met with good-natured ribbing ("That's like missing a lay-up in basketball!") and successful moves by feel-good approbation ("Hey Brooklyn, the general manager of the Red Bulls wants to talk to you!"). Whether during demanding drills or casual chats, it's the kind of coaching that adults can relate to, a smart balance between the athletic handholding that kids require, the straight talk and motivation that pros demand, and the peer-to-peer friendliness and respect that grown-ups are accustomed to.
Into the second and third day of training, Perez's approach--seconded by assistant coach Paul Broome, a former Galaxy regular, and towering British goalkeeping coach Chris Howe--shifts toward the rigorous, in preparation for the camps's final event, a full 11v11 match on grass that represents the culmination of the week, and bestows bragging rights on the victors. Extra incentive: like the rest of the week's activities, the final match will be videotaped by the Galaxy's Troy Bardy (a dead ringer for Jack White of the White Stripes), which means that moments of glory--and dread instants of shame--will all survive for fantasy camp posterity.
As game-day approaches, we're all simultaneously more warmed-up and more brittle. Sure, days of stretching and activating muscles using "plyometrics" along with more traditional calisthenics and old-school soccer exercises has strengthened our "pillars" and "cores," and the amount of sheer scrimmage time has expanded our ability to run for serious lengths of time. But it's taken its toll, too. One player leaves the field with a grapefruit-sized swelling on his ankle from muffing an ambitious bicycle-kick; another begins taking ice-baths (yup, just like it sounds) to deal with an aggravated hamstring pull; and everywhere players are lining up at the trainer's room to get taped up, iced down and stretched out.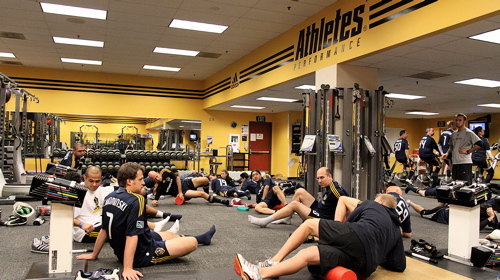 While generally healthy, I can't seem to get my hamstrings to really loosen up, despite hot epsom salt baths and plenty of stretching. Plus, like most of the campers, after two full training sessions and scrimmages each day, I'm ready to call it a night by 9PM, and I'm hitting lights out no later than 11. As for hydrating, water suddenly seems like manna from heaven; I can't get enough of it. (Good thing the urinals in the Galaxy bathroom have little "pee meters" posted that allow you to gauge your level of hydration based on the color of your, uh, stream...)
The day before the big game, rain hits Los Angeles hard, so by Sunday morning, despite ample sunshine in the sky, the fields are drenched, which means the grass field we're scheduled to play on is slick, thick and a bit muddy. Pros, like Beckham himself, generally deride artificial turf surfaces as sub-standard, wicked on the knees and hips, and unnatural in terms of ball movement and response. But the difference between practicing on the FieldTurf (that's a brand name) and running out onto a wet grass field is a bit like jogging from a parking lot onto the beach; the ball moves slower, your feet move slower, and that $220 pair of Adidas Predators are suddenly unceremoniously splattered with mud. (Sigh. Clearly, there are sacrifices to be made in sport.)
On the other hand, a grass field is the real deal, and that dirt and dew translates to sweat and blood on the pitch, pulling the game out of the air-brushed realm of televised matches and Sony Playstation and literally grounding it in reality. Ironically, this is precisely where the "fantasy" aspect of the camp ends. A game, after all, is a game.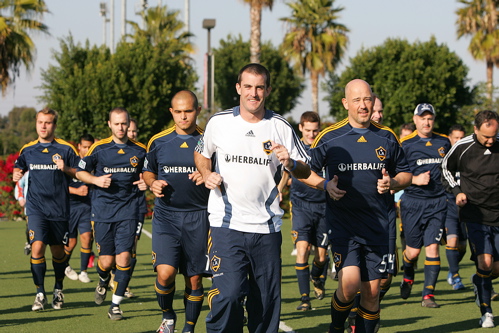 We're used to seeing big players trundling into the locker room for important matches with headphones on, getting into the "zone" and keeping distractions out, and it's no different on Sunday morning as the campers get dressed (White jerseys with Coach Broome, Blue Shirts with Perez) and undertake their pregame rituals. For me, getting pumped includes dosing up on a medley of heavy metal on my iPhone: Soundgarden's "Rusty Cage," Deep Purple's "Highway Star" and Opeth's "Ghosts of Perdition" provide my soundtrack of empowerment. The line for trainer Pablo's taping services is extensive, so I just opt for a little tape around my ankles, on the outside of the sock, to keep those shinguards in place. Wrapping my ankles, I get a friendly challenge from Dennis, an upbeat guy and fine player, who's playing for the White team today: "Okay man," he says, "loser has to buy the pizza when I come to New York." Agreed.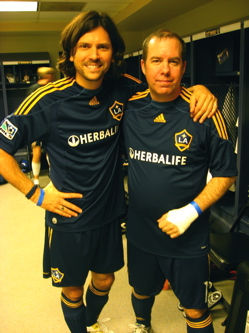 In the pre-game meeting, Perez outlines our strategy, formation and player positions. I'm to start upfront as a striker with one of the shockingly in-shape 45-year olds who have already amazed me, though our team is a good mix of young legs and old souls, including two of our stocky, blondish youngsters who'll be holding down the backline. What's more, each team will have a special "designated player"; our team gets the mighty Cienfuegos, driving the attack in midfield, while the Whites get U.S. great--in fact, "legend" is not too strong a word--Caligiuri, still a serious force to be reckoned with at 45.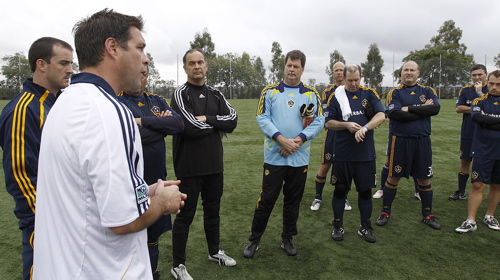 The sun shining, and a handful of family members and friends in the bleachers, the game is as scrappy, exuberant and mildly chaotic as you might expect, though there's an awful lot of good soccer as well; confident "knocking-it-around" in the defense, good holding and build-up play in the midfield, and solid running off the ball from the forwards. Ten minutes in, I get a chance to score the games's first goal, put our team ahead, and deposit that golden moment in my memory banks: on a counter-attack, Cienfuegos spreads out left, I take the middle channel, and he threads a masterful through-ball to me inside the box. Here it is: the dream realized, adolescent fantasy squarely met. But miraculously, my foot does not even connect with the ball, somehow skipping over my over-priced cleats just as I go to strike it, bundling into a defender, and getting cleared out of danger.
Did I lose focus? Take my eye off the ball? Was it the slick surface? Either way, I'm faced with the athlete's greatest psychological dilemma: I choked, man. Gotta deal with that. Fortunately, I'm not the only one: mistakes are as abundant as grass stains in this match, and I'll get a few chances to redeem myself and lift the curse before the day is out. In the second half, driving through the middle, Cienfuegos hits a crisp pass on the ground to me from my left, but I'm aware enough to sense he has something else in mind; I let the ball go past me to where he's almost certainly intended, our star attacker, who controls the ball under pressure, lifts it up and knocks it forward into my path. It's a difficult ball, curling in from behind me, but I'm able to get a head on it, bring it down and get a solid left foot strike on the ball, only to watch it angle just feet from the goal's upper right corner.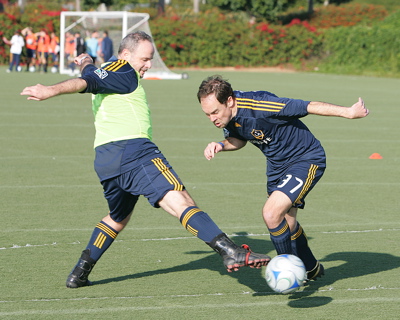 The White team does get it right, building out of a stout defense, scoring twice on scrappy but well-earned goals before we narrow the deficit by one thanks in part to the efforts of our French #10. In the end, it's not enough to stave off defeat, though Perez scrambles the formation toward the end, taking off defenders and adding forwards, in a last-ditch attempt to get the equalizer. It doesn't come. White 2, Blue 1.
Marching back to the locker room, where we'll say our goodbyes and give hearty thanks all around, I'm almost stunned by the silence; just the clicking of my studs on the concrete, and a light breeze that carries the midday sunlight to my shoulders. Narrow defeat, whether in major competition or a weekend skirmish, is a haunting feeling, and I find myself mentally recreating scenes from the match in my head, doctoring them, of course, in a futile attempt to metaphysically correct the outcome. And I wonder: how long did John Terry of Chelsea try to mentally "fix" his missed penalty kick at the Champions League final a few years ago? Has Zinedine Zidane visualized the moments just before that notorious 2006 headbutt countless times, and soothed his soul by playing out a more measured, restrained response? How often did Bill Buckner of the Red Sox replay his grand kerfuffle in the 1986 World Series, and imagine himself picking up the ball in an endless loop?
Sports fantasies comes in many forms, and as we say our goodbyes, offer props for tough work on the pitch, and shake hands in solidarity, it's evident that the camp's "fantasy" aspects--taking the field with big-name players, decked out in full Galaxy strips--has ironically offered us genuine insight into the decidedly earthbound reality of professional sports: the day-to-day challenges, the self-inflicted mind games, tests of stamina and resolve, and the nagging physical knocks and pings that you simply can't feel when sitting on your couch in front of a 52" HD Plasma set. Nor can you easily come by the camaraderie you get when you and your compatriots are all putting your pride on the line in real competition, that mixture of concern, mutual motivation, and acerbic, purposeful teasing that defines locker room fraternity. My challenger Dennis, for instance, has only one parting thing to say to me as he slaps his hand on my shoulder, and flashes a wicked grin.
Calling all HuffPost superfans!
Sign up for membership to become a founding member and help shape HuffPost's next chapter