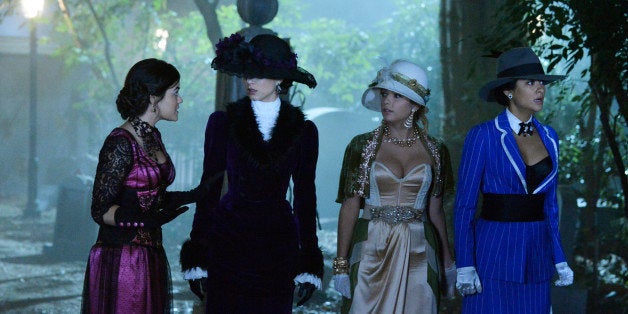 If you're anything like us, you've had a countdown to the "Pretty Little Liars" winter premiere since last October (btw it airs on Jan. 7 at 8/7c). Though we're dying to find out who "A" is, what we're most excited for are the clothes, obviously.
To help get us in the spirit for tonight's premiere we chatted with the PLL's costume designer Mandi Line to get the scoop on her biggest wardrobe regrets, how she dresses each girl and where we can shop to look a little more like Aria (though a quick trip to Aéropostale might be the ticket). Here's what she had to say:
On making PLL the best-dressed show by forgetting the girls are in high school:
What "Pretty Little Liars" has done for social media hasn't been seen on television. Going into the show, I told the producers that "Gossip Girl" is on its way out, and I can make this show the best-dressed show on television if you let me take these girls outside of the box and make them a little unrealistic... but with the right price points. I want to make attainable fashion but I also want it to be a little fantastic. I don't want it to be exactly what girls wear in high school. I've been in this business for 14 years and social media was never in my line of work when I first got into it. So now, I pay attention to what fans say, what fans want to see and want to buy and I try my best not to do crazy price points.
On Aria's eclectic, trendy style:
Aria (Lucy Hale) is a mini-me. Aria is what I was never allowed to do in high school because we didn't have the money. Aria wears trends but she doesn't do it because they're cool, she does it because likes them. In one scene she's like a 1950's latino chick and in the next scene she's vintage chic. With Aria, I don't set boundaries. I don't conform to trends with her. I literally do what I wanted to do when I was in high school. I mean, my God, thanks to Lucy Hale and our show, she now sets trends. [For Aria I shop at] department stores like Nordstrom, Bloomingdales, Macy's. I love Saks and Barneys and all those, but I don't think it's fair to the fans because they really do want to save up and buy these things. But then I love Aéropostale, Forever21 -- I love topping the outfit off with something super affordable because, say I do a $300 top, which I think is too much for our fans, I make sure the accessories are cheap.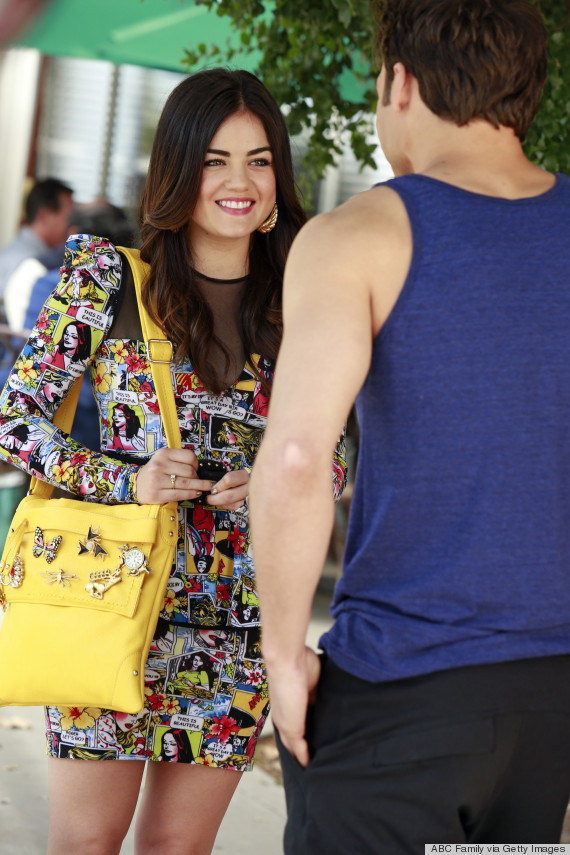 On Spencer's old-school, preppy-money style:
Spencer (Troian Bellisario), I always say, is the hardest for me because number one, Troian herself has the most effortless, grungy, hippest style of all the "Pretty Little Liars." She just comes in looking amazing no matter what she is wearing. She wears, like, a dirty pair of boots with some grungy old army jacket and a T-shirt with a bunch of holes in it and she looks fabulous. I'm always the most nervous to dress her because she is so on point herself. But if you look at the pilot, she is very typical preppy. She has an argyle sweater with her hair up, and that wasn't me. I wanted to make sure Spencer was still old-school, preppy-money, but she put her own modern twist on it because nobody wants to see pearls and oxfords and cardigans all the time. So I love going Anthropologie, I love going to Urban Outfitters, I love going to Wasteland, which is a thrift store. I want to make sure her story looks like she stole something from her mom's closet, yet she went shopping and topped it off with something classic. I always say Spencer is classic with a twist.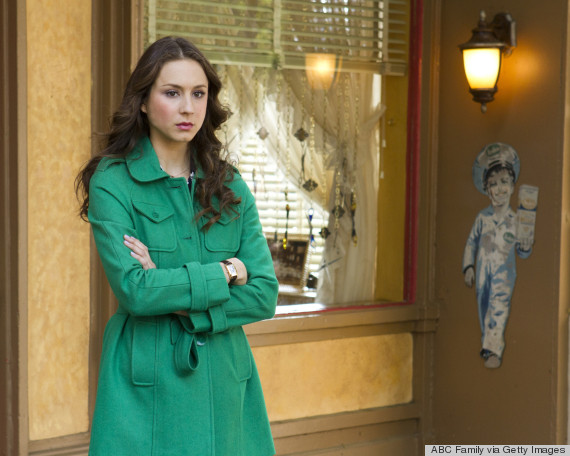 On how Emily's sexuality affected her style:
Emily (Shay Mitchell) to me has had the biggest arc of all the characters because when she came out with her sexuality, she also came out with her strength to speak what she was feeling through her fashion. And she's the one with the most fans that are actually writing to me saying, "I didn't know how to dress. I didn't know who I was and Emily makes me feel cool being comfortable." You should see the fans that come up to Shay crying, saying "I came out to my parents and I went shopping and I feel comfortable. I don't want to hide from students anymore, I know who I am."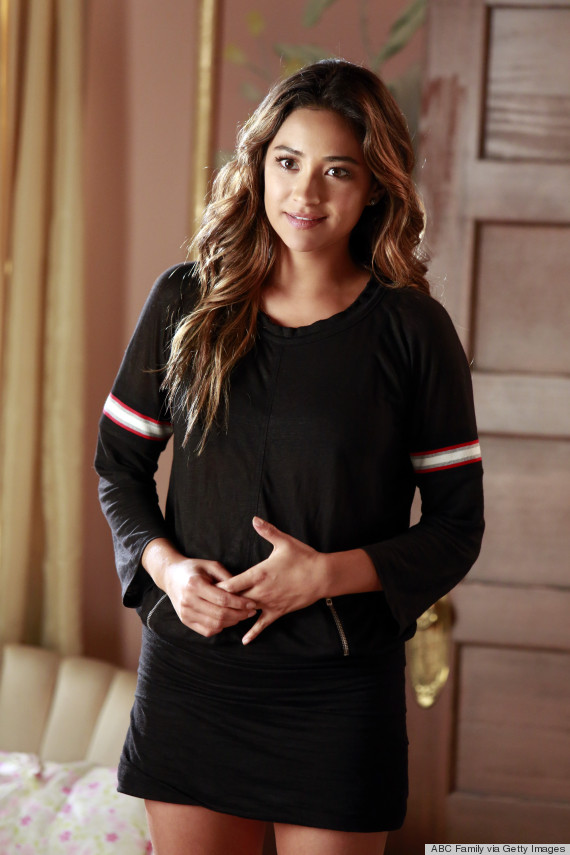 On Hannah's boundary-pushing sexiness:
Hannah, or Ms. Ashley Benson, is probably the funniest and most wild one I have. She always wants shorter, sexier and higher heels. Over the seasons she has gotten more risky. Her skirts have gotten shorter, her heels have gotten higher, her fashion is getting more edgy, Hannah is getting more edgy. She wears more black, she wears more studs, she mixes prints now, which she never did before. Aria doesn't grow with fashion, she stays true to her roots, but Hannah goes with fashion and she's fancy. She loves BCBG. I don't think she knows what to do without a blazer. It's like she can't breathe without a blazer and heels.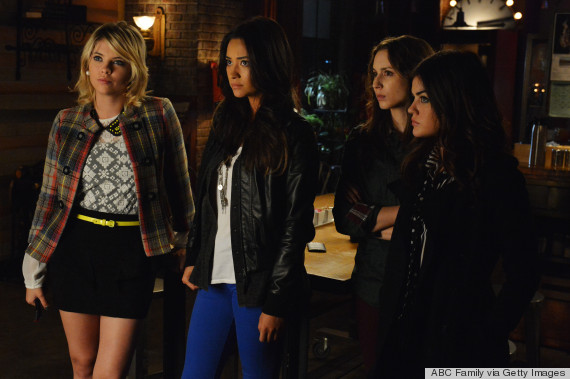 On not repeating any costumes:
To keep the price point down because we don't have a huge budget, I try to repeat their bottom halves and their jackets. They don't repeat their dresses or tops, and I try my best not to repeat accessories, but we only have so much room in our trailers. I think, at this point, Aria has up to 10 boxes of black boots.
On which actress' personal style is the most different from her character's style:
For sure Troian. Well, you know what... I don't know, because Shay is so girly in real life. If you look up Shay, I don't think you could find a picture of her without a dress on. It's a tie between Troian and Shay.
On (not) dressing the actress' to look like actual high school students:
I should probably pay attention to that more, but I just pay attention to what's cool. I just like what I like. Spencer sometimes can get too sophisticated and Emily sometimes gets too sexy. I try, but sometimes I just let it go. Some of the producers get mad and say, "Mandi, what are you doing?"
I'm super partial to Aria -- she's like fulfilling my fantasy. There is a dress that Pink wore to the VMAs, it was black and red striped, and I had it on my desktop for a good four years and all of a sudden they came up with a masquerade script and I was like, "Oh my God, please." And we didn't have the budget and we couldn't find the right fabric. So we actually had to make the right fabric, since it didn't exist. So it's Aria's masquerade black and red dress. I'll probably die and that will still be my favorite outfit.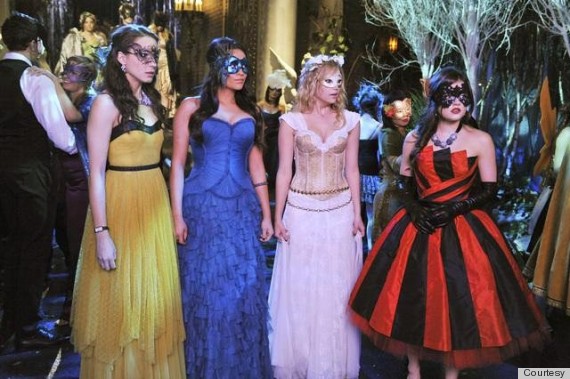 On her biggest outfit regret:
There was one for Hannah. Sometimes when the writers write they have a backstory, but the viewers don't get it because they don't get the script. In the first or second season when Hannah is having dinner with her dad, the writers said, "Mandi, we want to make her look like a little girl." She was going out to dinner with her new stepmom and we wanted her to look young and not so fancy and expensive. So I put her in a cheap dress and this short-sleeve cardigan so she would look like she was a little girl. But every time I see that photo, I think she looks so cheap -- the audience doesn't understand why she's wearing this weird cotton dress and short-sleeved cardigan in one scene, and high-heels and a short skirt in the next.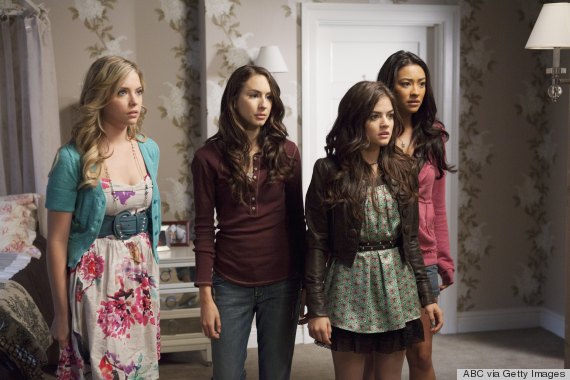 On what we can expect from the fashion in the rest of season four:
If it was up to me, Lucy would probably have light-up dresses and plastic tubing. With me it's tough, because they always have to take me back because I want to go so forward. Spencer definitely goes through an unexpected journey that you will see and her fashion takes a huge turn because of her situation. I would say expect higher heels, shorter skirts and louder prints.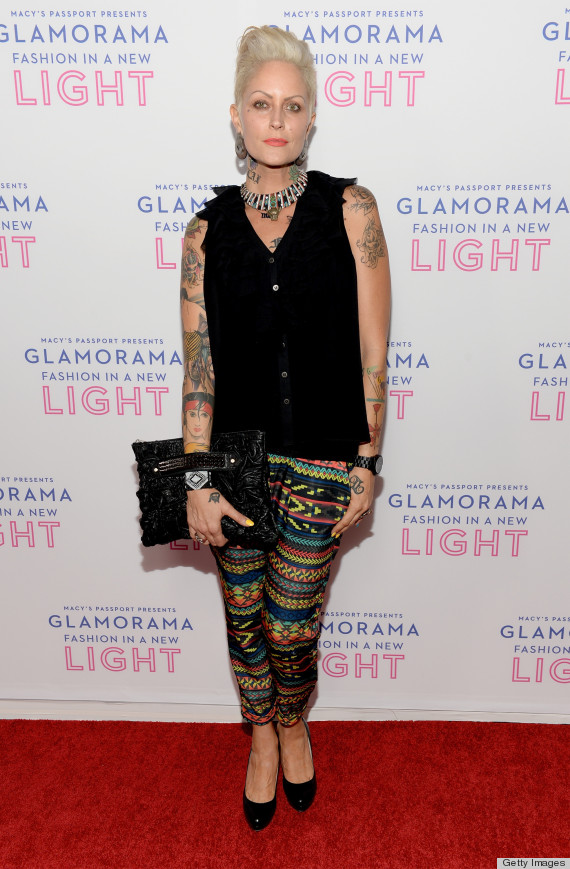 More amazing fashion from PLL: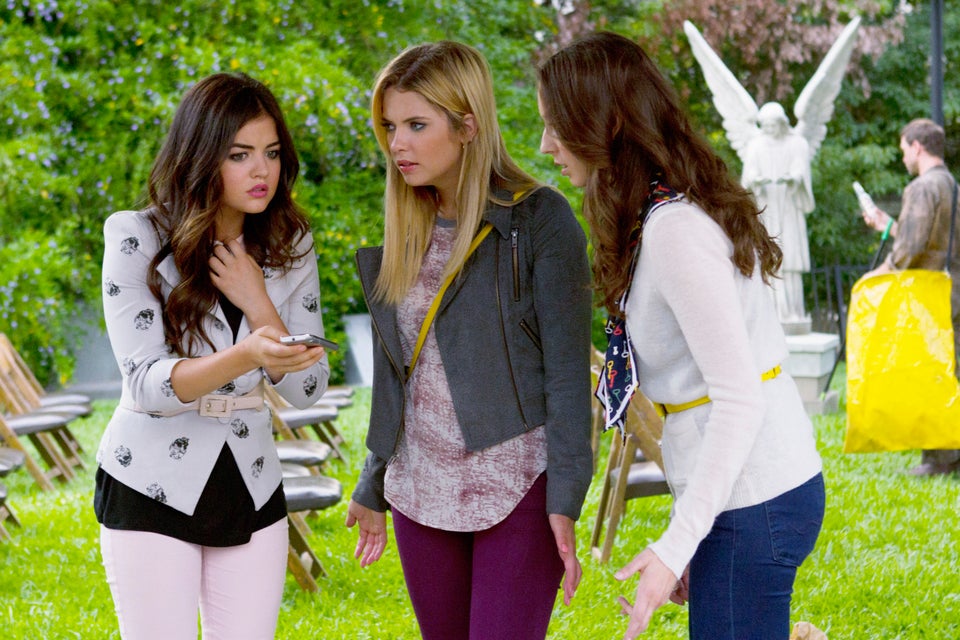 Pretty Little Liars
Popular in the Community