It's time for some amAzing trivia.
"Pretty Little Liars" is a scintillating teen thriller currently in its fifth season on ABC Family. The series focuses on a group of high school friends who are stalked by a terrifying figure called "A," and caught up in a mystery that takes complete control of their lives.
In honor of the show's Halloween fan appreciation special, which airs Tuesday at 8:00 p.m. ET on ABC Family, read on for five things you didn't know about "Pretty Little Liars." Pretty soon, Spencer Hastings won't be the only know-it-all in town.
These secrets are better left said.
1. Apple Rose Grille, where the liars often hang out in Rosewood, was once Luke's Diner on "Gilmore Girls."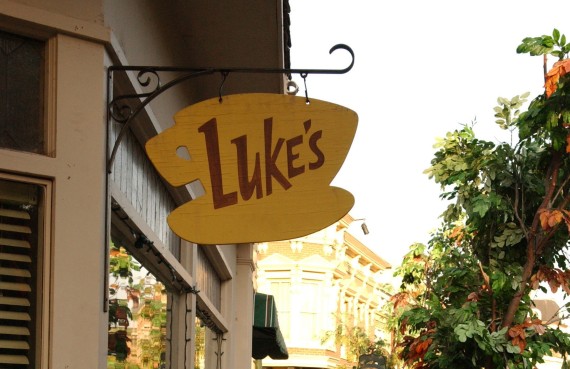 Though Luke Danes of "Gilmore Girls" would not be caught dead serving drinks out of mason jars, the set of his diner was indeed transformed into Apple Rose Grille -- more commonly referred to as "The Grille" -- the liars' go to hang out in early seasons of the show. In fact, "Gilmore Girls" and "Pretty Little Liars" share many locations as they both film on the Warner Bros. Midwest Street lot. Take note that Rosewood's main street looks eerily similar to downtown Stars Hollow -- and that both towns share overlapping landmarks like the steeple church.
Besides "Pretty Little Liars" and "Gilmore Girls," Midwest Street can also be seen in films like "The Music Man" and "Bonnie and Clyde," and in television shows like "The Dukes of Hazzard" and "Hart of Dixie."
2. The show frequently pays homage to the work of Alfred Hitchcock.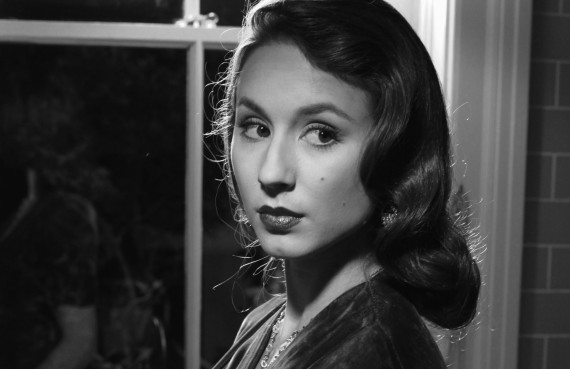 As anyone who's seen its noir episode can attest, "Pretty Little Liars" is aware of its mystery predecessors, especially Alfred Hitchcock. But the special theme episode is not the show's only nod to the classic filmmaker.
As MTV points out, "Pretty Little Liars" pays subtle homage to Hitchcock throughout the series: the "it" coffee shop in Rosewood is called Rear Window Brew. The Lost Woods Resort, the creepy motel where "A" (at that point Mona) has a lair, is heavily reminiscent of the Bates Motel. And the Season 1 finale, "For Whom The Bell Tolls," references the plot of "Vertigo," when Ian is pushed from a bell tower to his death.
Showrunner I. Marlene King even overtly mentioned referencing the filmmaker on the 2013 TCA Winter Press tour, when she said that the then upcoming Season 3 finale would pay "homage to 'North by Northwest.'"
Writer of the noir episode Joseph Dougherty also acknowledged the filmmaker in an interview with the Hollywood Reporter:
So much of the visual aspects of Pretty Little Liars comes from a place of respect for classic filmmaking: Hitchcock and the '40s. We're writers who pay back the debts to the writers we loved that made us turn into writers.
3. "PLL" star Ashley Benson is responsible for the show's iconic theme song, "Secret."
All "Pretty Little Liars" fans know that the opening credits are just as amazing as the show itself. And though the theme song feels like it was tailor-made for the show, "Secret" was actually an existing track by band The Pierces. "PLL" star Ashley Benson, who plays Hanna Marin on the show, is in fact the one who brought it to the attention of the show's producers.
Speaking to AOL TV in 2010, Benson revealed her role in getting the perfect tune to air.
I have to take some credit here, because I was the one who brought that song to the producers and told them "You have to have this as the opening credits song." I'm a huge fan of The Pierces -- that's the group who sings 'Secret.' I was listening to the song while we were filming in Vancouver and I was like, "Oh my god, that's the best song for the show." I pitched it to the producers and the creator and they said "Maybe," and it turned out to be the song. So I couldn't be happier. It's just so spooky and eerie, and it's perfect for the show.
4. Only one of the "Pretty Little Liars" is actually a teenager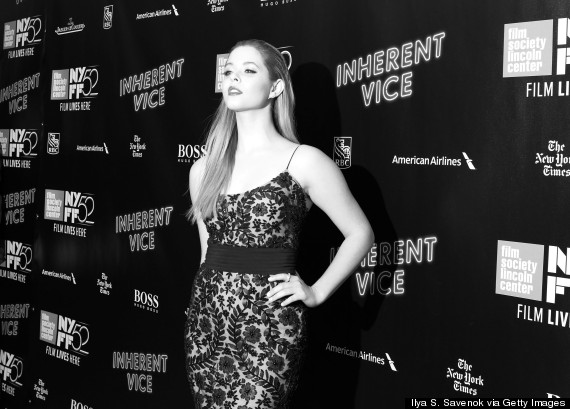 As many fans know, former "PLL" actress Bianca Lawson is a full-grown adult and has been playing a high schooler since her actual teenage years in the '90s. She was in "Saved by the Bell: The New Class," and had guest-starring roles as Kendra in "Buffy the Vampire Slayer" and Nikki in "Dawson's Creek."
But Lawson's age discrepancy was not unique in the "Pretty Little Liars" universe. The four main friends, who all play teenagers on the show, are currently in their 20s and have been since the first season in 2010: Ashley Benson (Hanna) is 24, Troian Bellisario (Spencer) is 28, Shay Mitchell (Emily) is 27, and Lucy Hale (Aria) is 25.
In fact, the only main actress close to her character's age is Sasha Pieterse (Ali), who is now only 18 years old -- meaning by most estimates, she was actually younger than her character back in Season 1. Although it's hard to keep exact track, because according to King, time moves a little differently in the "Pretty Little Liars" universe. Speaking to Variety in March, the showrunner said:
5. "Pretty Little Liars" has an alternate universe sister show called "Strawberry Patch Lane."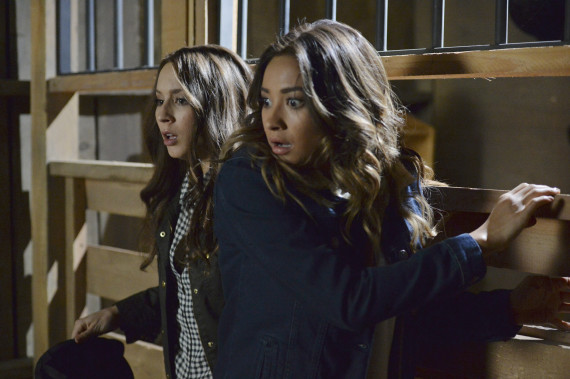 A lot of outlandish things happen on "Pretty Little Liars" -- like Spencer and Emily getting trapped in a stable with a panicked horse -- which is exactly why fans love it. But somewhere in the fictional universe, the show has a sister series with all the ideas the writers had that were a little too out there.
In an interview with Vulture, King said the fictional series is called "Strawberry Patch Lane" and is full of things the writers brainstormed but found "ultimately cheesy as opposed to shocking or engaging":
It usually has to do with someone getting pregnant, or a pregnancy scare, or Mona flying a helicopter. And I'm like: Strawberry Patch Lane. And it was me who had the idea that A should escape off the rooftop [in the Season 4 finale] by jumping onto a helicopter ladder. And I had to Strawberry Patch Lane my own idea.
BONUS: Yani Gellman, who plays Officer Garrett Reynolds on "Pretty Little Liars," is the same actor that played Italian pop star Paolo in 2003's "The Lizzie McGuire Movie."
This is what dreams are made of.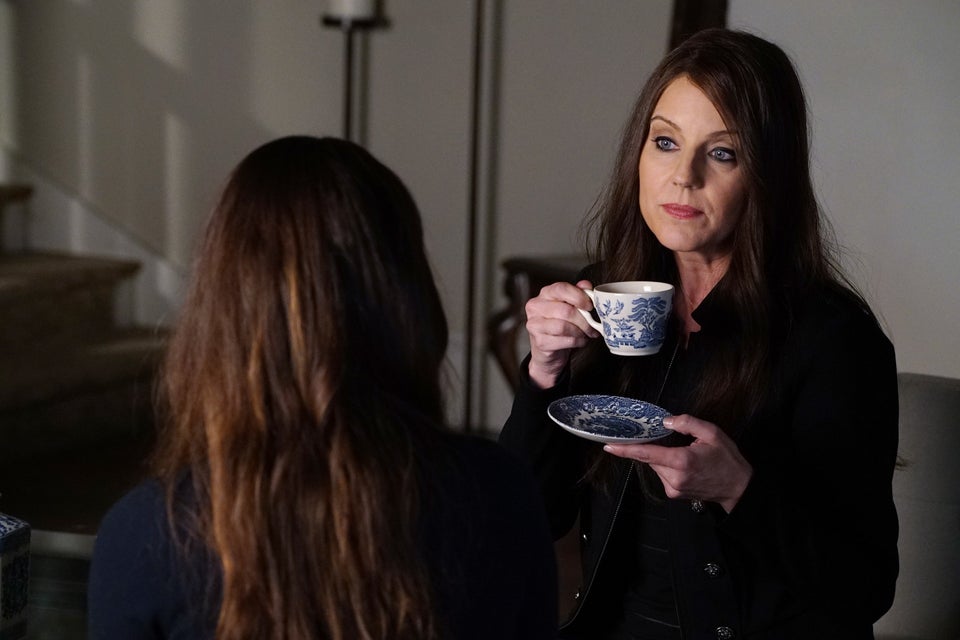 "Pretty Little Liars"
Popular in the Community