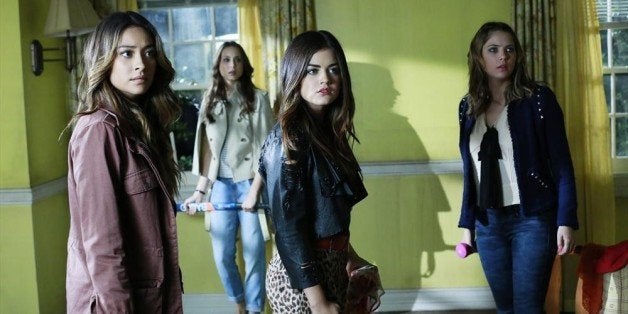 All the "Pretty Little Liars" secrets will be revealed ... eventually, according to showrunner I. Marlene King. The ABC Family show returns tonight (Jan. 7) for the winter premiere of Season 4, and the little liars will not have it easy.
King caught up with The Huffington Post a few hours before hosting her own "big giant double feature Twitter party" in celebration of the returns of "Pretty Little Liars" and its spinoff "Ravenswood." King was tight-lipped about the premiere but she assured that viewers will get more than enough answers by the end of the season. "We almost reinvent the show with the next finale," she said. "When I think about how many answers people get, it's like, 'Wow! What's left?' and you'll see, there's a lot left to talk about."
She promised major developments for Aria and Ezra, hinted at what's to come for Emily's longstanding love for Alison, and admits that Hanna may have found the key to the entire A puzzle while snooping in A's lair in Ravenswood. Beware of major spoilers if you're not caught up on "Pretty Little Liars."
I have to ask the question everyone wants to know the answer to: Is Ezra really A or are you pulling a Toby on us?
You know, I never answer that if it's true or if it's false. Let me just quote our famous friend, Alison, and say, "Wait for it. Wait for it."
It seems like Ezra had gone down a really dark path especially finding out Malcolm isn't really his son. Are we going to hear from Maggie and Malcolm at all?
We won't see Malcolm again, and Maggie becomes a person who's part of Ezra's past for now. The season for Ezra and Aria really does focus on their relationship and his shenanigans, I'll say.
What's in store for Aria tonight? I take it she won't find out about Ezra right away.
It's just Aria and Ezra, especially for the first couple episodes, getting back on this path of being together, which seems a little crazy because we the audience have seen Ezra's lair. But they find themselves in the position where they were in the very beginning of the show, which is wanting to be together and finding a way to do it while keeping it a secret from everyone in their lives.
I take it Jake won't really be in the picture?
He might be a part of the picture. I think he has very significant and honorable feelings for Aria. Jake may get a sense of who Ezra is before Aria does, and he may try to step in to intervene in what he thinks is a dangerous situation for her.
I can see that happening with his martial arts skills.
That's right. He can kick butt. But can he kick A's butt? I don't know …
Will Caleb be back tonight? Will we get to see him at all, despite being in Ravenswood?
Hanna is the love of Caleb's life. He says it out loud in "Ravenswood." He'll continue to say it out loud often and everything he does, even if it's a heartbreaker, is always to protect her. For me, there's so much story to be told here. I get a lot of slack online from the Hanna-Caleb fans, and I love Caleb. So, that's what I can say in terms of giving hope to how this all might ultimately turn out.
How do the Liars feel about Ali being alive?
As we saw in the finale, they know Alison's alive. But then when Ezra pulls up, she runs. She still doesn't feel safe in Rosewood. The Liars are really very determined to find out why and help to make it safe for her again. They want her home, but it's not easy to know that Alison's alive and out there. The dynamic she has on the group, it's like the same sentiment as in the pilot: Popular in life and death. She's not here but she's everywhere. That sort of sense of Ali really comes back into the group.
Will Emily have a particularly interesting reaction?
Emily has very specific feelings for Alison, more unique than the others. She was absolutely in love with her. She's Emily's first love, but right now she's in love with Paige. It's a complicated situation for her because she has to keep Alison's secret again. That's tough on her relationship. It's not hopeless, but it's definitely complicated.
Are we going to learn more about Toby's mother's secrets?
That continues to play out and at the same time, there's a really strong emotional story between Spencer and Toby this year and Toby is such a stand up guy. Spencer goes through some personal issues and Toby does his best to be there for her.
What was the major outcome of the Liars' trip to Ravenswood in the Halloween special?
The last time we saw the Liars in Ravenswood, they found A's lair and if you go back and watch closely, there was something Hanna took off A's desk. She secretly put it in her pocket and that thing she took -- this is a good spoiler! -- is very much an important part of the story.
Was what she took explicitly revealed to viewers?
I think you see that it's a book of sorts or a small journal. It becomes a key piece of evidence in terms of putting all the pieces together. This really is a cycle of episodes where the girls are piecing together. Alison has left behind a very interesting puzzle of her own. If they can figure out how to put the pieces together, they will find out where she is hiding.
Can you give any hints about where she might be hiding?
I won't give any hints about that, but she will make several appearances throughout the rest of the season. Eventually, before the season's over, fans will find out what happened to Alison the night she went missing and why she left Rosewood. I think the finale really changes the whole course of the show. It's such a surprise and such a fascinating turn of events.
How much longer do you think you can sustain "PLL"? Do you have a timeline in mind?
I always thought it was five seasons but when we shot this last finale and saw the magic that it brought to this group of actors, I started to think there's more story to tell here. There's definitely more story to tell than five seasons. We almost reinvent the show with the next finale.
How long have you known that Ezra would be A?
Very early on. When we realized there was an uber-A and Mona wasn't working alone, we identified what that picture looked like very early on.
What can you tell us about CeCe Drake, because she's clearly not dead?
We haven't seen the last of CeCe Drake, I will tell you that. There are some interesting twists that she brings to the party and to the remainder of the season.
Mona's storyline right now is so murky in terms of where her allegiances lie and where her loyalties are.
Mona is a very complex character and I think Mona has a deep, true love for her friend Hanna. I think Mona has had resentment and a deep-seeded anger towards Alison and more of that will be explored in this next slew of episodes.
The premiere of "Pretty Little Liars" Season 4B airs tonight, Jan. 7 at 8 p.m. EST on ABC Family.
Calling all HuffPost superfans!
Sign up for membership to become a founding member and help shape HuffPost's next chapter
BEFORE YOU GO
PHOTO GALLERY
"Pretty Little Liars"