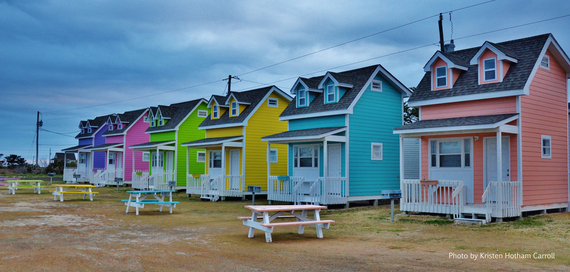 My wife and I are artists, and we travel extensively in search of beauty and inspiration. We have been fortunate to see some of the most glorious corners of our country. In our many years of exploring these United States, we had never been to the beloved Outer Banks of North Carolina. We had often heard of the beauty of the Banks, so when we found ourselves with a free week to travel at the end of February, we swiftly booked our visit.
Traveling in the off season affords us the opportunity to explore these vacation destinations unencumbered by swarms of tourists. We enjoy the serenity and quiet of the slower times, and we also like bringing our own tourism dollars during times when they are most needed.
We rented a beach house in Hatteras, in the southern tip of the Outer Banks. Hatteras and the surrounding towns are lovely, and they reminded me of a newer settled Cape Cod. Most of the homes were oversized, vast ocean front properties, accommodating large groups of families for a very reasonable cost. The seemingly endless coast is carved with large, sweeping dunes, and almost entirely untouched. What the area may lack in charm and local color, it compensates for in the sheer expanse of beach front. Even in the busiest summer months, I cannot fathom not being able to find your own quiet place of serenity by the sea.
During our stay, we talked to many locals who expressed how difficult it is to sustain during the off season months. The islands are all but desolate, and finding a restaurant can be a 15 mile trip, depending on the day or time. Having lived in Key West for a number of years ourselves, running an art gallery, we were all too familiar with the challenges associated with an economy fully dependent upon tourism.
Yesterday, we drove up the Banks a bit, and had some lunch at a local Mexican restaurant. As we were driving back to our rental home, we saw blue lights behind us, and we pulled over to let the police officer pass by. When he pulled behind us, we were incredulous. We had been driving gingerly, enjoying the sights. Perhaps there was a light out in the rental car?
Trooper Libby approached the passenger side of the vehicle, and I rolled my window down. He informed us that in North Carolina, it is illegal to pass on the right. We exchanged glances, having no idea what he was talking about. He proceeded to explain that we had driven around a car that had stopped to make a left turn.
We have lived in many states in the U.S., and we have driven through almost all of them. This is the first time either one of us had ever heard of this practice not being common place. In fact, in most places we frequent, if you do not drive past a car that is holding up traffic to turn, the cars behind you will honk.
We were appropriately apologetic, as in our 20-25 years of driving each, this was a first to hear of. My wife, Chris, was driving at the time. She has had her license for 25 years, and she has only ever had one other ticket, and that was over 16 years ago.
Trooper Libby went to his vehicle to check the license and registration, and we were absolutely stunned when he returned with a ticket. I know that ignorance is not an excuse for breaking a law, but we were clearly driving with caution, and our mistake was an honest one. We are both very safe drivers and responsible adults, so to issue a ticket seemed extremely excessive.
The fine for the penalty was $50, which seemed appropriate for the error, if a ticket were to be issued. However, the court costs added brought the total to $238. Once paid on-line, the entire ticket came to just shy of $250, bringing the entire expense to 500 percent of the cost of the penalty. The court fees are assessed, whether the court actually hears your case or not.
I was offended by the experience, so I wrote a letter to North Carolina's Governor, Pat McCrory. Knowing that he would never read my letter, I also posted a copy of it on my Facebook page, as a cautionary tale to fellow travelers. What happened next, however, surprised me. I started hearing stories of other travelers having similar experiences in the Outer Banks. It wasn't just me.
A quick Google search of "ticket + Outer Banks N.C." lead me to dozens of other similar stories, where a minor or non-existent infraction occurred, and a friendly State Trooper would swiftly issue a ticket with a small fee, accompanied by enormous "court fees." I read story after story of visitors coming to the Banks, only to be greeted with near harassment by the local law enforcement.
There were several examples of speed traps that are set up, right before an increase in a posted speed. For example, you may be traveling in an area that is 45 MPH, and then a sign ahead indicates an increase to 55 MPH. As you increase your speed approaching the sign, hidden officers pull you over to issue you a ticket for speeding.
I know that OBX isn't the only place to have speed traps, but this systematic, possibly deceitful approach to traffic violations is something I have never experienced. For an area that is fully dependent upon tourist revenue, they must assume they will have a never ending swell of new visitors each year. If no visitors ever return, they will still have plenty more coming in, lining the local municipal pockets, and receiving their own special brand of Southern Inhospitality.
The Outer Banks are lovely, so if you come mentally prepared to receive a $250 ticket that you will most likely not deserve, by all means, come. Consider it a local lodging tax. If you want to be treated as a valued guest, and see true beauty free from the encumbrance of harassment, I would recommend visiting anywhere else.