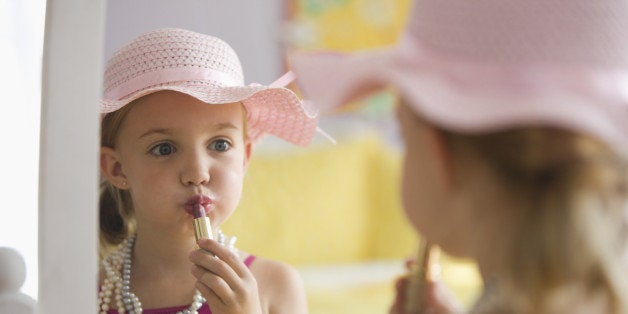 Every little girl grows into a big girl who carries the same question tucked inside:
I remember the first time one of my twin daughters asked me this question, dressed in pink, blonde curls unruly, chubby child feet with painted toes, staring in the mirror, looking through her reflected self to me. Wondering. I answered, of course I did, but the question lodged in me like a fishhook, snagging deep, cutting backwards.
It's such a simple question, a yes or no question. Yet it's spring loaded like other enormous questions. Do you love me? Am I enough?

Am I pretty? It's what girls and women do with this question, it's where we take this question that has the power to define us so deeply. We carve and starve ourselves in pursuit of the answer. We cover up and we strip down. We hoard our truest selves and we flagrantly, carelessly give ourselves away. We are afraid of the answer the world might give.
I see it today in my adolescent girls and their friends, pursed lip ("duckface") selfies staring at the world from Instagram and Keek. So, am I? Ya know, pretty? I see it today with my single friends, middle-aged moms on Match.com. Posting photos. Waiting. Taking their question into the arena. Am I?
As a mother, I can only answer my daughters' question with what I have. Often my answer is not enough, my timing is off, my word choice is insufficient, it doesn't hit and soothe the nerve that pulses the question. Maybe premenstruation and premenopause create a vortex, a Bermuda triangle of meaning? It makes me want to remember how I began to answer my own question.
I know my mom could not answer it, but I wanted her to keep trying anyway. I had boyfriends who tried to answer it, some did better than others. I remember one concrete answer to my question. I was 25 years old.
It was my birthday dinner, and my boyfriend and I were eating dinner with my parents in San Francisco. I vaguely recall hoping this boyfriend would propose, which didn't happen. Instead, my father presented me with a gift. He had just returned from a business trip to Paris, which was a rare thing. He shopped while he was there, even rarer still. The gift was a beautiful Chanel handbag, small and elegant. It was a timeless treasure and I was speechless, perhaps rarest of all. Into the quiet of that moment my father leaned over and said, "You, my dear, are not a knock-off kind of girl. You are the real deal. Don't ever forget that."
He answered my pretty question with a value statement. And it wasn't about the expensive bag, though the symbol was bold and lasting. I still use that bag today (and feel positively lovely when I do). The value statement was about me, and maybe that was at the root of my pretty question.
To this day, my father never greets me without a compliment. Even though my beauty is deeper and my outer edges are comfortably fraying, and I don't need the words the same way I did when I didn't know, he still reminds me that I'm beautiful every time I see him. And he does the same for my daughters, calling them Beautiful Bella and Gorgeous Grace since they were tiny twin faces peering from swaddled blankets. They believe him -- because the messenger matters.
Fathers, I implore you, step up. Lean in. Speak up. You are needed here. Just when you think you don't know what to say to your daughter, speak value to her.