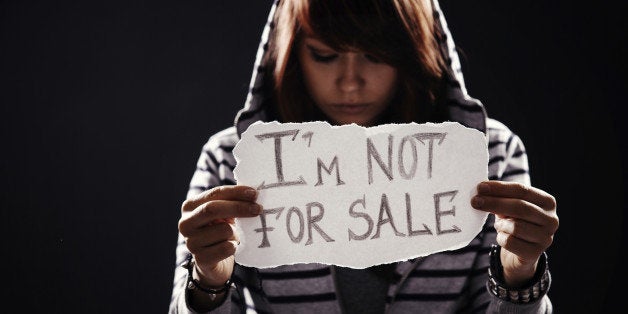 This week marks the 25th anniversary of an enormously popular movie, Pretty Woman, a cultural touchstone so important that the Today Show hosted a reunion of its stars and director. The show even offered viewers the opportunity to "Win the chance to be Pretty Woman for a day!"
With a plotline that has been neatly summarized as "Cinderella as a streetwalker" or "Pygmalion with a prostitute," the film portrays a dashing corporate raider falling in love with his latest commodity, a vivacious woman in prostitution. The movie begins with Vivian struggling to make ends meet. But once she meets Edward Lewis who purchases her, provides her with a makeover and shopping spree, she is saved. The film is a romantic comedy with the happiest of endings.
The Today Show's celebration of this fantasy misses the reality that prostitution is rarely light, loving or funny. In the quarter century since the film's release, we know much more about the links between prostitution and human trafficking. We understand that without prostitution, sex trafficking could not exist. We also recognize that like all industries, the sex trade is demand driven. Without sex buyers, there would be no business.
Human trafficking is one of the fastest-growing criminal enterprises in the world. It is an industry that generates billions of dollars each year in profit, while the risk to those who exploit is very low. Criminal organizations are increasingly attracted to human trafficking because, unlike drugs, humans can be sold repeatedly.
The titular Pretty Woman is a free agent, in charge of her own destiny. But the industry is controlled by pimps and traffickers who "condition" their victims by subjecting them to starvation, gang rape, beatings, psychological abuse, confinement, threats of violence toward the victim and victim's family, forced drug use and shame. Women are typically "recruited" as young girls in their teens and dead by their mid-'30s. The American Journal of Epidemiology has reported that people in prostitution suffer a homicide rate that is more than 50 times higher than that of the next most dangerous "occupation," working in a liquor store.
When the movie was released in 1990, I was a judge in the New York City criminal courts. Each day, I saw the ravages of prostitution in the faces of the women and girls, some transgender, who were arrested and brought before me for arraignment. Invariably these defendants were poor and most were of color. Often their pimps were sitting in the courtroom waiting to post bail so that they could get their "merchandise" back out on the street as soon as possible.
Since Pretty Woman was released, we have seen an evolution in thinking about prostitution. There has been a significant change in laws, a massive shift in community response and a clear recognition that the vast majority of people are victims who are there because of lack of choice. We now understand that these vulnerable, marginalized individuals must be provided with services, not criminalized.
In my final year on the bench, I was privileged to oversee the implementation of New York's Human Trafficking Intervention Courts, which treat women as victims, not defendants. As for the pimps, many are still lurking around the courtrooms. But now we are working to ensure that victims find a way out.
New York's newest anti-trafficking measure passed the legislature earlier this month and is expected to be signed into law by Governor Andrew Cuomo. The Trafficking Victims Protection and Justice Act increases criminal penalties for traffickers, pimps and buyers. The term "prostitute" will be excised from the penal law. Perhaps of greater significance is that for the first time in New York State, victims of sex trafficking have a defense to the crime of prostitution.
The reality of sex trafficking is brutal. In last week's prosecution by the office of Loretta Lynch, United States Attorney for the Eastern District, a convicted sex trafficker was sentenced to 12 years in prison for trafficking a teenage girl in New York. This young woman is a client of Sanctuary for Families, where I now serve as executive director. As part of her victim impact statement, our client shared with the judge: "I was a child who was abused and exploited for prostitution. I am not a prostitute. "
For our client, there was no Pretty Woman-inspired shopping spree, no makeover montage, no hope of a Prince Charming or dashing corporate raider whose heart softens to save her. Her life in prostitution was violent, degrading and traumatic. Anti-trafficking advocates, not countless buyers, helped to extricate her and are guiding her on the long and difficult process of recovery. There are thousands of other women and girls who desperately need help escaping this life.
Twenty-five years after Pretty Woman, we can celebrate that increasingly survivors of sex trafficking are treated like victims, not criminals, that buyers are held accountable, and that traffickers are brought to justice. We can celebrate the growing movement working for a world in which no woman, man, girl or boy is bought and sold for someone else's profit and pleasure. If we must mark the anniversary of Pretty Woman, then let us do it with the awareness that its central character is a Hollywood fantasy. If we take a hard look at the brutal reality, would anyone want to be "Pretty Woman for a Day?"
Hon. Judy Harris Kluger is executive director of Sanctuary for Families, New York's leading service provider and advocate for survivors of domestic violence, sex trafficking and related forms of gender violence. She served as a New York State judge for 25 years.
Related
Popular in the Community