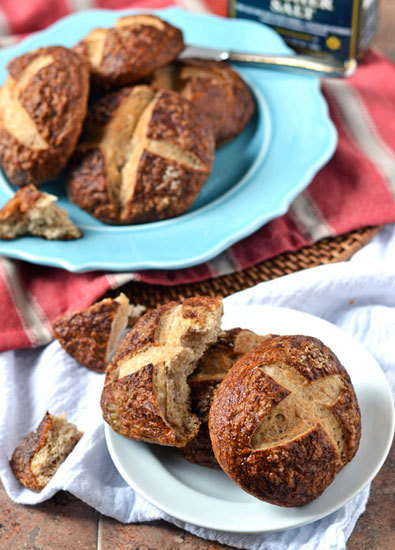 Erin shares such delicious and healthy food on The Law Student's Wife, we couldn't help but ask the same on Food Fanatic. Being Stealthy Healthy is pretty fun -- at least, we think so!
Soft and fluffy on the inside, chewy on the outside, and topped with a pinch of kosher salt, Pretzel Bread is hot stuff these days.
Restaurants around our neighborhood are beginning to offer specialty sandwiches on pretzel buns, and even Wendy's wants in on the action. This pretzel fervor is old news to those of us who love our carbs -- we have long been aware of the wonder that is Pretzel Bread. From the tantalizing scent of Auntie Anne's wafting through the mall to the envy we feel at the ballpark when the guy next to us settles in with his giant pretzel and cheese dip, Pretzel Bread is a thing to be revered, not resisted. Now, thanks to this homemade Pretzel Bread recipe, we can dig into that fluffy, golden pretzel goodness anytime we like.
As much as I would adore devouring an Auntie Anne's pretzel every day of the week, I refrain because I know those pretzels are loaded with regrets. I wanted a simple, affordable, and healthy way to enjoy pretzel bread at home, and this recipe is result. I created a honey-sweetened dough with a touch of butter and whole wheat flour. Not only does the whole wheat flour add fiber, but also it provides an extra bit of pretzel chew, and its nutty flavor complements the honey. If you prefer, you can also make this recipe with 100 percent all-purpose flour or even bread flour. The vital wheat gluten in the recipe adds extra fluffiness to the Pretzel Bread, but if you are working with 100 percent bread flour (or don't mind a denser texture if your final product), feel free to omit it.
In addition to wanting the recipe to be healthy, I also wanted to quicken the prep time so that I could reasonably enjoy Pretzel Bread on a weeknight. By upping the quantity of yeast, I was able to bake fluffy, tender rolls with only a single rise (most bread recipes call for two.) High five, Team Pretzel Bread!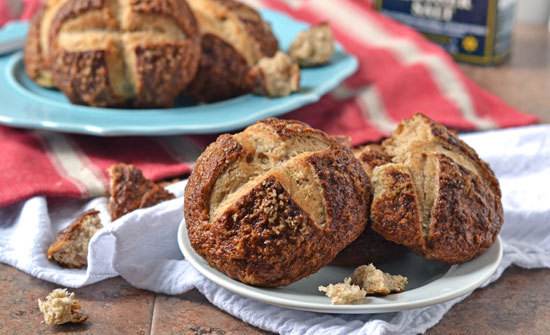 With a single rise, honey-sweetened whole grains, and a simple at-home preparation, you don't need to hit the mall or a restaurant to enjoy Pretzel Bread. Whether you use Pretzel Bread for a fancy sammie, a classic PB&J, or munch it solo for a tasty snack, you'll love being able to make it on a whim. Watch out Wendy's -- easy homemade Pretzel Bread is ours for the baking!
1 cup warm water, 110-120 degrees F
6 cups water, room temperature
1 tablespoon active dry yeast
1 1/2 cups whole wheat flour
1 1/2 cups all-purpose flour
3 tablespoons vital wheat gluten
1 teaspoon kosher salt, plus 1 tablespoon, divided
2 tablespoons unsalted butter, melted
2 tablespoons honey
3 tablespoons baking soda
1 large egg yolk
1 tablespoon water
In a measuring cup, add warm water and sprinkle with yeast. Let sit until foamy, about 5 minutes.
In the bowl of a standing mixer fitted with the paddle attachment or a large mixing bowl, stir together the whole wheat flour, all purpose flour, vital wheat gluten, and 1 teaspoon salt.
Add yeast-water mixture, butter, and honey and mix on low speed, adding additional flour 1 tablespoon at a time as needed, so that the mixture forms a soft ball.
Switch to a dough hook (if kneading by hand, turn dough out onto a lightly floured surface). Knead until dough is smooth and elastic, about 8 minutes by machine or 10 minutes by hand. Divide into 8 (3 ounce) sections and shape each into a tight ball. To form the balls, stretch the dough with both hands while tucking the sides under so that you create surface tension across the top, then pinch at the bottom of the ball to seal.
Form 8 tight balls, then place on a baking sheet lined with parchment paper.
Cover with plastic wrap that is lightly misted with cooking spray or a clean kitchen towel and let rolls rise in a warm, draft-free place until nearly doubled in size, 45 - 60 minutes.
Place rack in the center of the oven and preheat to 375 degrees F. Prepare the egg wash by beating together the egg yolk and 1 tablespoon water in a small bowl. Set aside.
In a wide pan with straight sides, bring 6 cups water and baking soda to a simmer.
Place 4 rolls in the water and let simmer 1 minute, then flip and simmer the other sides for 1 minute more.
Gently remove rolls with a slotted spoon and return to baking sheet. Repeat with remaining rolls.
Brush tops and sides of rolls with egg wash and sprinkle with 1 tablespoon kosher salt.
With a sharp, serrated knife, cut a 1/2-inch deep cross-section on the top of each roll.
Bake until deep golden brown, about 20-24 minutes.
All-purpose or Bread Flour may be substituted for Whole Wheat Flour.
Bread Flour may be substituted for All-Purpose Flour.
If using any bread flour at all, omit vital wheat gluten.
Related