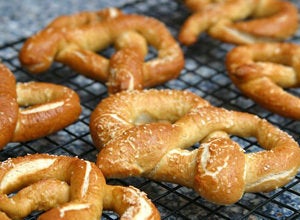 This year or last, many journalists compiled their "Best of the Decade" stories focused on all walks of pop and everyday life. Many weighed in on topics ranging from top films to best getaways to biggest headlines. Everything from Frodo's quest for a golden wedding band to Michael Jackson's baby dangling and tragic death were all covered ad nauseam. One thing omitted from many of those lists, however, was the rise of the pretzel. Stay with me on this for a minute...
No longer confined to a bag, ballpark or New York City shopping cart, the tasty breaded treat have evolved more than anything else has in the past ten years. They've popped up everywhere from malls (thanks Auntie Annes) to Special K bars and ice cream flavors. Most recently, they crashed the elusive peanut party by being included within an M&M shell. So why all the pretzel talk?
On the eve of New Year's Eve, I stumbled upon what may very well be the crowning achievement for those twisted-breaded treasures. That evening, I dined in the swanky but far-from-pretentious Upper East Side eatery David Burke Townhouse, and chowed down on an appetizer of Pretzel Crusted Crabcakes. Served with tomato orange chutney and poppy seed honey, the succulent crab cakes were topped with slender logs of, yes, pretzels which made for an intense flavor match.
I'm not a "foody" per se, but I marveled at the creativity of the Townhouse and its creator celebrity chef David Burke. This is a man who clearly loves to play with his food, and concoct offbeat, off-the-cuff satisfying dishes. The pretzel inclusion was appreciated, but it wasn't alone. The "crisp and angry lobster" was another slam dunk with fresh lobster cooked and served with a basil and lemon-chili sauce. The main event was a by-the-book flawless prime rib eye, but accompanied with a side of fries, connected and wrapped in a circle with a Caesar salad embedded inside it. All of the food looked so cool you almost didn't want to gnaw into the beauty. Yeah, right.
After the opening acts and main event, dessert was served, my waistline expanded and I almost didn't mind. The "coffee on the park bench" (the topping is literally a small bench made of chocolate) was delicious (brownie + mocha ganache + espresso ice cream = happy baby) but another Burke signature resonated more. The cheesecake lollipop tree is exactly what it sounds like. Here, flavored cheesecake pops are served on a tree-like setup with raspberries and bubblegum whipped cream to dip them in. Heaven.
This restaurant doesn't need my review. The David Burke name carries enough weight, but in a city filled with hyped restaurants that rarely pay off, the Townhouse floored me with wonderful service, quirky and stellar food, its comfortable setting, and yeah... the crabcakes.
Calling all HuffPost superfans!
Sign up for membership to become a founding member and help shape HuffPost's next chapter