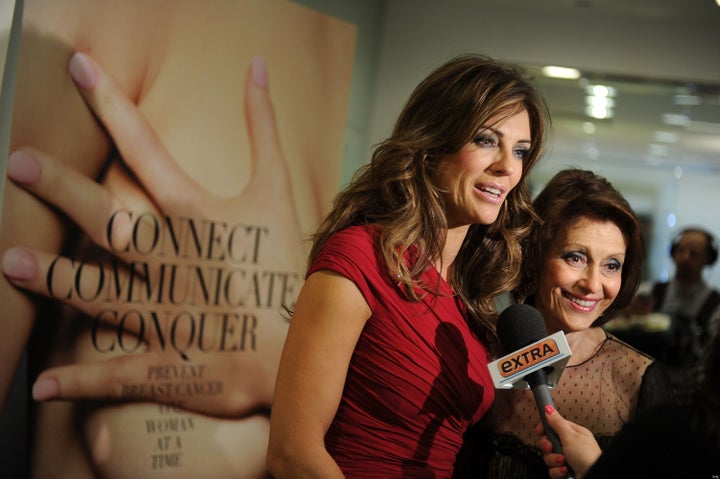 Elizabeth Hurley and I travel the world together each October and share the message that, as Elizabeth puts so well:
"There is a great deal of misinformation out there about breast cancer. We need to connect with every woman we know -- whether it be a mother, grandmother, sister, daughter or friend. We cannot underestimate the importance of communicating to women everywhere that they need to see their doctors regularly and get a mammogram annually if they are over the age of 40. It's important. Don't leave it for an extra year."
In 1992, I co-created the Pink Ribbon with Alexandra Penney, then editor-in-chief of SELF magazine, and in turn started The Estée Lauder Companies' Breast Cancer Awareness Campaign. Today, the Pink Ribbon has become the ubiquitous symbol of breast health, and I'm thrilled to share that, to date, The Estée Lauder Companies has distributed more than 110 million Pink Ribbons worldwide. The 2010 Breast Cancer Awareness Campaign theme is: "Connect. Communicate. Conquer. Prevent Breast Cancer One Woman At A Time. The Pink Ribbon. Wear It. Share It." The Campaign drew its inspiration from The Estée Lauder Companies' heritage, which dates back to 1946, when we reached our consumers through a "High-Touch" method of communication: "Telephone, Telegraph, Tell-A-Woman," and also demonstrates how communication today has evolved and is much more fast-paced. The Campaign visual of a woman's hand over her breast represents how women can take control of their breast health and how we can conquer this disease one woman at a time.
In a time when a message can be sent worldwide with a click of a button, we knew that the use of social media was key. So in order to bring this portion of the campaign to life and to get the message out worldwide, we invited influential bloggers to New York City to be photographed by world renowned photographer John Midgley, whereby each blogger recreated this signature visual, of the woman's hand over her breast, to reflect their personal passion for this cause. Participating bloggers include: Jane Cuoto, Sharon Cuoto and Audrey McClelland (Mom Generations); Gala Darling (GalaDarling.com); Laura Kenny (AOL Style List); Wendy Lam (Nitrolicious); Peter Shankman (Shankman); Amanda Steinberg (DailyWorth); Rachel Sklar (mediaITE); Renee Styler (Good Enough Mother) and Annie Tomlin (Bella Sugar).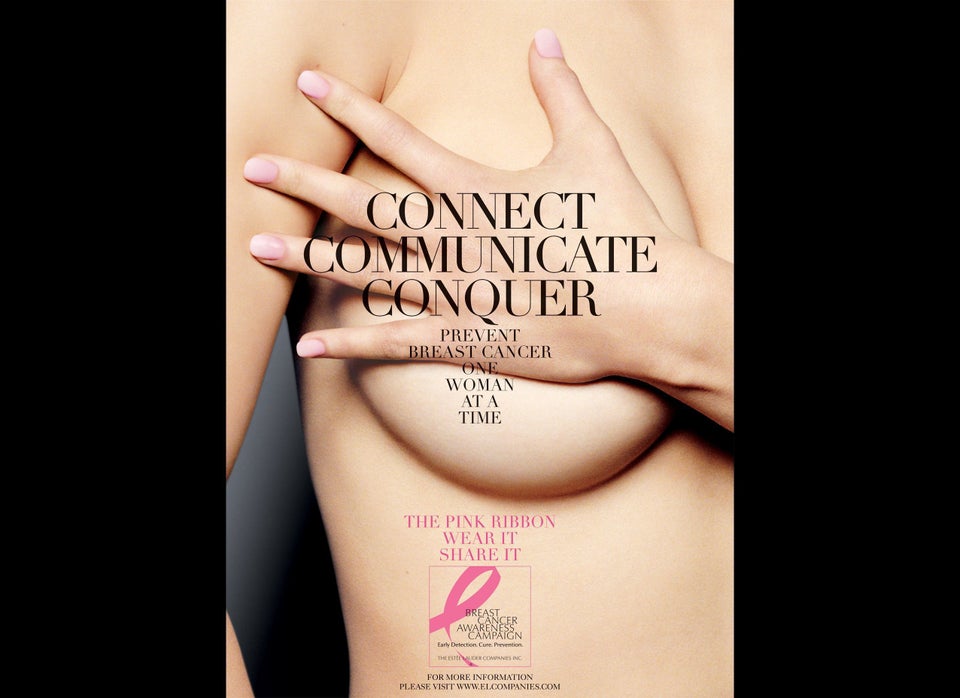 With the help of these bloggers, these images will inspire individuals the world over to take their own BCA pledge to support Breast Cancer Awareness (i.e., to get a mammogram if you are over 40) and share their pledge with at least one person, encouraging them to, in turn, do the same. The BCA Pledge campaign can be found across a variety of online destinations, including over a dozen Estée Lauder Companies' brand websites, Facebook pages, on blogs (including those of the participating bloggers) and on the campaign's site: www.bcapledge.org. The campaign also has its own Facebook page, Twitter channel (@BCAPledge) and YouTube channel. We hope that you can join us in our efforts to "Connect. Communicate. Conquer. Prevent Breast Cancer One Woman At A Time."
Elizabeth and I are also passionate about finding a cure for breast cancer through research. In 1993, I founded The Breast Cancer Research Foundation®, as an independent, not-for-profit organization dedicated to funding innovative clinical and translational research. To date, the foundation has raised over 290 million dollars. In October 2010, BCRF is awarding $33 million to over 170 scientists across the United States, Canada, Latin America, Europe, the Middle East, and Australia. Last year, more than 88 cents of each dollar donated to the Foundation went directly to breast cancer research and awareness programs. The American Institute of Philanthropy has awarded the Foundation its highest possible rating of A+. BCRF is the only breast cancer organization to receive this accolade; and is the only cancer organization to currently hold this ranking. For more information about BCRF, visit www.bcrfcure.org. The Estee Lauder Companies' Breast Cancer Awareness Campaign is the largest corporate sponsor of BCRF.
We are so appreciative of everyone who has partnered with us in the effort, and know that one day breast cancer will become a thing of the past!