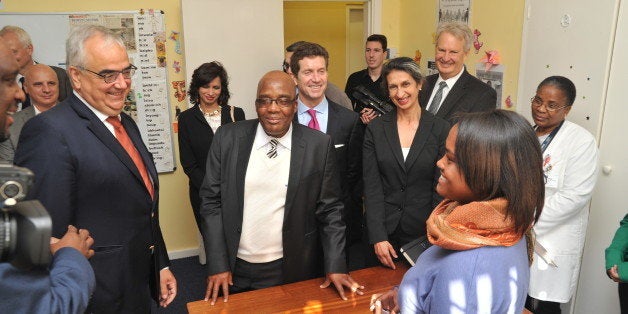 This is not acceptable, especially when we have the tools to help prevent such suffering among this vulnerable population.
This is why I am proud that Johnson & Johnson and Harvard Medical School are collaborating to achieve real change, with the ultimate vision of a world with zero TB deaths. As part of our support of this two-year, state-of-the-art research, policy, and advocacy program, addressing pediatric drug-resistant TB will be a top priority.
I recently went on a trip to South Africa where we met with several patients who were being treated for extensively drug-resistant tuberculosis (XDR-TB). South Africa has a very high incidence of multi-drug resistant tuberculosis (MDR-TB) and XDR-TB because of the high incidence of HIV, which makes patients vulnerable to TB infection.
During my trip, I visited a school on the hospital grounds and met with exceptional staff, who teach under such extraordinary circumstances. There we also met Chandre Heaton, a bright young woman who was finishing her treatment and waiting to go home. Chandre worked for several days on a letter to thank us at Johnson & Johnson for our commitment to fighting TB. I want to share a few excerpts with you:
"I am Chandre Heaton, a grade 12 learner at Steenberg High School. I have been diagnosed and admitted to Brooklyn Chest Hospital with full-blown XDR-Tuberculosis on the 25th February 2014….This was really hard on my family and me because I am not one to be away from home. My Academic education and my health were at risk here…. All thanks to everyone who made it possible for me… and therefor I am so much grateful for. I am healthy, I feel healthy and much better and my sputum has converted and stayed negative since April 2014. Drawing towards the end of this month, I will be finishing up my 24 weeks in patient treatment.
Thank GOD and all doctors, other health professionals as well as professors who made this possible."
And I am so happy that Chandre was able to go back home to pass her final exams and is looking forward to attending university. This is the difference access to life-changing medicines makes. It is why my colleagues and I have dedicated our lives to helping improve the health outcomes of vulnerable populations. It is why I got tears in my eyes when she stood up and thanked all of us.
We can no longer stand idly by as children continue to contract and, in the worst cases, die from this preventable disease. We must do something about it.

REAL LIFE. REAL NEWS. REAL VOICES.
Help us tell more of the stories that matter from voices that too often remain unheard.