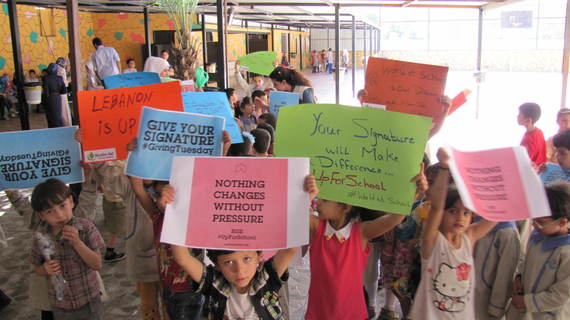 Picture: Photo courtesy Muslim Aid Lebanon
Last week I returned from Lebanon. There, I met several teachers and school leaders, sat in on lessons and witnessed a school work double time - literally early morning and late afternoon - to make room for Syrian refugee children. Thanks to Lebanon's "Reaching All Children with Education" strategy (RACE), implemented alongside international partners like UNICEF and UNHCR, these double-shift schools could absorb refugee children who otherwise might have been left on the streets to work for poor wages. This year, more than 104,000 children benefited from this program.
Yet, it was the story of a Syrian boy who I met through the Up For School partner, Muslim Aid, which moved me the most. Abdul Al Rhman was eleven years old, yet likely due to malnutrition and stunting, he was much smaller than his American peer might be. He fled Syria when he was 8. His father soon took ill so he was forced to work to help support his family. Instead of going to school, he found himself assisting older workers organizing handbags in a warehouse. He completed only second grade.
It was hard to believe that a young child of 11 had experienced so much - yet at the same time, so little. And because we - the global community of nonprofits, governments, international organizations, philanthropists and businesses - were unable to provide basic support for him and his family, his young life was already filled with unwarranted labor.
But why was it that, for every one Syrian refugee child I saw in a school, three remained out of school, resorting to other means of survival? Because there is simply not enough money left to pay for them to go to school given the half-funded education appeal. Each year, the UN costs out the price of running all of the programs to support the refugee children. And each year, the need far surpasses the contributions. It costs remarkably little - only $363 in fact - to enroll these children in school.
Despite the immense burden on its own education system, Lebanon has opened its public schools to welcome these refugee children. If we do not provide these children their right to education we risk the potential of an entire generation squandered. A generation of young people without education would perpetuate the cycle of hardship, brewing poverty, poor health outcomes, vulnerability, frustration and more conflict.
There is hope, but we all must do more. While some donors have stepped up and provided initial sums to kickstart these efforts, the overall picture is bleak, consisting of piecemeal contributions with no predictability, making it difficult to find efficiencies, improve overall learning and scale-up opportunity for refugee children.
The program is simple. For less than a dollar a day per child, Syrian refugee and vulnerable children can attend school in an extended day double shift system, securing the future they dream of. And if we were able to provide just slightly more, we could include a school meal and a safe journey to school.
In the absence of this fund and increased financial support for education, Abdul Al Rhman now remains in limbo, as he will walk into a warehouse instead of a school this fall. We must do more to help these refugees have hope through education now. And we must do more to prevent this in the future by challenging world leaders to finally take action and establish a humanitarian fund for education in emergencies.
Calling all HuffPost superfans!
Sign up for membership to become a founding member and help shape HuffPost's next chapter