Every year, hundreds of thousands of Americans are sexually assaulted. Fortunately, this number is decreasing. Over the past 20 years, sexual violence has actually fallen by more than half, according to the Justice Department. But we still have very long way to go before we've eliminated the problem.
These numbers leave many of us wanting to do something to end the tide of sexual violence. RAINN works on the problem from many angles. In our public education work, we assist reporters to ensure accurate news coverage, work with writers and producers to help Hollywood get it right, and coach colleges and students to improve prevention programs. In the public policy space, we work with Congress and find ways to improve the criminal justice process. We also work directly with victims through the National Sexual Assault Hotline (800.656.4673 and online.rainn.org).
There are a number of ways you can help to end sexual violence. From being aware of the risks to trusting your instincts and stepping in when a friend needs your help, you may be able to help prevent a sexual assault from occurring.
Everyone -- friends, family, bystanders and passersby -- has a role to play in preventing sexual assault. The recent Spring Break tragedy in Panama City is evidence of the urgency of this message.
The first thing you can do is to simply be alert. There's no sure way to spot a perpetrator, of course. But statistics show that most perpetrators of sexual assault know the victim before they commit a crime against them. We also know that most perpetrators are serial criminals who give a lot of thought to what they plan to do. So, if you have a sense that someone's behavior feels off, whether it's too aggressive or just feels creepy, trust your instincts. That's a good time to step in and help.
How should you step in? By showing you C.A.R.E.
Create a distraction
Do what you can to interrupt the situation. A distraction can give the person at risk a chance to get to a safe place.
Jump into the conversation with a diversion like, "Let's get pizza, I'm starving," or "This party is lame. Let's try somewhere else."
Ask directly
Talk directly to the person who might be in trouble.
Ask questions like "Who did you come here with?" or "Would you like me to stay with you?"
Refer to an authority
Sometimes the safest way to intervene is to refer to a neutral party with the authority to change the situation, like a security guard, bartender or college dorm RA.
Seek out someone in authority and let them know about your concerns. Don't hesitate to call 911 if you are concerned for someone else's safety.
Enlist others
It can be intimidating to approach a situation alone. Enlist another person to step in with you.
Bring a friend to talk to the person at risk, or enlist someone else to escort them away. Say something like, "Your friend looks like they've had a lot to drink. Can you check on them?"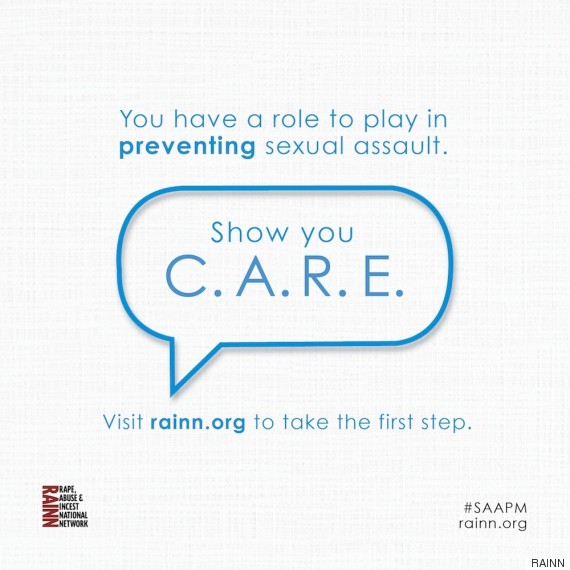 If you or someone you know has been affected by sexual violence, help is available 24/7 through the National Sexual Assault Hotline: 800-656-HOPE and online.rainn.org.
About RAINN
RAINN (Rape, Abuse & Incest National Network) is the nation's largest anti-sexual violence organization and was named one of "America's 100 Best Charities" by Worth magazine. RAINN created and operates the National Sexual Assault Hotline (800.656.HOPE and online.rainn.org) in partnership with more than 1,100 local rape crisis centers across the country and operates the DoD Safe Helpline for the Department of Defense. The hotlines have helped more than two million people since 1994. RAINN also carries out programs to prevent sexual violence, help victims and ensure that rapists are brought to justice. For more information about RAINN, please visit rainn.org.
Popular in the Community