As we participate in 2013's 16 Days of Activism against Gender Violence, my mind returns again and again to Myanmar (also known as Burma). I was privileged to attend the first National Women's Dialogue: Peace, Security and Development in Myanmar there earlier this month, where more than 350 representatives of women's organizations came together to discuss women's security, health, peace-building and conflict resolution. While the country has made progress since the end of autocratic rule a few years ago, women still face many challenges. Both at the conference, and later in displaced persons' camps, women spoke candidly about how they are targeted for violence and how their rights are routinely violated.
Women's experiences with violence in Myanmar echo those of women worldwide.
An estimated one in three women has been beaten, coerced into sex or otherwise abused in her lifetime. Almost 50 percent of all sexual assaults are against girls aged 15 or younger. Gender-based violence (GBV) often escalates dramatically during conflict and displacement. Prevalence rates as high as 70 percent have been reported in places like Congo.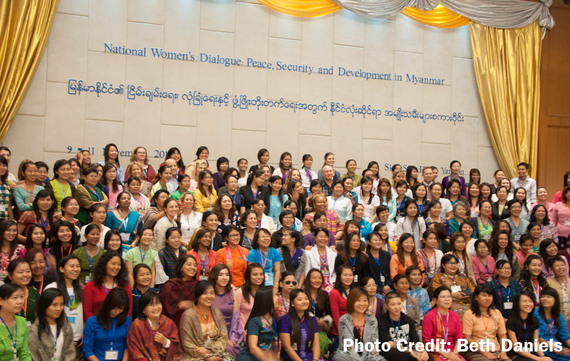 The consequences are devastating. GBV threatens a woman's very survival. It has a tangible negative impact on her health, safety and freedom, as well as on the well-being of her family and community. When a woman is not safe, she cannot fully participate in political life or in peace processes and recovery efforts.
The reality of GBV is tragic, and the tasks before us are daunting -- but we cannot let that overshadow the fact that, in the past two decades, progress has been remarkable.
For example, those of us working in the humanitarian field no longer see GBV as "collateral damage" -- an inevitable by-product of conflict or disasters. We understand its causes and its impacts. Critically, we now realize that to prevent and address GBV, we must take action on multiple fronts: rule of law, police and security sector reform, girls' access to education, enabling economic opportunities for women and supporting a robust civil society.
A strong framework has been built in the last 25 years, including a series of UN Security Council resolutions on Women, Peace and Security and myriad tools and guidance.
All of this knowledge must be matched by a drive to implement effective programs on the ground. In the humanitarian field, we know that everything we do in the early days and weeks of an emergency can either increase risks or help reduce risks of GBV. For example, it matters where the water point is placed. It matters how food is distributed. Lighting and separate latrines for women and men matter. This is about getting basic prevention right.
But we also need to tackle the more complex prevention and response issues -- such as ensuring basic survival needs are met so women are not forced to sell their bodies in exchange for food or to risk rape every time they look for firewood, and providing economic, social and economic opportunities to enable women to safely earn a living and reestablish their and their families' lives.
And, most importantly, we need to make sure from the very start of a crisis that women are consulted equally with men on needs and solutions, and that their recommendations are taken into account as programs are developed and services provided.
Click here to read the full text of my speech at the National Women's Dialogue: Peace, Security and Development in Myanmar.
Related
Popular in the Community