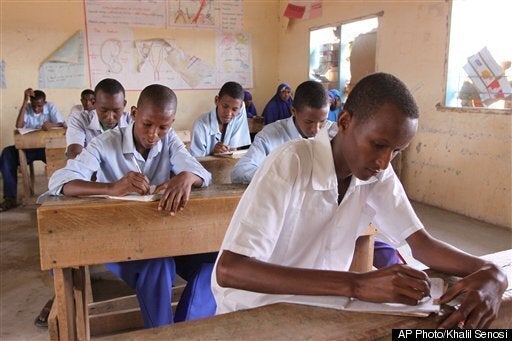 This post originally appeared on the World Development Report 2011 blog on September 22, 2010. Violence is the antithesis of development. It tears down what's been built up. It destroys lives, shortens horizons, and inflicts huge psychological and physical pain.
Once violence ends, it takes a generation, on average, to get back to square one--and that's only when strife does not reignite or morph into other forms of man-on-man beastliness, as often happens.
No wonder so many people at the Millennium Development Goals summit in New York last week are taking a hard look at how to improve the often nasty, brutish and short lives of people living in states wracked by violence.
At a side event organized by the WDR and the International Dialogue on Peace Building, and co-hosted by Timor Leste and the UK, Andrew Mitchell, Britain's aid chief, reminded us that no fragile state or conflict-affected country has yet achieved a single MDG. Most lag 40 to 60 percent behind other low and middle-income countries in MDG attainment.
If you were born without a birth attendant or lack access to clean water or never went to primary school or go to bed hungry, the chances are pretty high (between 65 and 75 percent, depending on the indicator) that you come from a country mired in or emerging from violence.
With more than 1.5 billion people living in conflict-affected countries, the challenge is daunting. There's no chance of coming close to attaining the MDGs at the global level unless we move from bumper-sticker aspiration to policy action in fragile states.
"Lack of action costs a bomb", said Mo Ibrahim, benefactor of the eponymous prize for African leadership and member of the WDR's Advisory Council, referring to the resources wasted on conflict in places that could use them better.
Research commissioned for the WDR puts the total cost of an average civil war at some $65 billion. Huge sums are ploughed every year into shelter and food for refugees in miserable camps.
The budget for peace-keeping forces is at an all time high as the UN deploys un-precedented numbers of blue berets in trouble spots around the world--deployed, almost always, after conflict has broken out.
There was strong support from the panelists in New York, who included Liberian President Ellen Johnson-Sirleaf and Timorese President Ramos Horta, for more focus on preventing violence before it breaks out.
Pre-emptive action is more cost-effective than post-conflict catch-up; an activity that, despite its rocky record, continues to garner the lion's share of international attention and funding.
Jordan Ryan of UNDP said the costs of the referendum in Kenya last August were a fraction of the $3.6 billion worth of havoc wrought by the post-electoral violence in 2008-2009.
Analysis for the WDR makes the same point about the relatively minor costs of the preventative efforts of the UN Department of Political Affairs and mediation by groups like the Centre for Humanitarian Dialogue when compared to the costs incurred when things fall apart.
REAL LIFE. REAL NEWS. REAL VOICES.
Help us tell more of the stories that matter from voices that too often remain unheard.