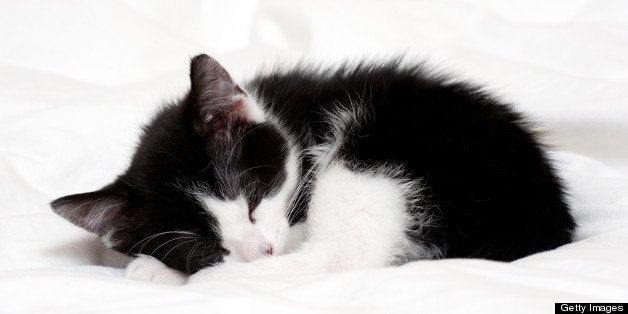 April is Prevention of Cruelty to Animals Month, and the ASPCA is urging supporters across the country to support their efforts to fight animal cruelty. This post is dedicated to their efforts, and to the efforts of animal lovers everywhere who spend time saving all animals from cruelty and danger.
Art Linkletter was right. Kids DO say the darnedest things. When my son was nine he announced he wanted to adopt a kitten. That's when our world changed forever. I don't know if he wanted one because he loved animals, or whether he yearned to have someone to play with. Whatever the reason, I thank him for his wisdom.
We never considered adopting anywhere other than our local shelter, where selfless volunteers provide loving care to any dog or cat, either in their meager two-room building, or fostering them in their own homes until adoption.
Our first kitten, Max, was a 4-month-old orange tabby. He was joined four months later by Newton, a shy black and cream-colored tabby. Four years later, an abandoned gray and white cat appeared on our property (our home abuts several acres of woods.) Whitey became our third cat. Then came Smokey, a beautiful Russian blue who was rescued from the streets of Newark.
Pets give unconditional love to young and old alike. They soothe our souls, and are endlessly entertaining. They become part of our family by capturing our hearts.
But the outside world can be a cruel place for animals. We hear stories of the abuse and neglect people inflict on them in shameful and horrific ways that are shocking and appalling.
My cousin, Gabrielle, is active with rescue efforts for her local German Shepherd rescue. Her love and patience shows not only in helping with adoptions, but also by adopting these beautiful animals herself. Here is a story she shared about one of her own beloved dogs, Chance:
He was believed to have endured terrible abuse and was found under the freeway with 7 open wounds on his head that the vets think are likely from cattle prods. He had a symbol of sorts carved on his side, and had several scars from cigar and cigarette burns on his hind legs. He was terrified and traumatized, and Heartworm Positive when he came home and it took a LONG time to come out of his shell. With love, time and patience Chance's strength and courage that pulled him through the tough beginning showed up as a resilient, majestic dog. He never overcame his initial apprehension around new people or his fear of unexpected noises.
Then there's the story of Sammy, an extremely neglected 13-year-old Cocker Spaniel whose owners claimed to have found him in a garbage bag on the side of the road. Today, the couple faces multiple criminal charges of animal cruelty against Sammy. A court date is scheduled for May (check the "Sammy the Cocker Spaniel" Facebook page for updates).
Sammy has received an outpouring of love, and receives medical attention from The Red Bank Veterinary Clinic in New Jersey.
New Jersey is one of 16 states that still considers animal abuse to be a misdemeanor, and not a felony. To that end, over 27,000 people signed a petition calling for stricter sentencing. It will be presented to the prosecutor's office prior to the trial of Sammy's former owners. Please consider signing the petition.
Take a look at this beautiful video about Sammy. You will love seeing how well he is doing:
Chance and Sammy are two examples of successful rescues. Not all animals are as fortunate.
We must speak out and make it a federal crime in every state for acts of cruelty against animals. Let's use our voices to speak up against animal abuse.
Here are a few ways you can help put a stop to animal abuse:
• Download this free app designed by ALDG Crime Tips to "report abuse and neglect of animals in your community right from your phone. Submit audio, video, picture, and GPS information of any incident straight to the nearest law enforcement authorities."
• Take a pledge to support an Animal Abuser Registry in your state. Help keep your community safe from animal abusers.
• Sign up for alerts for animal advocacy (both state and federal) through The American Humane Association to protect the rights of all animals.
• Visit the Patrick's Law website, dedicated to protecting animals through legislation and advocacy. I highly recommend checking this site. As they say, "There is no excuse for animal abuse."
Make a difference by helping our furry friends. Speak up now to change legislation. We owe it to them to do whatever it takes to stop animal abuse - now.
Calling all HuffPost superfans!
Sign up for membership to become a founding member and help shape HuffPost's next chapter