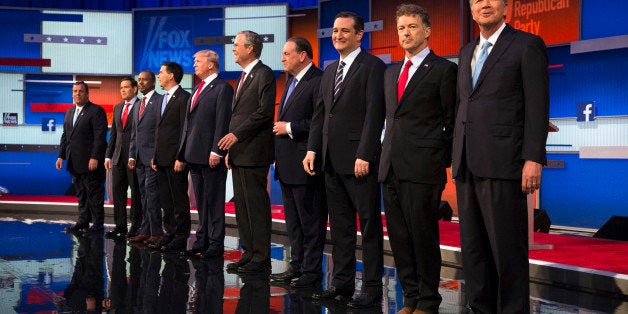 Six weeks have passed since the first Republican debate of the 2016 race, and as the cast of characters returns to the stage for their second match, campaign dynamics have come more sharply into focus. Let us examine where things stand, and how chapter two of this saga is likely to differ from chapter one.
It is useful to think of the Republican primary debates as a single-season series, with 12 installments stretched over a period of nine months. The pilot episode, which aired last month on the Fox News Channel, introduced the players and set the tone for what's to come. Going into the season opener, viewers had little idea what to expect. Now the story line is in motion, the stars and supporting cast in place, and the marathon underway. Those of us in the audience may not know what plot twists lie in store, but little by little the series will push toward a climax, as fringe candidates fall by the wayside and voter allegiances shift. With each new debate we gain an added measure of clarity about where the tale is headed.
Although Donald Trump dominated the first debate, at that point his candidacy had not fully taken root. Entering the second debate, Trump stands as the clear front-runner, which means he carries a target on his back, not just from the other debaters but also from the moderators of Wednesday night's CNN debate. In that opening event, no one could predict what posture Trump would assume, giving him an advantage that may no longer exist.
In the first debate, all the candidates but Rand Paul deliberately stayed out of Trump's orbit. Such reticence is less likely to repeat itself a second time around. For the most part, his opponents have stopped treating Trump with kid gloves, and the presence of Carly Fiorina as the eleventh debater furthers complicates Trump's debate calculus. None of the other candidates knew quite what to expect the first time; this time they do.
Though much has been made of Trump's spontaneity, in truth his act is as repetitious as any other political stump speech. Over and over Trump recycles the same punchlines and catchphrases, performing his greatest hits before each new audience as if the material had freshly popped into his head. The predictability of Trump's unpredictability hands his opponents a frame of reference with which to plot debate strategy against him.
Jeb Bush and Carly Fiorina have particular reason to step into the arena with an anti-Trump offensive up their sleeves. For Bush, who failed to engage Trump in the first debate, there is opportunity to disprove that he is the "low-energy" loser that Trump paints him as. For several weeks now Bush has been returning fire against his chief critic, yet it's one thing to talk trash about someone behind his back and another to confront him directly.
Fiorina, after successfully clawing her way out of the bottom tier and onto the big stage, holds an especially strong hand against Trump. As a woman, and as the direct recipient of Trump's jibes, Fiorina can operate as aggressively against Trump as she wants. Unlike some of her male colleagues, Fiorina appears not the least bit intimidated by the Republican front-runner's slash-and-burn style, or by the disparity in their poll standings. This second debate offers Fiorina an enormous megaphone with which to draw attention to her still-lagging candidacy.
Where does that leave the other eight individuals in the debate? Ben Carson, a Republican favorite who has been gaining in the polls, delivered a strong closing statement in the first debate, but otherwise left a light footprint. Carson has signaled his intention to remain a low-key presence in the follow-up encounter, and while his lack of bombast may serve to distinguish him from the pack, it could also push him into the background. John Kasich and Marco Rubio, both of whom drew positive reviews in the first debate, need to figure out a way to leverage solid debate performances into voter support, while Scott Walker faces the daunting challenge of putting some air back into his balloon -- difficult to do when you are one of eleven debaters giving 60-second responses in a fast-moving television debate.
Like round one, Wednesday night's encounter will feature three moderators: Jake Tapper and Dana Bash of CNN, and conservative talk show host Hugh Hewitt, who made an enemy of Trump earlier this month by exposing the mogul's lack of foreign policy chops. An unforeseen outcome of the first debate was the contretemps between Trump and Fox News host Megyn Kelly. Will a similar candidate-versus-moderator narrative emerge on Wednesday? If the experience of the Fox anchors is any guide, the moderators might want to show up wearing body armor.
Calling all HuffPost superfans!
Sign up for membership to become a founding member and help shape HuffPost's next chapter