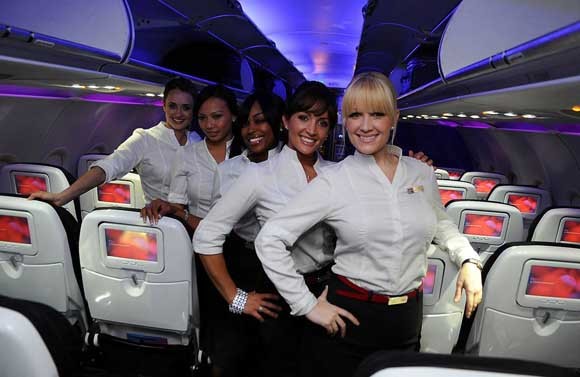 (right to left) Farrah, Nikole, Tasha, Louise and Mandy, pose prior to the in-flight
premiere of "Fly Girls"
Photo by Virgin America, Bob Riha, Jr.
When Virgin America invited me to attend the in-flight premiere of Fly Girls on Friday, February 26, I hesitated. I only watch American Idol after they've eliminated the friendless contestants who can't carry a tune. (Friends don't let friends sing off-key on national TV.) I don't eat bugs and don't want to watch others digest them. I am anti-reality TV.
And this new half-hour docu-series follows the lives of five Virgin America flight attendants at 35,000 feet and on the ground. That sounded like fun. And I was fairly certain flight attendants didn't eat bugs, so I accepted the invitation.
On Friday night's flight from LAX to Las Vegas, Virgin America's signature in-flight entertainment system, Red, broadcasted the premiere episode of Fly Girls which will air on the The CW at 9:30 p.m. on Wednesday March 24, 2010. And our flight attendants were the Fly Girls: Farrah, Louise, Mandy, Nikole and Tasha.
I was grateful for the free L.A. Fly Girl cocktail (made with Sprite and VeeV vodka) just in case my love of flying couldn't override my aversion to reality T.V. The drink proved unnecessary because I enjoyed the show. And I discovered it can teach me another language: Flight-Speak. Flight attendants, or at least Virgin America flight attendants, have their own code language. As a monolingual American, any chance to strengthen my linguistics is a plus.
In the first episode, you learn the term IFB -- in flight boyfriend -- which seems like an easy commitment to me. Louise hooks up with an IFB -- in flight boyfriend. He's very handsome at altitude but less appealing on the ground. Fortunately, one of Louise's flight attendant posse (Mandy) rescues her from an awkward moment. (I don't want to give everything away).
All the flight attendants have distinct personalities. Tasha steals your heart in scenes with her son, while Nikole's actions make you want to put her in time out. Nikole can quickly transition from sweet-as-pie mode to Joan-Collins-villain-mode, and like Joan Collins in Dynasty, audiences will enjoy booing Nikoke when she manipulates the others in order to come out on top. In the premiere, Nikole steals her good friend's moment in the sun with Virgin America stockholder, Richard Branson.
At the after flight party at Lagasse's Stadium at The Palazzo Las Vegas, Los Angeles Times travel blogger, Jen Leo, asked the cast whether anyone gets dibs on an IFB based on who sees him first. The flight attendants indicated there's no particular etiquette so it could be a free for all. I asked the cast if there were any other flight attendant catch phrases they could share.
They share two additional phrases. "Smiles in the Aisles" means to keep things pleasant in-flight. "Slam Clicker" describes what a flight attendant does on a layover. You check into your layover hotel, slam the door and click the lock- Slam Clicker!
But Friday night, the focus was on mingling.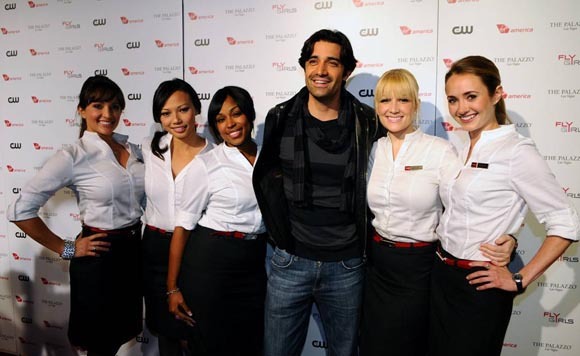 Virgin America in-flight teammates (right to left) Nikole, Louise, Tasha, Farrah and Mandy, pose with actor Gilles Marini.
Photo by Virgin America, Bob Riha, Jr.
Flight-Speak seems like a much easier language than Latin. The show takes flight on The CW on March 24 at 9:30 p.m. I asked one of the show's Executive Producers how they film during flights. He said they post signs notifying passengers that they will be filming during the flight, and anyone recognizable on camera is asked to sign a release. They usually film in the front or rear of the plane, so passengers aren't inconvenienced. If a passenger doesn't want to be on camera, they can sit in an area that won't be filmed. In the first episode, IFB seems to relish being on camera.
Popular in the Community