Pricasso is returning home in all his glory, and we know he won't forget his brush.
Patch will appear at London's Sexpo Nov. 13-15, and says he is thrilled to visit friends and relatives.
"I am pretty sure I am the first person to be naked in the Olympia venue in London as they have a no-nudity policy," he said to HuffPost. "But I have to thank Sexpo for getting a special art concession license from the powers that be."
Organizers hope his portraits will be well-hung. "There are no other artists in the world like Pricasso and even I'm suffering from a very serious case of penis envy right now," Sexpo managing director Lee Schofield told the Mirror.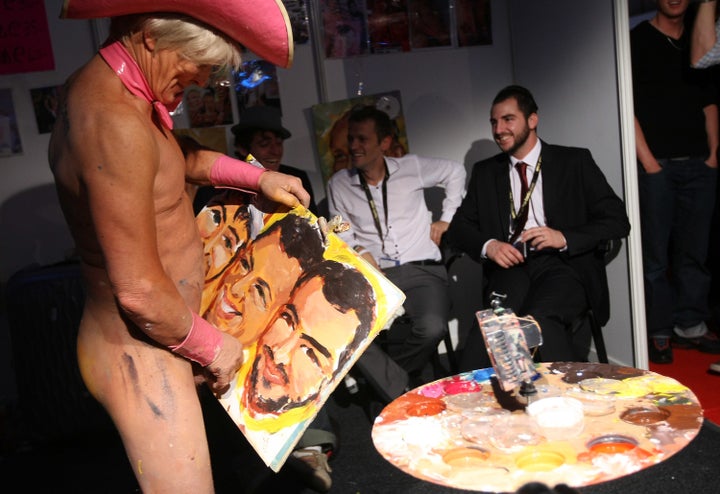 Patch, an art school reject in London during the 1960s who later moved to Australia, discovered his "special talent" of painting with his penis (and his testicles and butt, if you must know) many years ago.
"The idea popped into my head after seeing 'Puppetry of the Penis,' " he said. "I did try it but found it really hard in every sense of the word! ... It took a couple of years to get good enough to perform in public."
His prodigious talent caught the attention of his eventual benefactor, Sexpo in Australia, where he featured his work and the making of it. Um, that's perhaps why he calls it performance art. He sometimes masturbates to keep his brush stiff, he told the Daily Beast.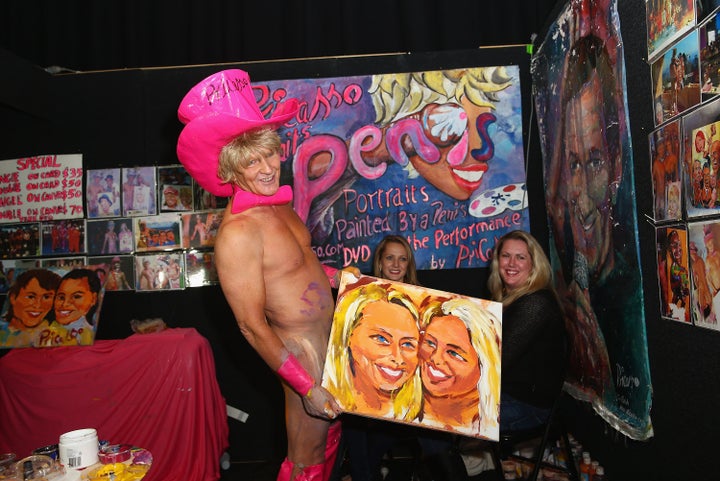 In discussing his process he told the website: "Firstly, I grab my penis and testicles and plunge the whole lot into a pot of paint. The combination of balls and dick holds lots of paint, so then I just scrub them all over the canvas, which I hold in one hand until the canvas is sufficiently covered."
He signs with a real brush that he inserts through his urethra, the Beast noted. Hey, the man suffers for his art.
Alas, Patch won't be appearing in the United States anytime soon "without a bit of help" because nudity laws are strict, he told HuffPost.
Hey in the schlong art club, there's always room for another member.
Popular in the Community