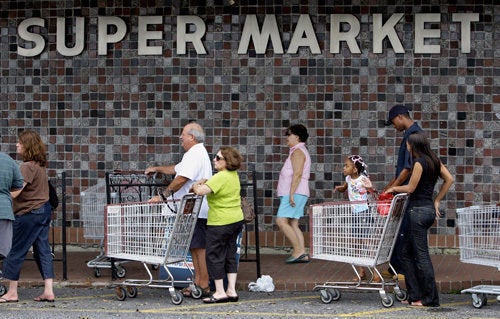 The current economic crisis means trillions lost on the stock market, personal fortunes are dwindling and financial institutions are crashing to the ground. And if, somehow, you managed to avoid being caught up in the stock market, if you'd invested exclusively in FDIC-insured banks in amounts below the maximums, if you'd spread it across several banks (and if none of those banks fail in the near future)... well, then you still might need to worry about the rising prices of things you buy all the time.
Gas prices are down from their incredible heights lately, but that's likely only because oil prices are diving along with the rest of the economy. If and when the world economy rebounds, oil and gas prices will go back up -- and maybe sooner, considering the emergency meeting that OPEC nations are considering having.
A year ago: $2.78/gallon
This week: $3.48/gallon
The Consumer Price Index is the Bureau of Labor's way of gauging the changing prices of everyday items like groceries and fuel -- things that citizens are very likely or sure to need for day-to-day living. Here's the Bureau's official description and a useful FAQ page for the financially savvy or curious:
The Consumer Price Indexes (CPI) program produces monthly data on changes in the prices paid by urban consumers for a representative basket of goods and services.
The Prices have steadily gone up, but this year it rose at a noticeably accelerated pace. Here they are over the last few years:
Consumer Price Index

Aug. 2002: $180.70
Aug. 2003: $184.60 (+$3.90)
Aug. 2004: $189.50 (+$4.90)
Aug. 2005: $196.40 (+$6.90)
Aug. 2006: $203.90 (+$7.50)
Aug. 2007: $208.30 (+$4.40)
Aug. 2008: $219.09 (+$10.79)
Related
Popular in the Community